The F(x)tec Pro1 starts shipping to landscape QWERTY fans in October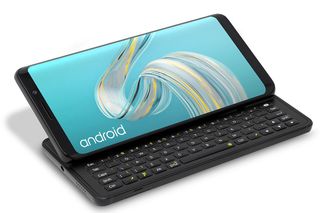 What you need to know
The F(x)tec Pro1 is now available for pre-order worldwide for £649 / $699 / €649. Pre-order shipments start mid-September, general release begins in October.
The smartphone features a 5.99-inch AMOLED display and is powered by Qualcomm's Snapdragon 835 processor with 6GB of RAM and 128GB of storage.
The landscape QWERTY allows owners to create up to 36 unique app launching shortcuts.
After initially showing off the device during Mobile World Congress, UK-based F(x)tec have now officially announced at IFA 2019 that the F(x)tec Pro1 will see general release starting in October while anyone who pre-orders will see shipments begin in mid-September.
On the inside of the F(x)tec Pro1, you'll find Android Pie, Qualcomm's Snapdragon 835 processor along with 6GB of RAM as well as 128GB of storage which is expandable up to 2TB with the use of a MicroSD card and there's Dual SIM support as well as a side-mounted fingerprint sensor. That all goes along with the 5.99-inch 1080p curved edge AMOLED display that tilts 155 degrees for optimal viewing. Keeping everything running, there's a 3200 mAh battery along with Quick Charge 3.0.
For capturing photos and video, you'll have to rely on the dual-lens rear camera setup making use of Sony's IMX363 to offer 12MP f/1.8 and 5MP f/2.0 shooters around back while up front, you'll get an 8MP, fixed focus, f/2.0 selfie camera. There's also a dedicated shutter button included making taking photos even easier.
Where the F(x)tec Pro1 stands out, though, is in the form-factor which features a physical, sliding and angled landscape QWERTY keyboard that packs a few tricks such as the ability to create up to 36 keyboard shortcuts to launch apps, a function similar to that found on BlackBerry smartphones. Just slide open the F(x)tec Pro1 to reveal the full physical keyboard and slide it back to jump into virtual keyboard mode. To further take advantage of the keyboard, the F(x)tec Pro1 also features a landscape-optimized UI and apps including email and calendar.
One other standout highlight of the F(x)tec Pro1 is their developer support. If you're not happy running their largely stock version of Android Pie, you have the option of loading Lineage or even Sailfish thanks to the bootloader coming unlocked. In their own words, F(x)tec is looking to deliver 'premium niche mobile devices' and the F(x)tec Pro1 looks to be a great start.
You can pre-order the F(x)tec Pro1 right now thorough the F(x)tec website here.
Get the Android Central Newsletter
Instant access to breaking news, the hottest reviews, great deals and helpful tips.
So how is this thing worth $700?

You've gotta REALLY want a landscape keyboard to buy a phone with 2017 specs 3 months from 2020. Shirt, i just realised we're 3 months from 2020!

Believe it or not, most users don't need or care to have the latest processor. I'm running a KEY2, and everything I need runs fast and smooth.

Believe it or not, most users need and care about a slide out keyboard even less. Besides, the BlackBerry phones used current midrange processors, not 2 year old out of date processors. These are basically aimed at people in their 50s and 60s who still need "productivity" devices. They could've got a slice of the "power user" market, but the lackluster specs prevent that.

Damn. I'm 40. I must be an old soul. With that said, within my old dinosaur friends who are +/- 5 yrs my age, none of them are phone enthusiasts as I am. And none of them are running the latest phones..except for my wife...I bought her a Pixel 2 a year and half ago. But I do agree with you that the keyboard market is a small segment of the market. I really like using a keyboard but I'm also on the fence on moving on to Pixel 4 if it has proper dual SIM support (ie: not eSIM).

And how many of your friends who are 5 years your junior care about a physical keyboard? How many people who are younger than 30 do you think care? That's my point. At 40 you may not exactly have one foot in the grave, but as a 36 year old myself, I'm fairly certain you don't consider yourself a young man either. If not the generation that's coming up now then likely the next will look at us the same way when we talk about physical keyboards, phones that only made phone calls and large black boxes full of magnetic tape that could store and play back one, and only one, movie the same way we looked at our grandparents when they talked about washing clothes with a mangle, gas powered Street lights and outdoor toilets.

My girlfriend is 26. We were oddly just talking about older phones that we loved the other day and she mentioned that she would love something like this. She uses an S10 + now and honestly seemed interested when I brought this up today. But as soon as I mentioned the older processor and smaller battery she just rolled her eyes. I didn't even get to the 1080p screen and what is likely a considerably inferior camera experience. I do think there would be some market for a device with a slide out keyboard. Just not one that leaves all those other boxes unchecked. When I can get a OP 7 Pro for the same price that keyboard doesn't seem like that much of a big deal.

Damn I wish I was 40. At 63 40 seems downright youthful. I liked the slider phones back in the day. I've never been able to type as fast on a virtual keyboard as I could on those physical ones.

I'm also on the KEY2 and it runs better then my Note 9 easy, and last 2 days longer. I'll take my BlackBerry over this any day.

Saint it runs faster than a Samsung phone is like thinking your...i don't know cars... I don't know... You probably don't know what a Corsa is... Hyundai i10? Yeah, it's like thinking your Hyundai i10 is fast because it outpaces a tractor. I'm posting this from an S10e, full disclosure.

Or really want a phone with a fully open hardware stack that doesn't depend on Google updating its core. that's the real draw of this one, and probably the reason it's as expensive as it is.

It ships with Android 9. Does the manufacture have to push Android 10, or could you manually install it? If the latter, where do you go about in getting the update?

Whoa, what is this? 2009?

Typical closed minded comment

Landscape keyboard.... NOPE

I would have already pre-ordered it if it was a portrait slide out like the BlackBerry Priv

I really really want a phone with a keyboard. Thought about the key2 at launch but could justify the price point at launch with its specs. It has basically the same specs as the galaxy s8, which I'm still running.(been holding off the upgrade for a keyboard) But the s8 new, now is about $300. Not sure I could justify $700 for what would end up being a lateral upgrade, if that's even a real thing lol. Alas, I'm still considering it. Really want a keyboard... How hard can it be to make one with modern specs?

The Pocket PC from 2000 lives again. LOL, I had a similar design from i_Mate back in the day.

Perhaps there's a little inconvenience. Who on earth wants a phone with such a minuscule battery? A full day of use? No way!