Fun at Google's Android booth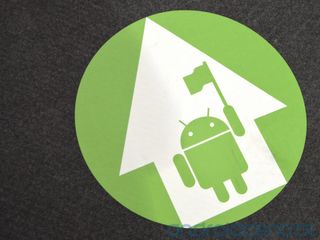 Yeah, new hardware is great and all, but the Google booth is where it's at at Mobile World Congress. They've got developers, phones, tablets, smoothies and a slide.
Yeah. This is our job.
Hit the break for a slew of pics of what goes on in Never Never Land.
unfair. I want this to be MY job. :(

oooohhh I am in need of a career change.. now i know what it will be!!!!!

Where's Apple's booth? Inside a Starbucks in an H&M? Google booth FTW!

Fuck apple but u cant be hatin on h&m

I want the stuffed Lloyd doll for my little girl. How do I get one?

My son LOVES Lloyd too!
I may have to get him one of the Lloyd Hoodies

$6.99 on Amazon.Also on eBay for a bit more.

Amazon for sure my man!
Everything looks so cool there. I'm so jealous!

"Go down that slide,Phil!"

Stick the landing this time?

They have a freakin' slide.....no fair! Why must you rub it in that you have so much cooler and fun jobs than mines.....:( I wanna go down the slide, too....

[sexist] Yawn. Where are the spokesmodel girls? Everyone knows Spanish women knock your socks off, let's see less booth art and more booth beauties..... [/sexist]

Argue it how you want, "Booth Babes" are part of the convention circuit... Besides, what could possibly be cooler than gadgets and hot women in one?

How sad does the Windows Phone area look in comparison? Any pics? What is the general "vibe" of the show? What is going to be the "next big thing"?

Phil, bring us back a case of those neck straps!

They're called lanyards. :D

This looks really cool and looks like alot of fun! I'd probably spend my whole time in there. Forget the windows booth and all the others the Google booth is the bomb!
Android Central Newsletter
Get the best of Android Central in in your inbox, every day!
Thank you for signing up to Android Central. You will receive a verification email shortly.
There was a problem. Please refresh the page and try again.