FuboTV begins streaming some content in 4K with HDR10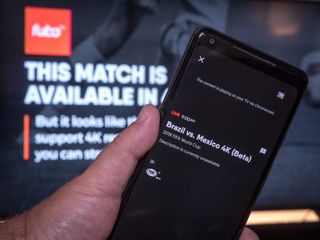 Upstart streaming service FuboTV today announced that it's streaming the main broadcasts of the 2018 FIFA World Cup (as in the games that are on Fox and FS1) in 4K resolution, with HDR10 support.
There are caveats, of course. (There are always caveats.) The increased resolution is initially available through Chromecast, and on Amazon Fire TV 4K devices. (That includes the new Fire TV Cube, of course.) Support for Apple TV and Roku devices will land in coming weeks.
Of course, you'll also need a 4K television, and HDMI 2.0/2.2 ports, and enough bandwidth to handle the extra data (FuboTV says at least 30 Mbps is recommended) — you know, all the things that make the 4K magic work in the first place. And your TV will need to support HD10 if you want those sweet colors. (And you also might have to mess around in the settings — because the future may be bright, but it's not always easy.)
Additionally, FuboTV is offering a free month of service if you buy a Roku device by July 8. More details on that here.
FUBOTV IS FIRST VIRTUAL MVPD TO LAUNCH 4K HDR BETA
NEW YORK – JULY 2, 2018 – fuboTV (fubo.tv), the leading sports-first live streaming TV service in the U.S., has launched 4K HDR10 support in Beta, becoming the first virtual multichannel video programming distributor (vMVPD) to offer content in ultra-high definition and high dynamic range.
Starting today, main broadcasts* of Russia 2018 matches on FOX and FS1 are available in 4K HDR10 with fuboTV on all Chromecast and Fire TV devices that support the format. fuboTV will also launch 4K HDR10 on Roku and Apple TV in the coming weeks.
First to launch 4K HDR, ahead of vMVPDs owned by AT&T, Alphabet, DISH Network and Sony, today's news is the latest example of the independent live streaming start-up competing head-to-head with the world's biggest satellite and technology companies. fuboTV was among the first live streaming services to launch Cloud DVR, 60FPS picture quality and in-app billing, and was the first to fully implement SCTE 224 blackout technology standards. Also, after several months of testing, fuboTV officially launched dynamic ad insertion in January – ahead of Hulu with Live TV and YouTube TV.
"Launching 4K HDR is a testament to our dedication and relentless pursuit to developing for consumers the world's premier live video streaming service for live sports and entertainment," said David Gandler, co-founder and CEO, fuboTV.
To view ultra-high definition and high dynamic range content, subscribers must have a 4K HDR-enabled television, HDMI 2.0/HDCP 2.2 compatible cable and run the fuboTV app on a streaming device that supports the formats. Bandwidth speeds of 30Mbps-40Mbps or higher are recommended. 4K HDR-capable TVs may also need calibration to present the content correctly. More information on how to watch 4K HDR with fuboTV is here. For subscribers without 4K HDR hardware, all Russia 2018 matches are available in 60FPS.
ATEME, the emerging leader of video delivery infrastructure, provided the software to enable the 4K HDR encoding platform for fuboTV.
fuboTV is offering one free month for new subscribers who buy a new Roku device by July 8 (https://www.roku.com/offers/streamtv). Separately, the company's subscription packages are also currently available at promotional rates: fubo (base package) for $34.99 for the first month after a free seven-day trial and fubo Extra for $39.99 for the first month after the free seven-day trial (discounted from $44.99 and $49.99, respectively). New subscribers can also get a free upgrade to the Family Share plan, including a third simultaneous stream (normally $5.99/month).
*Includes main broadcasts on FOX or FS1, but not FOX Sports bonus feeds.
Get the Android Central Newsletter
Instant access to breaking news, the hottest reviews, great deals and helpful tips.