Fossil Sport watch announced with Wear 3100 and ultra lightweight body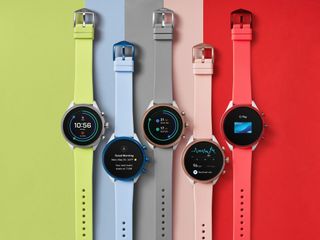 Fossil is one of the biggest supporters of Google's Wear OS platform, and today, the company announced its latest smartwatch offering as the Fossil Sport.
Fossil's watches are typically designed with fashion in mind, but the Sport is all about being as functional as can be. Not only is it the lightest watch Fossil's ever made, but thanks to its aluminum and nylon case, Fossil says that the Fossil Sport is the "lightest smartwatch to date."
The Sport is available in two case sizes (41mm and 43mm) and is powered by Qualcomm's new Snapdragon Wear 3100 processor. Announced this September, the Wear 3100's biggest improvement over 2016's Wear 2100 is vastly improved battery life. According to Fossil, the Sport will last a full day in full smartwatch mode and then an additional two days in a low-power, time-telling only mode.
Also packed inside the Fossil Sport are a heart-rate sensor, GPS, and NFC for Google Pay support.
The Fossil Sport is available for purchase today with a starting price of $255 at Fossil's website and will be available in retail stores globally beginning November 12. You can save 30% on the purchase if you use coupon code CYBER30 during checkout.
Joe Maring was a Senior Editor for Android Central between 2017 and 2021. You can reach him on Twitter at @JoeMaring1.
The Fossil site doesn't say anything, but I'm guessing the bands can be replaced with others to make it a little less sporty looking? A full day of battery in full smartwatch mode doesn't really seem like much to brag about. Disregard first comment, if you click on a watch it says they are interchangeable with other 22mm bands.

I've been waiting for a watch with the 3100 SOC and NFC at a reasonable price to replace my well outdated LG G watch. I'm definitely considering this one.

Me too, I've been waiting for the exact same thing!

Put Tizen on it and I'll consider

1 - that's just silly
2 - I doubt they'll miss your sale

1. Silly? Obviously you've never used the two OS's and compared them.
2. That's a great business practice

Nah, I've used Tizen, WatchOS and Wear OS. Just much prefer WearOS out of the 3 is all. No Google Assistant or Google Maps etc is a deal breaker for me on Tizen. If it had those I'd feel differently about it

And maybe wrist gestures too. They're awesome

I agree with you. As of today, Google's smart watch software is not as good as Samsung's Tizen.

Does the new 3100 smartwatch have a speaker

No speaker which is definitely the biggest downside to this watch seeing as they've squeezed in nearly everything else

Why would you want a speaker on a watch?

What's the point of that when it vibrates

Umm so you can choose if you want to hear them from the watch instead? You can even look like a ****** and use it to take and make calls on hands free if you don't want to take your phone out. Apple Watch is massively popular. Never heard anyone complain about their speaker on them I do a lot of running and the ability to leave my phone at home and use only the watch for fitness tracking and as a phone in an emergency is invaluable

Definitely excited to see the new lineup of 3100 watches coming out. Like the look of this watch, but I have concerns over the plastic build quality. I want an updated OG Huawei watch!

Is that a full day with with the time always showing? I don't wanna have to touch or move the watch to check the time.

They just need to put the 3100 in the Gen 4 Explorist body and they'd be set.

They need to get rid of the huge buttons and that silly center twist button. Every time I wore it while working the back of my hand or wrist would push that button so the watch would reboot. Finally the button failed in the engaged state and now it won't charge because it keeps rebooting. Also take note that the warranty doesn't cover "excessive sweat".

Well....looks like the coupon/promo has expired. Just tried to order and no luck. Did anyone else get it to work?
Android Central Newsletter
Get the best of Android Central in in your inbox, every day!
Thank you for signing up to Android Central. You will receive a verification email shortly.
There was a problem. Please refresh the page and try again.