Fortnite goes next-level petty with new mobile discounts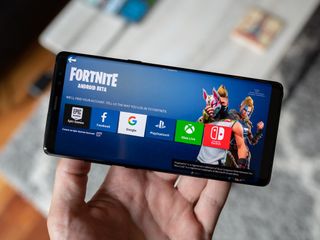 (Image credit: Android Central)
What you need to know
Fortnite is introducing new permanent discounts in its store.
It is offering 20% savings on V-Bucks and more across all platforms.
It has also introduced a new direct payment for iOS and Android, and had some choice words for Apple and Google during the announcement.
Fortnite has today announced new permanent discounts in its Fortnite store, but couldn't resist taking shots at Apple and Google as it introduced a new direct payment scheme for mobile.
In a new announcement Epic Games stated:
The new discount will apply universally and automatically on PS4, Xbox One, Nintendo Switch, PC, and Mac. On mobile, things are a little different:
But Epic Games couldn't resist the opportunity to take shots at both Apple and Google. As the announcement notes, if you pay for your items using Apple's App Store or Google Play Store, you won't get the 20% discount, the discounted price is only available when you select Epic direct payment.
With shots fired at both platforms, Epic Games said:
The discounts are also available on Android if you don't use the Google Play Store, and anyone who has purchased V-Bucks or real-money offers in the last 30 days will receive a bonus by August 17.
Petty? I'm all on Epics side on this one! Extortionist fees from the duopoly! I just wonder how long until they'll have to drop it, considering how that same model worked for Hey...

I'm not saying I support the fees as they stand. But, Epic originally didn't put Fortnite on the Google Play store because of the fees. They caved and added it to the store later. They knew what they were getting into.

Indeed. And now they're challenging the system from the inside.

Well, that didn't take long...

Good for them. Way to put the power of your player base to use.

Dead By Daylight just went cross platform 10 minutes ago. PS4, Xbox, PC and switch
Android Central Newsletter
Get the best of Android Central in in your inbox, every day!
Thank you for signing up to Android Central. You will receive a verification email shortly.
There was a problem. Please refresh the page and try again.