Fortnite for Android vs. PUBG Mobile: The Battle Royale battle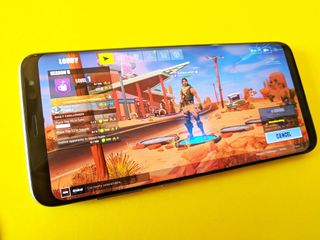 Battle Royal games have exploded in popularity, and now that everyone's addicted these companies are seeing fit to release these games for your smartphones. We've been enjoying the mobile version of PlayerUnknown's Battlegrounds for quite some time, and now Fortnite — the biggest game in the space — has finally made its way to Android.
While there are other Battle Royale games available on the go, these are the two undisputed behemoth kings. In case you're wondering about the differences between the two (and an honest opinion on which one is better), sit comfortably and read.
What's Battle Royale?
Let's start by talking about what Battle Royale actually is. The genre is still relatively new so there's no hard definition to go by, but the early games typically have one trait in common: that Hunger Games style of stipulation that tasks you with surviving up against a number of other players who are looking to do the same.
Most commonly, these games involve dropping into a big map, finding weapons, attachments, and gear, and racing some sort of shepherding mechanic that eventually forces everyone to fight. The last man standing wins.
Not all Battle Royale games follow this core model, though. Games like Darwin Project, The Culling, and Realm Royale feature unique features such as crafting, a player who oversees the action like a God and influences it with special abilities, or out-of-this-world weaponry like chicken guns. They're all different, but they're all still Battle Royale games.
Fortnite for Android vs PUBG Mobile
With a better understanding of what these games are, we can take a look at what makes both of these games unique, as well as other factors — like pricing, availability, and mobile-centric features — which set them apart.
Which phones can I play on?
Fortnite for Android and PUBG Mobile may be available on the same platform, but that doesn't mean you can play them on every device. PUBG Mobile is the most ubiquitous of the lot, with more than 500 Android devices being supported. Meanwhile, the list of devices that Fortnite currently supports currently sits at a few dozen.
Fortnite's system requirements are more stringent if you want the best experience. You'll need Android 5.0 or higher, 3GB of RAM or higher, and an Adreno 530, Mali-G71 MP20, or Mali-G72MP12 GPU or higher. Epic actually launched Fortnite for Android as a brief Samsung exclusive, with Samsung flagships from the last few years all being on the initial list of supported devices. That includes the Galaxy S7 and newer, Galaxy Note 8 and newer, and the Galaxy Tab S3 and newer.
Assuming you can get an invite to play the beta, Epic says there's a chance the game will work on more devices, which means you can install the game on pretty much anything. Epic Games just doesn't guarantee a consistent experience on anything other than the list of smartphones listed above, so they won't be able to do much for you if you experience any issues. Here's a full list of supported devices you can play Fortnite for Android on right now:
Google Pixel 2 / 2 XL
Google Pixel / Pixel XL
LG G7
LG V35
LG V30 / V30+
LG G6
LG V20
LG G5
Essential Phone
OnePlus 6
OnePlus 5 / 5T
Razer Phone
Huawei Mate 10 / Mate 10 Pro
Huawei Mate RS
Huawei P20 / P20 Pro
Huawei Nova 3
Honor 10
Honor Play
Honor V10
Asus ROG Phone
Asus Zenfone 4 Pro
Asus Zenfone 5Z
Asus ZenFone V
Xiaomi Blackshark
Xiaomi Mi 5 / 5S / 5S Plus
Xiaomi Mi 6 / 6 Plus
Xiaomi Mi 8 / 8 Explorer / 8SE
Xiaomi Mi Mix
Xiaomi Mi Mix 2
Xiaomi Mi Mix 2S
Xiaomi Mi Note 2
ZTE Axon 7 / 7S
ZTE Axon M
ZTE Nubia Z17 / Z17S
ZTE Nubia Z11
High-end HTC, Sony, and Moto devices are notably absent from this list. While they're currently unsupported, Epic is working to get the following Android phones working properly as soon as possible:
HTC 10
HTC U11 / U+
HTC U12+
Lenovo Moto Z / Moto Z Droid
Lenovo Moto Z2 Force
Sony Xperia XZ / Xperia XZs
Sony Xperia XZ1
Sony Xperia XZ2
PUBG Mobile is a bit laxer. So long as you have 2GB of RAM and are on Android 5.1.1 or higher, you're good. There's a chance lesser devices can run the game, too. The best way to see if your phone can run it is to download it from Google Play and give it a shot.
Both games make it easy to customize the graphical fidelity to help you achieve smoother performance. Fortnite lets you change the level of detail from low all the way through Epic, while PUBG Mobile offers similar graphics options and the ability to automatically determine the appropriate level based on your hardware. Play around with the settings to see what works best for you.
One last thing to note: PUBG Mobile is available via Google Play (opens in new tab), but Fortnite requires you to install a third-party launcher as a direct download from Epic Games. (The exception to this being Samsung devices, which can get the game from the Galaxy Apps Store.) You won't have an issue keeping your game updated in either case, but if it's important that you get all your games from Google Play, it's something to keep in mind.
Are they free to play?
This is the big question you might be wondering about, because PUBG is notoriously a buy-to-play game on other platforms, while Fortnite's Battle Royale mode is free for all to download. That's not the case on Android.
Both PUBG Mobile and Fortnite for Android are entirely free to download and play. The games are supported by microtransactions which give you access to new cosmetics, but otherwise don't require you to spend a dime if you don't want to.
PUBG has a selection of premium character and weapon skins to choose from, and these are added to over time. You can purchase things either directly or buy military crates for a chance at random items. There's also a Royale Pass that lets you earn rewards the more you play, and these rewards are refreshed each season.
Fortnite, meanwhile, more regularly offers new skins either through direct purchase or by way of the Battle Pass, which allows you to pay a premium to earn exclusive rewards. Fortnite's cosmetics are also more varied, with things like emotes, loading screen skins, glider effects, and more joining your typical selection of character model and weapon skins.
Gameplay differences
PUBG's allure is that it's a more realistic game. The visuals are more lifelike, the weapons are based on actual military equipment, and the ballistics model is made to emulate real life. That means things like bullet drop — which causes damage to fall off at longer range and requires you to adjust your shots to account for distance and height — are emphasized as these mechanics create a skill gap.
On the flipside, Fortnite is about as silly as silly gets. It's cartoony, it's unrealistic, and it's over-the-top. And it's all great. You can throw grenades that make your opponent dance or instantly erect structures that are several feet high. Run through time travel rifts to be taken to the skies and dropped back down to the ground just as you did when the game started. Use a golf cart to drift, and the finish it all off by dancing in front of a huge birthday cake. Anything can and will happen in Fortnite.
You also have a building system that allows you to use the materials you've gathered in the world to instantly create structures to use for cover and shelter. Its shooting model is of the hitscan variety, which means bullets will land perfectly as long as your crosshairs are on your target when you pull the trigger (with the only exception to this being scoped weapons).
Both games are plenty fun and intense in their own ways, and which one does it right really comes down to personal preference. There's a misconception that PUBG requires more skill because it's more realistic, but that's not necessarily true. Both games require different types of skill, and you can play them as casually or as competitively as you want.
Mobile-friendly features
Fortnite and PUBG Mobile both have several features in play to help make the mobile experience easier. You can pick up items and weapons simply by running over them, and doors can be opened by running into them. In terms of shooting controls, Fortnite allows you to auto-shoot, which is a nice feature for those who don't have the skill to aim, shoot, and build at the same time.
Both Fortnite for Android and PUBG Mobile also allow you to customize a ton of little control options and even resize and reposition HUD elements.
Crossplay
Fortnite is currently the only game in this genre with cross-platform play. You can play with friends on PlayStation 4, Xbox One, Nintendo Switch, or PC if you so choose. We wouldn't recommend doing that right now, of course, because someone with a proper controller or a mouse and keyboard setup will have a massive advantage. You could even the playing fields by using a Bluetooth controller, which brings us to our next point...
Bluetooth controller support
Neither Fortnite for Android nor PUBG Mobile officially support Bluetooth controllers at this time, meaning you'll need to use onscreen controls to do anything. Epic attempts to make this easier with auto-shoot mechanics, though it still isn't going to give you the same level of precision as using a controller would.
In fact, Fortnite takes a massive hit in this category due to its more complicated control scheme. While things are still sometimes awkward to pull off in PUBG Mobile, the fact that there's no building system makes it a much more mobile-friendly game. All that said, there are plans for Fortnite to get Bluetooth controller support at some point down the line.
There hasn't been any news on that front for PUBG Mobile. In fact, some believe the developers don't want to introduce controller support so as to keep the playing field level (which is possible because lack of cross-platform play means they know for certain that everyone playing in a server are playing on mobile devices), so it's possible we may never see it. That hasn't stopped players from figuring out ways to use external controls to improve their game, though.
Feature parity
This is an important point to touch on. Those who play the game on one platform will expect a game of the same name to have the same features on another. That isn't always possible with mobile, though.
To that end, Fortnite for Android offers the most consistent experience across devices and platforms. That's because the game has to be the same everywhere in order for cross-platform play to truly work. All the new updates and features Epic will introduce on a regular basis will show up quickly, because you wouldn't be able to play with people on other platforms otherwise.
Meanwhile, PUBG Mobile is kind of operating in its own silo. The PC version is pretty far ahead of what's available on mobile, and while the mobile experience is mostly in line with the baseline game, there are still new maps, weapons, vehicles, skins, and gameplay changes that will take time to be implemented. It's catching up, but don't expect day-one patches like Fortnite.
Fortnite for Android vs PUBG Mobile: Which is better?
As we mentioned before, it's hard to say which game is better from a pure style standpoint. PUBG Mobile and Fortnite for Android can appeal to the same crowd due to how similar their gameplay models are, and it really is all about your personal preference at the end of the day.
In a world where you wouldn't mind either style of game, Fortnite is the obvious pick if you play the game on multiple platforms or have friends on other platforms you'd like to play with. It also means you get a more active schedule of updates, with Epic introducing new changes and items on a weekly basis.
However, if you're having trouble coming to grips with Fortnite's control scheme, you may enjoy PUBG Mobile a lot more. It's more customizable in that regard, and because there are fewer mechanics to worry about overall, you don't necessarily need a Bluetooth controller to make it a pleasant experience. PUBG is also available on a lot more devices, so for some of you, it may be your only option.
We'd also give PUBG the nod for complete newcomers, as the game has a comprehensive tutorial and boasts an excellent onboarding experience that fills your first several games with mostly AI-controlled enemies. This helps ease you into the frying pan instead of having to jump straight into the fire.
No matter which camp you fall in, remember that both games are still changing on a fairly frequent basis, and what may be a point in favor of one game now could change in a matter of weeks. In fact, Fortnite on Android is still considered in beta, so there are likely tons of improvements already in the pipeline.
Which one do you prefer?
Give us a holler in the comments section to let us know which game you think is better, or simply which one you prefer to play right now!
I found Fortnite almost impossible to play on touch controls, building adds a complexity that's difficult on touch IMO.

I've only ever played PUBG, so obviously I am biased. I tried running fortnite on my S9 and it was a lagfest. Even with my phone in performance mode. But I am definitely a fan of a more realistic shooter game.

"Good people on both sides" PUBG. (my handle is TypeForty)

I prefer PUBG. Easier to use, without all that building crap. I can make it easier to the end as its traditional combat style.. plus, I like that I can carry more crap on Pubg

PUBG wins hands down on mobile imo.

Had a horrible experience on my s9+ with fortnite. pretty much locked up my phone and I had to hold the power button to hard boot it. uninstalled it and won't install it again, anything that sucks 100% cpu on a monster phone like that specs wise is not ready for prime time.

I can't play Fortnite it keeps freezing and force closing. PUBG works great. So I will stick with PUBG.

"Let's start by talking about what Battle Royale actually is. The genre is still relatively new so there's no hard definition to go by, but the early games typically have one trait in common: that Hunger Games style of stipulation that tasks you with surviving up against a number of other players who are looking to do the same." Or maybe, just maybe Battle Royale.

PUBG, even though I don't play it
I know it's better optimized for mobile in comparison

Not even close. It's a better mobile product, better console product, and better PC product. I can't stand Disney Battle Royale.

Fortnite on Android currently looks terrible on anything other than the Gaalaxy S9/S9+/Note 9

Fast cash... Wanna know how to easy make money just by playing games ? http://www.gamingjobsonline.com/landingpage.php?hop=gmaik4

No, but I'd like to know how long you can keep your head in a lit oven.

Was anyone else expecting a thousand comments by now? Props to the community. It's hard for me to tell which one is better on mobile. I've played PUBG and it performed perfectly on the U11 at the highest quality setting.
I can't load Fortnight because the device is not supported, but it's a general consensus that it's a lagfest with horrible frame rates. I guess I'll find out eventually if it still matters when they release it for my hardware.

PS: I was tempted to load Fortnite on a friend's Galaxy S8 when he gave it to me for a few hours along with his passwords, but I decided not to. If the current version of Fortnite is laggy on the S9, it will be worse on the S8.
By the way, did you know that the old HTC M8 screen is brighter and sharper than the S8? I never knew that.

Was the S8 screen set to 720P or just 1080P? Because a friend has an S8 and that is as good as a screen can get...

Everyone has to learn... When a company treats Android like this even though there is more users, turn your back on them. They will spend more time on crappy iOS and thing you will keep running back everytime they throw you table scraps. Screw them. The game is an overrated pOs on ant system anyhowm

If only the folks at Tencent and PUBG Corp exercised the same effectively ZERO TOLERANCE for cheaters, "APK MOD" users, and aimbotters as Epic Games...

The general consensus is PUBG is better on mobile, a stance that I agree with.
Android Central Newsletter
Thank you for signing up to Android Central. You will receive a verification email shortly.
There was a problem. Please refresh the page and try again.