Flight Track gets update for ICS, bugfixes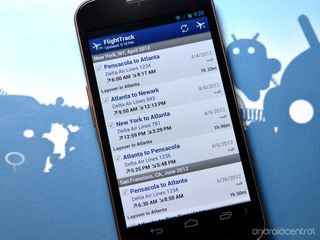 Flight Track -- an indispensable app for those of us who go places to do things for a living -- just got itself a sizable (if slightly cryptic) update. First, the changelog:
Customizable time zones for flight times
Added calendar-style date selection (phone)
Significant reduction in app size
ICS-based enhancements (phone and tablet)
Missing string localizations for some languages
Minor bug fixes
And now, a little tough love: We're not quite sure what these "ICS-based enhancements" are, but we know one thing: Flight Track is still using the legacy menu design that is supposed to be phased out with Ice Cream Sandwich. But Flight Track's still got the telltale menu button tucked down with the ICS navigation buttons, and that's not good.
Hey, developers. It's time for some spring cleaning. We're picking on Flight Track right now, but this remains true for far too many applications. And it's probably a good thing that they be updated now, before Google decides to bring down the hammer.
End of lesson. We've got download links for Flight Track after the break.
I want the legacy menu designs. Darn Google! I don't want my smartphone "dumbed down" and made less-smart. Nothing annoys me more than stupid icons when I am in a hurry to get something done. I can use an alternative ROM which retains menus, but I will be forced to stop updates on apps that move to a GUI I don't like. And I will do that. ps: I do like the calendar page date format of the new FlightTrack version. In fact, I like all of it I have seen so far... no need to restore my old version from Titanium ... yet...

i love this app. not only great for when you're flying - it's also great for when you have someone flying in to see you and you are picking them up at the airport or meeting them. you can keep tabs on their flight status and be automatically alerted via notifications to any changes. set it and forget it. i've also used this app while flying in the plane to see our progress. great app i love it.
Android Central Newsletter
Get the best of Android Central in in your inbox, every day!
Thank you for signing up to Android Central. You will receive a verification email shortly.
There was a problem. Please refresh the page and try again.