Fleksy keyboard is now free, with previous owners bagging $8 worth of in-app gifts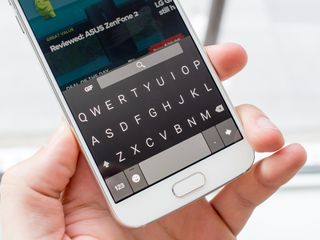 The Fleksy virtual smartphone keyboard was already a popular product when it was priced at $1.99. Now the app is available for free from now on, with its revenue now coming entirely from in-app purchases.
Fleksy explains why they have made this business model change:
People who have already purchased Fleksy have not been forgotten. They will be offered a number of free themes and extension slots for the app that are normally worth $8.
Fleksy is also adding a new feature with this change:
You can download Fleksy now from the Google Play Store (opens in new tab).
Meh. I'm sticking with SwiftKey. I just wish they would add undo redo, ios has had that for years! Posted via Android Central App on 1+1

Hopefully it doesn't get all buggy and laggy like SwiftKey did right after it went from paid to free...

Some of the new themes already won't stay set once you select them. You're he moving the default blue theme instead. Posted via the Android Central App

I've had the same problem. You can select one of the new themes and it goes back to blue. Posted via the Android Central App

Another update and the problem is fixed. Posted via the Android Central App

It's not free.. It's now a "freemium" app. I ditched all the keyboards and froze the Samsung one. Now I just use Hacker's Keyboard. It's pretty much the only one that doesn't need an "account" or access to some cloud service. Every freaking app now wants you to create an "account" .. It's a freaking keyboard.. As for Stickers and Gifs, I'm not a 5 year old, so not needed either as I can use words...

Still free. Nobody is forcing you to buy addons or use the cloud sync function or enjoy stickers and stickers and gifs.

Not forced, but Swiftkey nagged me till I uninstalled it!

No one is nagging you to purchase Fleksy addons.

I bought the paid app before when it was on sale for 99 cents. But I didnt have it installed. I just reinstalled it, where do I see the $8 worth of gifts??

Surprise! You've been duped! Posted via the Android Central App

Has this worked itself out for you. Had the same problem initially. Opened and closed the app a few times and finally resolved itself. Could be that there is a process to verifying a previous purchaser between Google and Fleksy that takes a bit of time.

Ill keep checking, but how do you know that you got it?? thanks for the reply.

Everything initially had a price tag. Pricing has been removed and the button now says "get".

Logged in with my gmail and all the free stuff went away. LG G2
GSIII
Galaxy Note 4
(The Sprint Lover)

Got it for free when on sale from Amazon, problem is that only the (beta) works with Android M.

Been using this keyboard for over a year now. Love it. I don't have a problem with them going free. I definitely already got my money's worth. I wish they would have unlocked the Material themes for us though. Ah well... Posted via the Android Central App

I fell in love with the Chameleon theme. Best theme ever.

Yeah love this keyboard. Been using for a long time now. Purple themes or bust :p Posted via the Android Central App

I'm still a big user of SwiftKey but Fleksy is a nice little keyboard as well.

Please please please learn from SwiftKey and don't screw up your product. I happily paid for SwiftKey, they went free and now it's slow, bloated and suffers from feature creep (not to mention that terrible and misplaced hamburger menu). Free is cool but please remember that it's supposed to be a keyboard FIRST and not a hub for features that drag the app down to a crawl. Good luck with the new model. I hope it serves you well!

Yup. Had no problem paying for SwiftKey before it was free. And I'll never buy a stupid skin for my keyboard because I'd rather see letters and not a superhero or Disney character. I wish the google keyboard would add a few more features so I could just stick with it forever.

No number row (or I just can't find the setting) and no swipe to type capability. So I'm sticking with the default Samsung keyboard.

There's definitely a numbers row, it's under the extensions. Posted via the Android Central App

Add a dedicated number row from the extension setting. Posted via the Android Central App

Love Google's keyboard. Posted via the Android Central App

+1 Posted via the Android Central App

I really love Google's keyboard. I actually started using that over SwiftKey, but I think I'm gonna give Fleksy a shot. I used to use them on my iPhone. Posted via the Android Central App

Maybe it's just me, but I think keyboard apps should give a trial for all the features, then let me pay for the ones I like. Even just 5-7 days. I'm much more likely to buy a 3 buck theme if I actually saw what it looked like first. I can't tell if I'd like any of the extras or not.

Had never been fond of swiftkey. Had been using Fleksy since it went free foe a week about 2 months back and though I miss swipe typing, its hard for me to adjust with another keyboard now. Posted via the Android Central App

Tried the free version and then bought the paid version a while back. Love it!! Typing much faster now and it does a great job of word corrections. My typing is more accurate and fast. Lovin the swipe gestures. Keep up the great work guys!!
Android Central Newsletter
Get the best of Android Central in in your inbox, every day!
Thank you for signing up to Android Central. You will receive a verification email shortly.
There was a problem. Please refresh the page and try again.