Five Flappy Bird replacements to fill the pipe-sized gap in your heart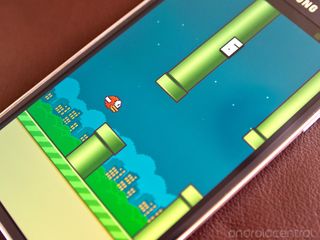 Flappy Bird is dead. Long live Flappy Bird replacements.
Flappy Bird was removed from the Play Store this weekend, leaving many self-professed addicts high and dry (and in some cases, absurdly angry). You're in luck! There are many great games on Google Play which can certainly fill the void.
Amazing Cupid
Amazing Cupid is a cleverly social twist on the now-burgeoning Flappy Bird genre. Players control a cherub by tapping with each flap to dive downwards, against a constant upward flap. As always, the goal is to get through as many gaps in incoming obstacles as possible without touching anything, but the catch here is that you're trying to get a certain goal in a certain amount of time in order to read a secret note from a friend. If you don't the message is lost forever, not unlike Snapchat. It's a fun and cruel idea to make friends work secret letters, especially if used in the implied romantic situations. The humor shines through (and might even be amplified) by the slightly broken English. It certainly helps that the art and gameplay are polished too.
Download: Amazing Cupid (Free)
Badland
Badland is a beautiful side-scroller where players guide cute little blobs through a forest that's being taken over by machines. In the process, you gather items that will cause your creature to spontaneously multiply, shrink, grow, speed up, or slow down. This makes things very interesting since the maze can get very hectic, and since it's always scrolling, you stand the risk of getting crushed behind obstacles against the edge of the screen. The blobs in Badland certainly flap, so you won't be missing out there. Oh, plus you can touch just about everything without losing.
Download: Badland (Free)
Floppy Bird
Flappy Bird clones swarmed the Play Store as soon as the original made it big. Perversely enough, now they're the most viable option if looking for a Flappy Bird replacement. Of the lot, Floppy Bird is the best. It retains the 8-bit feel, the challenging physics, and the overall bird theme. It's not perfect, though; there's an obnoxious ad that sticks around half-way into the middle of the screen, it takes two taps to reset for the next round, and the more complex pipe structure might ruin the simplicity you're used to. If you're at a PC, Flappy Doge is pretty good too.
Download: Floppy Bird (Free)
The Impossible Game
If Flappy Bird has given you a taste for the seemingly-impossible, The Impossible Game is sitting in the Play Store, just waiting to crush your spirits with insanely difficult platformer challenges. This is not just a name. It really is impossible. This is a game that will beat you up, and for some god-awful reason, you'll keep crawling back to it for more. It may even make you wish for simpler times, when Flappy Bird was still around.
Download: The Impossible Game ($1.99)
Jetpack Joyride
Is a classic side-scrolling endless runner where players control Barry Steakfries, a bureaucrat gone rogue in a top-secret science facility. His minigun jetpack keeps him aloft while you work your way into the complex, avoid security systems, and snag other classified technology. You're scored based on how far you get before being taken down, and can spend coins gathered on new gadgets and vanity items. Plus, you can run along the ground sometimes, and not just faceplant like an idiot.
Download: Jetpack Joyride (Free)
Those are our favorite Flappy Bird replacements right this second, but what about those of you that don't have access to it anymore? Those that do, how long do you intend on keeping it on your device? Have many of you straight-up given up on Flappy Bird in frustration? If so, take a gander at our tips guide before uninstalling.
Get the Android Central Newsletter
Instant access to breaking news, the hottest reviews, great deals and helpful tips.
Simon has been covering mobile since before the first iPhone came out. After producing news articles, podcasts, review videos, and everything in between, he's now helping industry partners get the word about their latest products. Get in touch with him at simon@futurenet.com.