Fitbit Surge sees limited release for those who expressed early interest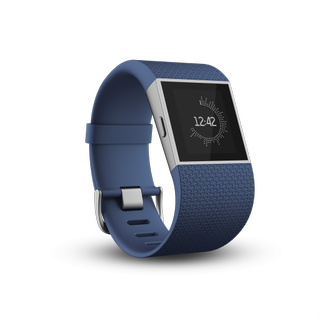 It looks like the first round of Fitbit Surge trackers are being offered up to a select few who signed up to receive notifications about the device's availability. We've gotten a tip from a reader who was able to order one of the wearables with a special promo code during an exclusive "limited release."
As a refresher, the $250 Fitbit Surge was announced back in October and sports a built-in GPS, a heart-rate monitor, and a touchscreen display that features music controls as well as call and text notifications.
Though this is good news for those who were quick to sign up for notifications on the wearable, it's important to remember that Fitbit is labeling this as a limited release. Back at the device's announcement, the official word was that it would launch in 2015, so don't expect wide availability. Still, it will be interesting to see the devices start to trickle out into the hands of the public.
You can see an example of the image contained in the email below. Let us know in the comments if you've received one as well.
Thanks to David for the tip!
Stupid me, I spent 10 min looking for it in Target as I saw a few Fitbit demos and this one was listed as if they had it. So I looked where the actual boxes are. via AC App on VZW Moto X DE/N7

Darn. I signed up but no special offer for me. Anyone get one from fitbit? Posted via the Android Central App

I just got an early release email - I guess because I had been emailing them asking about the Surge release. Fitbit had sent me a 15% loyalty discount in repayment for my horrendous wrist rash from the Fitbit Force. When I went to use the discount last night, I was told by a Mod in the forum that the website has a technical issue and that it would not allow 2 simultaneous "special offers" (the 15% discount and the early release offer). She made a point to tell me most stores won't allow stacking of offers. So I called the company this morning to purchase it. They said they won't allow the loyalty discount until next year. They made a policy that everyone pays full price on the early release. Greed > loyalty.

I had a similar issue with the 15%. I called customer service who wasn't willing to do anything for me and I have emailed them. So I ordered the full price, they have a 45 day return policy. I figure I can return the watch before that is up and order another using the discount at regular release (and maybe even get to select another color). It is a waste and I prefer to just get the discount now, but if this is how they want to do it this is how it will be...

Me too. I haven been round & round with them on customer loyalty and doing what is right. Good idea about returning within timeframe and using the percentage off. I love the fitbit but I am offended at their choices. I know , I can go elsewhere.

Hell yeah, I'll buy it if you don't want yours?

http://dallas.craigslist.org/dal/ele/4791287559.html

If you have not been able to sell yours yet, Try EuropeGiant at the following url http://www.europegiant.com. People sell stuff quickly on there. It's just like Craigslist. It's a great platform to sell stuff locally and do other things like finding jobs , housing , etc ..

I got the email and ordered mine! They also did free overnight shipping for those who got the email!

You got lucky! They gave me free 5-7 day shipping with no option for overnight. I order my watch about 25 minutes after receiving the email earlier today. Has yours already shipped? Mine says: "Part or all of your order has already shipped. If you need to change your order, please contact customer support at 877-xxx-xxxx."

They said on their website, via the link from the email, that the order would be changed to overnight once it shipped. So yours should also be overnight even though it initially said 5-7 business days.

You're right. I ordered off my phone so I didn't catch it until a reclicked the link. Thanks for the great news.

The website said free overnight but the confirmation said 5-7 business days. I just phones customer service who told me my order was in fact going out overnight. I covered today, they said I missed the 5am cutoff, so it will go out Monday for Tuesday delivery. Not sure I believe them though until I get email confirmation...

I haven't seen any confirmation email with a tracking number yet either. I don't have much hope for a Monday delivery either but I will post an update as soon as I hear from them.

I take that all back. I just got a confirmation email for FedEx Overnight Saturday Delivery. That's impressive work on FitBit's part. I should have mine tomorrow by noon.

Yep ordered mine! Posted via Android Central App

Let us know how you like it! I want this to replace my aging motoactv.

My Motoactv won't sync to the Motoactv site any more. Does yours?

Nope it doesn't. Haven't used it in a long time because of that.

Damn, I'll keep my fingers crossed for the lucky ticket email. Posted via the Android Central App

Mine is for sale if you want it!

I notice they just updated the fitbit app for surge/charge hr support tonight. Guess I didn't sign up soon enough, dangit! Rocking the charge right now and it's pretty nice!

I also got the email and ordered today. Posted via the Android Central App

Got the email and ordered it today! I was looking at both the Microsoft band and the Basis peak but I didn't bite on either of those because of the Microsoft band's design and the Basis peak lacking a gps. Here's hoping that the Surge delivers!

Do u get a tracking number? i don t have any confirmation email anymore. order at late night of 4 dec

I got an email this afternoon with a tracking number, saying that my order has been shipped.

I haven't been interested in wearing a watch in over a dozen years! Posted via the Android Central App

Surge vs. Up 3. Looking for advice or feedback Posted via the Android Central App

I've had the Up24 since April of this year, and I 've had to have two warranty replacements in that time. A guy who I work with has had the same experience. Jawbone's customer service is great, but I don't like that the devices malfunction so often. Is this a sign of things to come with the Up3?? My wife has a FitBit and it has never failed. By the way I like the FitBit application for Android better than JawBone's interface. I would go with the FitBit IMO.

This applies to Charge HR too, not just Surge. Ordered mine yesterday. Are these shipping soon? I thought they were due Q1 2015. Awful nice to give us a month or more to play with it before shipping to others.

Thanks for mentioning it. The Surge seems like complete overkill for me, but after using the Force and returning it after I got the dreaded recall rash the Charge HR seems like a much better replacement than the Flex I have now. I've been tempted to pick up a Charge for a while now but heart rate monitoring would be a plus.

Ordered a Surge.....Has anyone else received tracking info? Mine just says "One or more items has shipped, blah blah blah" but no tracking #.

My Charge HR gave tracking this morning. Due to arrive tomorrow. Shipped from Plainfield, IN if i recall

Does this have built in storage for music and can it play music directly off the watch (through Bluetooth) without the need to carry a phone? If not, they too have missed the trick IMO.

It doesn't. Posted via the Android Central App

Definitly, at this point of this tech, it's useless to invest in any activity tracker anymore, it's imo a dead end tech. I own the smarwatch 3 from sony and it took me a month to decide but finally picked up the sw3. why? because there's an app for everything trackers do like sleep traking (im using sleep as android for android wear, kills the battery 80% but its still in beta) for steps, i use google fit and lifelog (pretty accurante with around 10% mistake), to run i use my tracks for now because runstatic and runkeeper stil can't use the watch gps, but runstatic say they will support it in their next update. Also the sw3 can play music offline with google music, its a painful process (around 20mn for 70 songs, but since it has only 2go of memory you won't really mind. i know they say it got 4go storage but the os and some app will take already 2go). I think tracker are a dumb product, the future is obviously smartwatch. Just because you will be able to do anything a tracker can do with a smartwatch in the very near future, and they cost the same price, when i see what i can do with my watch compare to a 150 euros jawbone up24, i definitely pick up a watch. also, seriously, smartwatch use google, a billion if not trillions company, against a loads of small company that try to take a share of the cake. as for cell phone, the fight will be between 2 or 3 os, and surely google will have a huge share of the sells. The only pro for trackers is the battery which last around 7 days when a sw3 will last around 2 and half or 1 and half if you run an hour everyday with music on. but im sure plugging a cable 40mn a day (time it takes to fully charge the sw3) will not be too much of an hassle

Got the email for the Charge HR. Ordered it and got a shipping notice with a delivery date for Saturday!

Man, where is my email? I broke 3 UP24 already in less than a year. Jawbone CS are great, but the damn thing keeps malfunction.......

I ordered mine yesterday night. Had to get it shipped to my buddy in US, as they don't ship it to Canada. If I chose the shipping address to my home address, the product disappears from a shopping cart. Got charged the California retail sales tax on my purchase, eventhough it's eventually going to Canada... 15% off for Force owners coupon - didn't work either. Just saw my card charged, so hoping that a friend of mine gets it for me on Monday.... basically this limited release is for US only.

I ordered mine earlier today and have received shipment notification and a tracking number when checking order status. Looks like I may receive it as early as tomorrow :) I was not able to use the 15% discount, but that is OK with me for now. I can still use the discount later if I wish.

This looks like a great item but for my needs, it would have to be waterproof. So until an official waterproof rating is announced, that is a deal breaker for me. Posted via the Android Central App

Anyone want to buy my Early Release Surge?

On FedEx truck as of 845amCST and should be here before noon CST.

Mine has arrived and it's for sale! Who wants it?!

Mine has arrived and it's for sale!

Contact info on this ad http://dallas.craigslist.org/dal/ele/4791287559.html

A bunch have just been listed on Ebay so people who were lucky enough to get a limited release Surge are now listing them.

Got the email Thursday, ordered Friday, received today via FedEx overnight. Syncs great with Android Fitbit app on my HTC One M8 GPE running Android 5.0.1. I have had a Fitbit One since it came out but decided to upgrade to the Surge because of the heart rate monitor and smart watch features. Only had for half a day and very pleased with it so far.

I got the email, ordered the Surge & FitBit is sending it out via overnight shipping free of charge! Tracking says I'll have it Monday Afternoon! Can't wait! PS, only the Large & Small size are available in this release, not the XL size.
Android Central Newsletter
Get the best of Android Central in in your inbox, every day!
Thank you for signing up to Android Central. You will receive a verification email shortly.
There was a problem. Please refresh the page and try again.