Finding your way around with Google Maps on Android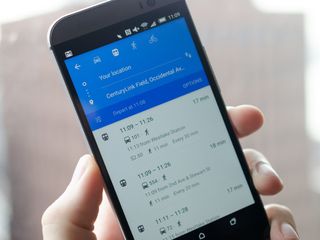 When you need to get from A to B (to C and D) with reliable step-by-step directions, it's usually a good choice to go with the Google Maps app on your phone. Whether you're driving, walking, biking or riding public transit, Google Maps pulls in a wealth of information to get you there safely and quickly, provided you know the right buttons to tap and settings to check.
Now that we've gone over the basics of Maps, we're ready to get into the navigation side of things. If you're ready to master Google Maps navigation, we're ready to help you do it — read along with us.
Read now: Using Google Maps for navigation on Android
Navigation for driving
Google Maps is probably used most as a turn-by-turn navigation tool for drivers, and when it's paired with a nice dash-mounted phone holder it can be a great choice for just that. To get driving directions in Maps, simply search for a place and once you've selected the correct destination press the blue car button in the bottom-right corner of the app. You'll then be given a list of possible route options, starting with the quickest at the top followed by other available options below. Just below your destination entry you'll see an Options button where you can choose to avoid tolls, highways or ferries if you want to be specific about your route.
After setting your options, tap one of the routes to view the full route on the map — you can then swipe left and right on the bottom bar to switch between routes and swipe up from the bottom to view the step-by-step directions. When you're ready to go, tap the blue navigation button in the bottom right to get moving. If you don't particularly care about the specifics of your route and just want to get straight to navigating, instead just long press on the blue navigation button from the destination screen and you'll be taken straight to navigation with the fastest route selected.
Once driving, you can tap on the right side of the top bar to preview the next driving step, and tap instead on the left to check the previous step. Where available, you'll see lane guidance for upcoming turns or exits at the top of the screen. Tap the menu button in the bottom-left corner to access mute, traffic and satellite toggles for better information while navigating. You can also still swipe up from the bottom bar at any time to get back to textual directions.
Helping you keep your hands on the wheel more of the time, Google Maps has also added more voice controls inside the navigation mode. While they still require a single tap of the on-screen microphone button, it's one tap instead of many to get things done. Try these different voice commands during navigation to ease the strain of interacting with your phone while driving:
How is traffic ahead?
Show route overview
What's my next turn?
Show alternate routes
When will I get there?
What is my next turn?
Navigate to [place]
Between the various options you have before starting your drive and voice actions while driving, Maps will get you where you need to be.
Navigation for public transit
If you live in a large city or simply don't want to go mad behind the wheel sitting in rush hour traffic, you'll definitely want to lean on the wonderful public transit directions in Google Maps. Public transit navigation kicks off the same way it would if you were hopping in a car, but when you get your start location and destination plugged in you can instead tap the public transit button at the top of the screen.
Just like driving directions, Maps will lay out several different public transit routes for reaching your destination, sorted by duration. The time quoted for each route is the total amount of time the journey will take, including walking and transfers, and you'll also notice ride pricing and the basic schedule for the frequency of buses or trains on that route. The Options button at the top right lets you choose if you prefer to take the bus, subway, train or tram/light rail, as well as whether you'd like the routing to be biased toward the best route, fewest transfers or least walking.
In the top-left corner you'll notice a Depart at... button — tap it to refine the results based on when you'll be going. You can choose to get transit results for leaving at a specific time, arriving by a specific time or getting the time of the last train or bus of the night on that route. Routing is available for the current day, next day or any specific date in the future if you really want to plan ahead. Of course if none of the transit options work for you, Google also now includes an Uber quote for a hired ride from within the public transit route results if you have the Uber app installed on your phone.
Once you select a route you want to take, you'll be given an overview of the route you'll follow with walking portions in grey and the transit portions in blue. White dots indicate where you'll get on and off the transit, or make transfers. Just like driving directions you can swipe left or right on the bottom bar to switch between routes, and swipe up from the bottom to view step-by-step guidance, including the number of stops you'll ride for and how far you'll walk. If you tap on any of the steps, you'll be zoomed in to that portion of the journey with more information — you can then use the arrows in the bottom-right corner to move step-by-step through it.
As a quick note, don't rely on Google Maps as a comprehensive look at every public transit option available in every country. For example Maps does a good job showing Amtrak information in the U.S., but comes up a bit short when looking for long-range train routes in Europe. If you're planning to take a long trip, you may want to consider double-checking route options elsewhere to be sure you're choosing the best one.
Navigation for walking and biking
Say you have a shorter trip and it's a beautiful day out — perhaps you want to use Google Maps for walking or biking directions. Things are far less complicated when you choose to navigate by foot or bike, as you'd expect, simply letting you choose your route and then sending you on your way. Options for walking and biking are limited — you can simply use the Options button to avoid ferries.
The one difference is when it comes to biking, where the routes will actually show elevation gains and drops for the duration of the journey — a handy feature. If you have your phone mounted on your bike and easily-accessible you can also use many of the same voice commands covered above in the driving section. Or if you have it tucked away safely, when a turn is coming up your phone will buzz in your pocket — as well as on a connected Android Wear device — to alert you.
One word of warning here is that Google Maps still labels both walking and biking directions as "beta," so it can't guarantee that there will be a suitable sidewalk or bike path for your trip. Use common sense and follow road signs when possible!
Going beyond the top-down 2D map
Whether you're planning a train ride, walk, bike or drive, chances are you may want to know just what the roads and area look like along your route. Even though Maps defaults to a top-down 2D map, you can do a few different things to put your trip into perspective and give you a feel for the area.
In places where detailed mapping information is available, you can zoom in on a map to show buildings and landmarks in 3D in real time. Just pinch-and-zoom in until the buildings pop up from the screen. Take it a step further by swiping up on the map with two fingers to tilt the map and show the relative size of the buildings around the area — to go back to a top-down view just swipe down with two fingers again. Remember you can always pan and move to whatever angle you want, even when the map is zoomed in or tilted.
If you want to see how the area looks in real life rather than in a simplified map version, swipe in from the left edge of the app and tap Satellite. This will show the latest available satellite imagery from Google, showing every detail available. Using the satellite view doesn't restrict your ability to use other features of Maps, including navigation, traffic and points of interest — it's just another way look at things.
Of course for the best possible information, you can always go into Street View mode and look at just exactly where the entrance to that building is, or where a bus stop is located relative to the street corner. To access Street View, select a location in Maps, tap on the location in the bottom bar and then tap the Street View imagery. When in Street View you can pan and zoom around freely, and then scoot along the streets by using the directional arrows at the bottom of the screen or double tapping a specific point.
Between 3D maps, satellite view and Street View you should have no problem finding your way around a new area.
Now you know where you're headed
With this in-depth look at Google Maps, you now have the knowledge necessary to make the most of the navigation features in the app. No matter how you get around you'll be getting their quick and safe — all thanks to Google Maps. If you have an interesting way to use navigation or have found a trick for using Google Maps, be sure to let us know in the comments!
Andrew was an Executive Editor, U.S. at Android Central between 2012 and 2020.
Nice guide Andrew, I am disappointed that Google has not allowed for Avoid Toll Routes to be set as a default option, perhaps a deal with the local toll authorities to direct traffic to toll routes?

Don't think there's some deal or sinister motivation. I'm sure it's really rooted in wanting to offer you the fastest route first, and it always warns that there's a toll whenever it offers a route with one. There are also times when there's no other practical way to get to a place without using a toll road or bridge (I think of using the Narrows Bridge here in Tacoma), and that may cause additional problems if you've told it to never route you somewhere with tolls.

Thanks Andrew, makes sense, however, an option to set as default, as you would get on the traditional standalone GPS units like the Garmin Nuvi, would not only prove useful to users but also safer as it's one less option to select especially when setting a route by voice command.

Still wish they'd implement multiple destinations in the mobile version. Sometimes you DO need to go from A to B to C to D... and not having to look up the route every time.

Amen! Why does AC not point this huge oversight? Thus article even SAYS you can use multiple destinations but.. NOT on Android. Makes me question their neutrality and honesty. Posted via Android Central App

I agree with spookdroid. There are often times when I need to get someplace but also need to swing by a certain store on the way. I'd love to create a route from A to B with a Best Buy stop in between, and have Google Maps find the most efficient way to accomplish that task.

Yep, this is what Waze does, which is why it has replaced Maps as my go to navigation app. Waze also seems to do a better job of intelligently recognizing traffic congestion ahead and automatically re-routing around it w/out requiring you to interact w/ the app. For true driving navigation, Waze is #1. When I just want to look up nearby restaurants, or specific shops nearby, I fire up Maps. Honestly, Google really gutted the Maps app during the transition from v6 to v7 and made it much more lethargic and less useful for driving navigation.

Agree but waze is now owned by Google and waze reports appear on Google Maps. They need to incorporate waze function in maps or I will use waze until it is shut down Posted via the Android Central App

I used to drive with the maps app on my phone, even without a navigation destination, mainly to check traffic around me. But that was the earlier version. On my Nexus 5, maps can no longer orient the map to my driving direction, and it was annoying having to constantly adjust the map. Waze seems to have better traffic rerouting abilities while navigating, and still orients to driving direction when not navigating, so I almost exclusively use Waze.

Multiple destinations in the mobile version is a must.... That is an update I could really use.....

Great article Andrew! Posted via the Android Central App

No, it isn't. Fails to point out missing features that are available (for a LONG time) on other Google Maps. Posted via Android Central App

To be fair, this isn't a Google Maps review, it's just an article describing how to get directions using Google Maps on your phone. And for that purpose it IS a great article :) Sure, Google Maps has its shortcomings, but again, that's a topic for a review post, not a usage guide.

More and more abilities but each update provides more and more sense of confusion of how to make it work. Becoming very user unfriendly. Imagine those that don't root their phones every day, and are wondering why they don't go to Apple like all their friends. I personally would like to see the method of doing a task to stay the same. Long pressing the blue button? Who is going to know that unless they have come here? Certainly not the future OS user. Just saying :)

The damn arrow still doesn't point in the direction i'm supposed to go, a lot of the time. And even after the latest updates, it doesn't actually navigate me. It shows me the zoomed out view that is kind of useless and the arrow stays still

Make sure you have GPS activated in your hardware settings.
Tap the blue arrow to begin navigating from your directions overview map.
On your directions map, tapping the little compass needle will toggle between directional 3Dish navigation map and a flat North-up map.

Thanks, Andrew. Several functions that involve tapping various places on the nap screen were news to me (previous and next turns in particular).

I use Google Maps exclusively now. I had previously used an older Garmin Nuvi that required yearly (costly) updates. Google Maps has frequent updates and I don't have to pay for them. Google Maps does have some quirks but I find it easier to use then the Garmin Nuvi

Didn't public transit used to have a feature where it would warn you when you're close to your stop? Does that just not work on any of my devices or did they drop it? Posted via the Android Central App

What all they did is purely copied from Nokia Here Maps... Posted via the Android Central App

Utterly useless unless there is a constant excellent signal. Leaving the lake district in the UK to head for Lanchester, I chose our route using the hotel wifi. Once we set off, after turning out of the hotel, we lost both the directions and then the map. It didn't reappear, as my phone only had a basic mobile signal, with only brief flashes of 3G, and after quarter of an hour I had to revert to osmand for navigation.
Previously I've had the same issue driving down the A1. At times I got enough of a signal for the maps to appear, but with bits missing as the signal was not good enough to retrieve sufficient data.
Oh, and don't rely on the POIs in Google unless you have checked carefully. Many are in the wrong place - sometimes just the wrong side of the road, sometimes a street away, sometimes half a mile away. I'm fed up submitting edits.

I find the premise of this article funny. Is there anyone who uses Google Maps just to find restaurants. Why not use Yelp? One thing that these listicles often forget to mention is the strength of the Google Maps API. Many apps build upon Google Maps to make maps that are very suited for specific needs. I do outside sales for example, so I use Badger Maps which utilizes the Google Maps API for finding leads and optimizing routes, while my wife, who is a horror sci-fi enthusiast, uses Zombie Outbreak Simulator. Google Maps is a great stand alone tool, but the collaboration that it has led to has been amazing.

Interesting take on the power of Google Maps API. Agree.
Android Central Newsletter
Get the best of Android Central in in your inbox, every day!
Thank you for signing up to Android Central. You will receive a verification email shortly.
There was a problem. Please refresh the page and try again.