The basics of Google Maps for Android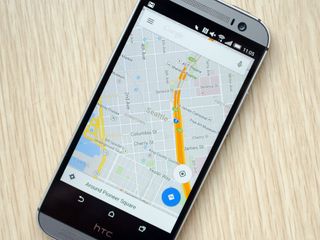 But with a system this powerful things start to get complicated, and it isn't always obvious how to do the most basic things you want to do in a mapping app. Whether you're opening up Google Maps for the first time on your new phone or just need a refresher on the app you've kept on your home screen for months, we're here to help. Read along for our quick guide to the basics of Google Maps on Android.
Read now: The basics of Google Maps for Android
Finding places
Few of us are going to open up Google Maps and scroll around aimlessly until we find something interesting — most of the time we're opening up the app with a distinct destination in mind. Luckily Google Maps is driven by the vast search power of Google — just tap the search box at the top of the interface and type (or speak!) anything you need.
You can search for states, cities, retailers, types of stores or just a complete address if you know it — and Google Maps will populate results with what it thinks is relevant information. If you just tap the search bar and scroll up rather than type, you can see your most recent searches (on any device with your Google account signed in), as well as an "Explore nearby" section and popular search groups like gas stations and ATMs.
Select an item from the search results or suggested items and you'll be whisked away (virtually, anyway) to that location on the map.
Explore places around you
While many of us think of apps like Foursquare, OpenTable and TripAdvisor for finding interesting places to go and dine, Google Maps has a pretty robust listing of places and restaurants for you to discover. When Google Maps is confident that it has locked in on your location — from GPS, cellular networks and Wifi — a bar will pop up on the bottom of the interface with a small star and "Around [location]" on it.
Tap that bar, and you'll be taken to a screen of nearby attractions, museums, photo spots, restaurants and interesting things to see nearby. You'll be given information on each location, and the option to dive deeper if you're interested — of course you can get directions in the end if you want to go there. If you're looking for information on a place that you aren't currently at, swipe the map around to the location that you're interested in and hit that explore bar — you'll be given the same kind of results, but for that area.
Navigating to those places
Once you've narrowed down where you're going to go based on your search, you'll surely want a little help getting there. Once you have a location selected on the map, you'll see a circle in the bottom-right corner of the interface — tap it and you'll be taken to the navigation screen. By default you'll be taken to the driving directions, but you can adjust your app settings to default to public transit, biking or walking as well. Tap the route you prefer to take — the top option is the fastest available — and away you go. Google Maps will route you step-by-step to your destination.
If you know exactly where you're going before you open Maps, you can just tap the blue navigation button on the main maps screen — again in the bottom-left corner — and enter the starting and ending locations. By default the starting location will be your current location, but you can change that.
Rate places you've been to
So you've just used Google Maps to find a great place to go, you got directions and had a full afternoon of fun. Maybe you want to go back and rate those places the next day so others will have your recommendation — that can be done inside Google Maps, too. Whether you're at the place or not, go into Google Maps and find the location you want to rate. Tap it on the map and you'll see detailed information, including reviews.
To add your own review, scroll down until you see your Google+ profile picture and an empty set of stars. Tap the star rating you'd like to give the place, and you'll be taken to a new screen where you can add a short review to go along with the star rating. Tap Post at the bottom when you're done, and your review will shortly be viewable by everyone who looks for more information on the place.
Save locations for later
Maybe that new restaurant you found with your friends is the best in town — you'll surely want to save that for future reference. Back to the place information page where you just left a rating, under the lead image at the top of the page you'll see a Save button with a star above it. Tap the button, and the place will automatically be saved and synced to your Google Account. If you want to save a specific location that isn't tied to a building, landmark or business, simply long press on a spot on the map and you'll be able to save the location from that point.
You'll now be able to access it with other saved locations from the left-edge slide-in panel in Google Maps under the "Your places" button, as well as see a small star when looking at a map on either your mobile devices or desktop. As is the case with any other location, you can quickly navigate to a saved location with just a couple taps in the app.
This is just the tip of the iceberg
Google Maps is an amazingly powerful tool, and though it may take a while to figure out all of its features and quirks, we're here to help you figure it all out. You can keep up with all of our Google Maps coverage right here as we post more helpful articles!
Andrew was an Executive Editor, U.S. at Android Central between 2012 and 2020.
Nice... Do you guys have a beginners section or some kind of an index for these kind of articles? We can then point new comers to that section where they can find all the beginner articles. Posted via the Android Central App

On the website if you click help at the top, these types of articles come up. I do not see it on the app though

Gmaps is really nice, but still Here maps is better. How come Google didn't come up so far with a nice offline navigation like Nokia's one? That's crazy Posted via Android Central App

Here Maps is better for downloading maps, that's it. Posted via the Android Central App

That's the biggest point of it Posted via Android Central App

The only point. Yes, I use it myself but for the other features it is not close Posted via the Android Central App

I prefer every aspect of Here except the POI, which Google has nailed. But the interface, navigation voices, downloadable maps, colours etc. Here every time. GMaps used to be as good, but it's become a total mess over the last two years, and it's not worth a shit without data.

I've never used Here Maps, but Google Maps has the ability to download map data for offline use. It also caches map data in an area you browse often. Posted via the Android Central App on the 2nd Gen. Moto X

Google maps can save small sections of the map for offline use, but Here maps can save entire countries worth of maps and (here is the biggie) can do offline navigation. Posted via the Android Central App

I like real time navigation, you know, when I have to account for the rest of the traffic. Posted via Android Central App

It's a shame you cannot add multiple way points when using navigation. The other thing missing is being able to drag the route to another hi way.. Was just in Fort Myers and was told take the 75 through Tampa to go to Orlando as the gps routes are slow due to traffic. But using google mobile maps you cannot adjust the route like u can on desktop Posted via the Android Central App Need larger offline map storage for data off travlers

Multiple way points + being able to actually name saved places. Map Marker can do it and it works really well. I don't understand why Google doesn't reintroduce this highly requested feature. I wouldn't doubt if it was their top requested feature for Maps.

Is it just me, or has Google Maps become dog slow in the last year or so. It takes roughly 10+ seconds on my HTC M7 for it to finish loading for me to even type something in.

No problems here, fast as ever. Slow on WiFi also? Posted via the Android Central App

Google Maps is plenty fast for me. I haven't had a lag issue since my regretted iPhone days. Posted via the Android Central App on the 2nd Gen. Moto X

Google Maps has gotten very slow for me over the past 6 months or so. It's sluggish any time I need to interact with it.

I don't see this slowness at all. Works fantastic for me.

Nice and fast on my device. Perhaps deleting the app and reinstalling it again might help? Posted via the Android Central App on my BlackBerry Passport

I wish I could actually find an address with Google Maps in Colombia. Every single time I type in an address, it always suggests me locations in other cities or mix up the address and ends up pointing to somewhere blocks, sometimes neighboorhoods, away from where it really is.

Anyone know if they will ever support navigation in Puerto Rico? I know they currently don't. What about Hawaii, is it already supported there?

Did Google do away with navigation for public transit. I live in NYC, I was going to use it for new bus route I had never taken before. Before Google Maps would give you an indication of when to get off the bus, not anymore, or I can't find it, I checked Help for Maps, still nothing.

thats a good question. if you were near a bus stop/train station, it used to give you the times it arrived and departed. im not sure it still does that either.

After you have searched a place long press the blue car and it will go straight to navigation bypassing the route options. I agree with others regarding how sluggish it's become lately. Very jittery when navigating and a bit laggy in general Posted via the Android Central App

I use Waze primarily for dynamic rerouting due to traffic, but there is one thing I'd like to see on GMAPS (or any maps). I go on a few road trips a year. I want to create all my way points on the PC, build my routes, and send it to the phone. GMAPS used to do some of this, but they stopped.

I believe you could save custom routes under the "my maps" section, and see the route on your phone, but Google would not "voice guide" you down the route, you just had to follow the line manually. Posted via the Android Central App

Can somebody wearing Android Wear test if commands like "Navigate to ****" still work? As few users including me report that it doesn't work.

Just tried it and it works for me Posted via the Android Central App on the 2nd Gen. Moto X

Anybody know a good gas prices app? I've been using Gas Buddy, but it's terrible. I don't like Waze that much either because I wouldn't use any of its other features. Posted via the Android Central App on the 2nd Gen. Moto X

Benhaube, I don't disagree with your assessment of gas buddy, but have you tried immediately clicking over to map view once it gives you a list of stations? It makes it far more tolerable.

To the hell with Google Maps for Android! My one crashes every now n then! I just can't sustain such scenarios!

GMaps is great. The POI is much better than Foursquare. Fsq has content from shops and stores that haven't been in business for years. Posted via the Android Central App on my BlackBerry Passport

Here is my question that I wish this article had answered. It's it possible to give a name to a place that you have saved into my places by dropping a pin (long pressing a location)? I use it every so often and it's hard to identify one longitude/latitude from another sometimes. Having to select each one to see where it takes you wastes time.

I know that you guys think that the navigation is pretty cool, but it is hard to read in a linear fashion. There are too many clicks and back clicks required to read the whole article so I gave up on the second page of the "Basics" section. You need to simplify the navigation. Heck I'd even take it as a PDF.

I'm sure you could have fitted all that in ONE post - crazy to spread it out so much :/
Android Central Newsletter
Thank you for signing up to Android Central. You will receive a verification email shortly.
There was a problem. Please refresh the page and try again.