Finally get your Nexus 4? We'll help get you started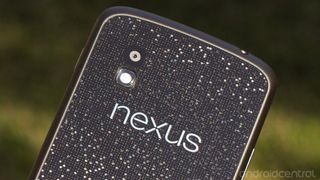 It looks like Google finally is getting a handle on its Nexus 4 supply/retail issues. Its flagship Jelly Bean phone went back on sale this week and boxes should be hitting doorsteps anytime now. For a good many of you, this will be your first time with the Nexus 4. For others, it'll be the first time with any Nexus.
So where to begin? Even if you've had an Android smartphone in the past, a Nexus is both familiar and new, full of options some other smartphones don't have, while at the same time lacking features other manufacturers pack into their own phones.
Let's take a look at some of the thing new Nexus 4 owners need to know, need to watch out for -- and need to take advantage of.
1. Where to start
If you haven't already, have a look at our Nexus 4 review, and Alex's two-month revisit. That's an excellent place to start.
2. There's a lot of glass on this thing
Pro tip: Do not stand on your Nexus 4
First thing you notice out of the box. Glass on the front, glass on the back. And, yes. Glass can break. Some folks have broken their Nexus 4s. Some haven't. You might have heard stories about them shattering on carpet. Or simply by being placed onto a counter or table or something. Stranger things have happened, I suppose. I don't think there's been the sort of uproar you'd see with a true design flaw or anything. Sometimes glass breaks. Be careful.
Glass also scratches. The front's covered in Gorilla Glass 2, scratches will still happen. I've got a couple nice ones (from my dog's nails, I think) on mine. The back of the phone's not immune either. On the other hand, I don't use cases.
3. The Nexus 4 is SIM-unlocked
This is one of the major features of Nexus phones. They're "SIM-unlocked," meaning you can use any GSM SIM card in it without needing an unlocking code. And because it's set up with the proper frequencies, you can use it on T-Mobile or AT&T in the United States and get proper HSPA+ speeds.
You might still have to handle the APN settings yourself, though. Chances are if that's necessary, there will be instructions from whomever you got the SIM card from.
4. And then there's the other kind of 'unlocked'
The other great thing about a Nexus phone is that it's designed to be tinkered with. To that end, you'll need to unlock the bootloader. That's as simple as typing fastboot oem unlock in a command line with your phone plugged in. Once that's done (we've got some help here if you need it), you'll be able to flash new system images. That means it's easy to load up custom ROMs. And then there's ...
5. It's easy to gain root access on the Nexus 4
Again, it's a Nexus. Getting root access (also referred to as "rooting") is trivial -- just a matter of flashing a new image once the bootloader is unlocked. There's a great guide for rooting the Nexus 4 in our forums.
But you know what? A lot of us don't root our phones. And that's perfectly fine (and more secure), too.
6. "Stock" Android is great, but you can make it even better
We mentioned that the Nexus 4 doesn't have all the features that other manufacturers put into their phones. The idea is to ship the bare Android experience for folks to customize their own way from Google Play. Don't like the stock messaging application? Get a new (and arguably improved) one from Google Play. The same goes for things like the keyboard, the camera software, the music player, etc. Android is all about choice, and even system applications are replaceable.
7. Set up your cloud accounts
Because the Nexus 4 ships with limited storage, you'll want to get used to using the cloud. Google offers some great applications that are already tied into the account you used to set up the phone. Google Music will let you store up to 20,000 of your own songs and streams them back at 320kbps, Google Drive (formerly Google Docs) offers 5GB of free file storage in addition to powerful document editing and creation. Google+ is a great way to store pictures, and Youtube is the place to store the video you create.
There are plenty of other "cloud apps" to take advantage of as well. Netflix and apps from your cable or satellite company offer streaming video on-demand, or you can rent (and buy) movies and TV shows right in Google Play. Apps like Dropbox or SugarSync can handle all your file storage needs if the 5GB from Google Drive isn't enough, and the list of streaming music services is a long one. The cloud takes some getting used to, but it really does work.
8. Set up your Google account and services
Even if you don't plan on using Google's cloud services, setting up your online presence through Google is a good idea. You Nexus 4 comes with a full suite of applications from Google, and as soon as you logged into your Nexus 4 the first time you activated them all under your account. Google+ is a great way to socialize with your friends (you'll find all of us from AC there chatting it up) and includes a powerful group messaging application as part of the app. Other apps like Currents and Chrome sync with your Google account, and of course you have Gmail, Google contacts, and Google calendar which are some of the best apps in mobile today. Go ahead and explore these apps, and dig into the settings to get everything to your liking.
9. Set up the way your Nexus 4 sounds
Every app that can notify you makes a noise, and with Android every one of them is user-set. You'll find a handful of notification tones and ringtones available, and adding your own is easy. Collect the files you want to use (.mp3 and .ogg files are supported) and copy them right to the device. If you're using a Mac you'll need to download the file transfer utility, but Windows is supported out of the box. Just plug your Nexus 4 in and open the folder in your file explorer. Ringtones go into the folder named "Ringtones", notification sounds go into the folder named "Notifications", and alarm sounds go into the folder named "Alarms". Afterwards, your new choices will appear right in the list, ready to use. Finally, there are apps in Google Play that let you schedule the volume based on time, so your phone stays quiet during work hours or while sleeping.
10. Visit the forums
Getting a Nexus 4 puts you in a special club. You'll want to chat with other folks about your new phone, learn and share important tips and tricks, and find out about great new apps that make the Nexus 4 even better. The forums is the perfect place to make all that happen. For visiting from your phone, there's even a great application (opens in new tab) that keeps you in touch while you're away from the house. We'll see you there!
Android Central Newsletter
Get instant access to breaking news, the hottest reviews, great deals and helpful tips
If I ever get a Nexus 4 I doubt I'll let my dog use it. :)

Can't wait till my Nexus 4 arrives in a week or two :) Just hope I won't shatter the glass :o I hate cases...

You'll love it! I've had mine for almost 2 months case-free. No problems, no scratches. No dogs in my house, though. I just bought a second one for my wife so that we can move to pre-paid. I think that that keyboard is awesome and Google integration is great!

I ordered mine on Tuesday the 29th with a notice of a 1-2 weeks shipping time and here it is on Friday and it's already on the UPS truck to be delivered today! This was the same scenario when I ordered my N7 too. I must live in a "Nexus friendly shipping zone". I'm looking forward to getting it setup.

Keep in mind that Box.com (another cloud storage option) bumps you to 50Gig when you connect from your N4 (because it's manufactured by LG, I think). I use the folderSync app to push files from my phone to Box (and other cloud storage accounts). It's worth a look.

I thought that offer expired on Dec 31st. Did they extend it?

According to the link below, the offer ends Dec 31st 2013. So we have almost a full year to capitalize on it if you have a Nexus 4. I just downloaded the app now and got the 50gigs so still works. (I kept forgetting to do so, seeing this post reminded me). Link: https://support.box.com/entries/20768867-box-50-gb-promotion-faqs

Thanks a million. This should be mentioned in the article!

"Getting a Nexus 4 puts you in a special club."
There are competing clubs:
The Apple Fanboy Club
The Gnex Fanboy Club
The HOX Fanboy Club
The GS3 Fanboy Club Point of the post: Just because you have a certain phone, does not make it better than another (special) or you better than anyone else. It just means you bought that phone, please lay off the "My Nexus is better than your X"

I think he just meant that since the nexus 4 is hard to come by and you won't see many people with it. There are iPhones and GS3's everywhere.

QUOTE: "Just because you have a certain phone, does not make it better than another" are you kidding me, when did this turn in to 1st grade soccer where no one keeps score? of course buying certian phones makes it better than others, if phone B was released months after phone A and is not better, company B is doing something wrong. now if your upset because everyone keeps telling you why their phone is better than yours, than either get a better phone, or stop caring so much.

"... when did this turn in to 1st grade soccer where no one keeps score?" " ...now if your upset because everyone keeps telling you why their phone is better than yours, than either get a better phone, or stop caring so much." My daddy can beat up your daddy. ;D

Finally ordered mine once they were available Monday. This is going to be a LONG 1 or 2 weeks! But it isn't all bad. It gives me time to decide on a new carrier (currently Page Plus - Verizon MVNO so I've got to move) and get accessories ordered.

Dude, the Page Plus is CDMA, they dont give SIM cards that this phone needs.

dude he said he was switching carriers

I'm in the same boat as you. Ordered mine 2 days ago and I keep checking on my order status :<

Mine came in today, can't wait to unbox it!

On the 29th, two day shipping ftw!

IKR?! I ordered mine on Tuesday and it's arriving at my house in ten minutes!

As much as I want to order one now. I'm going to wait until the LTE is activated for it on Tmo. From what it seems like just waiting on FCC clearance. Then i'll be like white on rice with it.

IMO, you're never going to see "official" LTE support on this phone. It doesn't have the full set of hardware for proper LTE support, and what parts ARE there are only there because they were integrated into parts that HAD to be there, based on the Optimus G design that the N4 was based off of. Yes, they've hacked the phone to enable LTE on the single channel available, but that channel isn't even widely used in the US, and it's likely to be anytime soon. In a year or two, when all carriers have LTE widely deployed, I'm sure LTE will be added back, but Google isn't willing to go through another Verizon debacle with their Nexus phones where updates are delayed for months by the carrier. Until that issue is resolved, don't count on LTE support.

Oh, unlocked LTE is certainly possible. But it would only work on T-Mobile USA and AT&T LTE, and most of the LTE operators in Europe and Asia.

And all LTE carriers in Canada

This phone has already been approved by the FCC and it was not approved for LTE use. It likely won't be either. That being said it works on band 4 which is what Tmobile is rolling out. Vegas will be available soon but I got over 25Mbps down last time I was there anyways. Type in the codes and use the LTE. Like the FCC has time or cares if a few people use a device for more than they approved it for. Don't forget though, this thing already screams on HSPA Tmobile network. Do I really need LTE? In Salt Lake City it is faster than both Verizon and AT&T LTE.

What to do with with a new Nexus 4: unlock boootloader
Install ClockworkMod Recovery
Flash CyanogenMod and GApps ENJOY

ill take TWRP if its around

Faux123, aokp and lmt app = best on market

Root and stock ROM is a nice option too.

Just got mine today! Hope I don't bust it before my bumper case shows up.

I got my Nexus 4 last week and I have still have not set it up as I've been waiting on a case and screen protector. Great article on setting up!

Man, I don't know. this phone is so overrated on this site, every article I see there's a Nexus 4, not saying that it is a bad phone, it is an outstanding device.. it's just that it needs more variety, y'kno.

You guys should mention that because the nexus 4 is an LG Handset, Box.com offers 50 GB of free cloud storage permanently if you download the app on an lg android device. https://support.box.com/entries/22264258-lg-50gb-promotion-faq

I believe box . com only allows for 100 mb files which isn't very good. Dropbox and Google drive offer unlimited size or close to it.

I think IIRC they bumped up the file size to 200 or 250 a month or so ago. Which ain't bad at all. It's not like people store movies in their cloud storage, or do people actually do that?

They would like the option of true unrestricted cloud storage especially if you intend on using it when on the move.

Just checked - that promotion ended at the end of December. Damn!

It was extended to end of 2013.

Because I can't comment on the deal of the day AdPost - Fuuuuuuuuuuuuuuuuuuu
I JUST bought that exact case for my note 2. I love it but I just paid you guys much more for it only a few days ago. >_<

I wanted this thing badly last year. Now I'm already in the mood to wait and see what the next nexus brings.... GNex is just good enough for the time being, and from what I've heard the 4 just isn't significantly different... it's still tough not having the latest Nexus though.

Trust me if you have a gnex its a pos in comparison even with Franco kernel...guess this means I'm a trolling n4 fanboy, yes my phone is better than (add whatever crap thingy your currently using as a dumb phone, u too DNA)!

Better than my note 2? I find that.... impossible, honestly :P

Let's see. It has the same processor as the Note II, has better and more up to date software, and is not about to be abandoned like my Note I was. No S-Pen, external SD, LTE, removable battery, or 5"+ screen, but the phone is more manageable to handle, looks classier, and costs half as much. I'd say it's a matter of personal opinion as to what is better.

"yes my phone is better than (add whatever crap thingy your currently using as a dumb phone" is that why i enjoy my GS3 that i traded a Gnex for more?

Not exactly a rational argument, but kudos for "fitting" everything in one sentence.

Darn it, my nexus 4 battery died on number 6.

Phil please add link to your post on factory .img, it saved me a week ago should be added. Good write up except get rid of Netflix n rent from store XBMC is full release now, n4 is my cable box now and my movie store

I got mine dec 14th. As of Jan 26th I have a lone single crack from top to bottom in the glass back. The phone is indistinguishable from new other than the crack. I have absolutely no idea how it happened other than I had it in my shirt pocket with a coat on over top while on a plane. I took a call while exiting the plane and walked out into a 20 degree cold blizzard/ blast of air. I know it wasn't cracked when I dialed the call because u can feel the crack with your hand while holding it and it was not there when I dialed. When I finished the call and the phone rested back in my palm I instantly felt the crack. The phone has never been dropped and is in pristine condition.....other than the crack. I baby my phones. My prior phone , the original EVO, never had a case and hardly has a mark on it after 2 1/2 years. I have no explanation why it cracked other than a sudden drastic temperature change from my cozy up-against-my-chest shirt pocket straight into a blast of cold winter air. Anyways, fortunately google agreed with me and sent me a replacement free of charge. I'm not sure what to say other than the glass back was not very durable for me. Beware. I may resort to a case, which I hate to do, but I may need to try something even though maybe a case would have done nothing related to the temperature change.

I am a first time Nexus phone owner, bought a 16GB Nexus 4. Ordered the 29th and it got here yesterday! Impressive Google! Especially when it said 1-2 weeks with a ship date of Feb 13. Also ordered a case and holster from the AC store on here! Now I think I need a Micro SIM card, so guess I have to go to the AT&T store to get one. I have the GS2 Skyrocket and I think I have the larger SIM. Can't wait to fire it up!

moneys not always easy to come by...jelous of every1 who got one but for now ill stick to my evo 3d with cm10.1... at least i got that 4.2.1

Woot! Just got my shipping notification, to be delivered today!

Yes way better than some touch wiz phone for women. Or kidding right, generic off brand processor, amolded screen oh but u go SD for all those boy band Google music rejects as music

Yes that's right! TouchWiz is for women! Because all those convenient extra features are so feminine. I feel like a woman every time I use a Samsung phone especially when I'm standing in the kitchen. Or kidding right... but you go SD!

Damn right and no joke ur old 4.1 jb is just as weak as ur touch wiz for women who need to be told how to use ur dumb phone, u know they still make apples right, stop messing with a knock off of it or grow a pair and get the n4

Stupid women! When will they learn how to use phones! They should just buy "apples". And listen, I really hate Samsung and wanted nothing more in life than a Nexus 4 but I just do not possess balls of adequate size to buy one. More than once I had a mouse pointer hovering over "Submit Order" button and backed away. Now I'm in process of "growing a pair" and I promise, as soon as they ripen and reach the necessary size, I will own a Nexus and you and I will walk proudly down the street holding our G4's high above our heads with our huge balls hanging out for everyone to see them both.

Sounds good, just keep eating ur broccoli and listen to Sammy and Mr. Cook. One day you'll yearn for freedom something the closed source corporate monkeys are protecting u from

I was all gung-ho to get a Nexus 4 and ditch Verizon when my contract ends in March, but now I'm not so sure. I was going to go with StraightTalk or another MVNO and do the prepaid thing with AT&T towers (T-mobile 2G is all I get in my area), and lo and behold, StraightTalk and Net10 no longer seem to sell AT&T SIMs now. Anyone heard anything on this?

I always said i would never switch to Android until this phone came out. I've had it for 2 months and I think I'm in love.

Is The Gnex4 easier to root than the GSIII ? I'd love a phone that is customizable AND easy to root.... don't want to have to learn some fancy work-around type thing. I'm with Verizon, and I'm hearing that Verizon works hard to make their phone has unhackable as possible. I'd like to have wireless tethering specifically (although I rarely use the feature...when I do, it is important)

ordered mine at 6am this morning. figuratively dying for my shipped email

Don't get your hopes completely up as this may not happen to everyone, but I think you might be interested in hearing that your N4 may ship in _less_ than the "1-2 weeks" timeframe given on Google Play. My mom and I ordered ours last Tuesday, and both of our N4s were delivered by Friday. You should normally get the "shipped" email within one or two days of ordering.

I just ordered a Nexus 4 now that it is back in stock. I currently have a HTC Rezound on Verizon, so I will be looking for a carrier for my Nexus 4. Leaning towards TMO prepaid plan just to get the HSPA+. Can't wait to get my new phone!

can this be used on verizon?

No. And it serves Verizon right for neutering the Galaxy Nexus.

I'm coming off an EVO 4G LTE and I love this thing. When my nexus 4 arrives will I miss my camera...?

Now the Nexus 4 is being delivered at the doorsteps, is there any changes to that of previous ones? Or, any new technical issues? Any particular thread for that?

I'm pretty sure the back is plastic. Firstly it sounds different when you tap it. Secondly it scratches much much easier than the front. Trust me on that one.

You're right! Just got mine yesterday. That may explain their temporary absence from the market...

HALLELUJAH!!!! Just got my 16 gb Nexus 4 while at work. I have it in my hands and it feels so good!!!! My precious will never be touched by dogs!

Hi, I got my Nexus 4 16 GB from UK via my Cousin. Now I am unable to set the Owner profile in the setting page. On tap, it shows contact doesn't exist. Please help. Thanks in Advance.

some very useful info about nexus 4,,,,(tips and tricks Google nexus 4) http://www.phonesappstabs.com/tips-and-tricks-for-the-nexus-4/ its usefulllllll.......
Android Central Newsletter
Get instant access to breaking news, the hottest reviews, great deals and helpful tips
Thank you for signing up to Android Central. You will receive a verification email shortly.
There was a problem. Please refresh the page and try again.