How-To unlock the Nexus 4 bootloader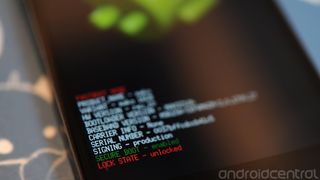 A lot of us who are planning to buy the LG Nexus 4 will be doing so because of the developer options, including the easily unlockable bootloader. Unlocking your bootloader is something to think about before you jump in and do it, because a locked bootloader is essential to keeping your device secure. Once you unlock it, a knowledgeable person can take every bit of data off your phone, even if you're unrooted and have adb debugging turned off, and even with a secure lock screen.
Now that's out of the way. (Seriously -- think before you take the plunge, OK?) If you're going to want to unlock your bootloader, you'll want to do it before you have the phone all set up, because unlocking it erases everything from your phone. That's a security feature. If a hacker gets your phone and it is not unlocked, he can't get into your data to steal it as easily. Security is good. So make your decision before you dive into the Google Play store and set things up just so.
With all things considered, if you're going to unlock it, hit the break and see how to do it.
You'll need to have a few tools at the ready, but they are all freely available and easy to use if you're the least bit technically inclined.
You'll need the fastboot binary for your computer operating system. Windows, Mac, and Linux are all supported. The fastboot binary is a small program that communicates between your computer, and your phone when it is booted into fastboot mode. Visit the sticky posts in the Galaxy Nexus hacking forums if you need help setting this up.
If you're using Windows, you'll need a properly setup fastboot driver. These drivers will be made available through the Android SDK when it's updated. This means someone will suck it out of there and make it available for download shortly after. If you're using a Mac or Linux, you won't need any drivers.
You'll need the cable that came with your Nexus 4.
You'll need to be able to enter commands into a terminal or command line.
Power off your Nexus 4, and reboot it into fastboot mode by holding the volume down button and power. You'll see the familiar green robot, and the word "Start" at the top of the screen.
Plug your phone into a full speed primary USB port on your computer. If you're using Windows, you'll see the pop-up about drivers being installed and initialized.
Open the terminal or command prompt on your computer, and navigate to the folder you have placed the fastboot program in. Advanced users can simply place the fastboot program somewhere in their PATH.
At the command line, type in (without any quotes) "fastboot devices". You should get a device ID returned, which lets you know that fastboot can see your Nexus 4. If you don't see a device ID, stop and investigate. If you're using Windows, chances are you don't have your fastboot driver set up properly. Linux users may have to run fastboot with elevated permissions depending on your system. This is where many folks get stuck, and it's important to realize that you can;t go any further until you see that device ID. Visit the forums, find the help you need -- chances are it's something very simple.
Once you're sure fastboot is set up properly and can communicate with your Nexus 4, type the following command to begin the process (without any quotes) "fastboot oem unlock". Look to your phone, where you'll have to verify the process. Remember that there's no way to undo the data loss that will happen the instant you say Yes.
When the phone reboots, you're done. You're free to install custom software, modified boot images, custom recovery, you name it. The phone is now yours.
Relocking the bootloader is just as easy, should you ever decide to do so, Follow the same instructions, except the last step should be "fastboot oem lock". This will relock your bootloader so that only authentic, signed images from Google can be flashed to the phone.
Be safe, and have fun with your new pocket rocket!
Android Central Newsletter
Get instant access to breaking news, the hottest reviews, great deals and helpful tips
Senior Editor — Google Ecosystem
Jerry is an amateur woodworker and struggling shade tree mechanic. There's nothing he can't take apart, but many things he can't reassemble. You'll find him writing and speaking his loud opinion on Android Central and occasionally on Twitter.
I doubt allot folks will be buying it. That 1%
That propelled the gnexus will be gone. More like .05% of cell phone users will buy it.

Anyone on T-Mobile or in Europe, this phone is practically a no-brainer at this price.

Or many people fed up with Verizon who want to switch to a nice T-Mobile unlimited plan. That's where I land. On top of getting unlimited data at HSPA+42 speeds, I can also save $30 a month on my family plan, with T-Mobile at $140 and Verizon at $170 (with a measley 1gb of data for 3 phones).

Actually in the UK the only retailer offering pre-ordering, Carphone Warehouse, is offering it at ridiculous price contracts considering it's SIM free price. £31/ month cheapest at the moment whereas comparably priced SIM free phones are free on £15 - £20/ month contracts.
It's extortionate.

You forgot about Canada, we don't use archaeic CDMA anymore. We ditched it for GSM-based technologies like HSPA+ and LTE (GSM variant). I'm getting this phone, since it's pentaband, I can use it on most networks across the world and even between different networks in Canada.

You forgot the rest of the world outside the US and Europe, bro.
Sent from Asia

Also south american countries don't have LTE. I am in Brazil (huge market here) and definitely gonna buy this phone, the beauty of this phone is that you get a high end phone for a mid end price and you can use it wherever in the world you want to.

Thanks, Jerry. Don't mind if I do!

This will be heavily supported by developers. Price point and ease of purchase will make this thing a beast. S4 pro pocessor will help show exactly what modded and optimized aosp android can really do. Taking back my note 2 and getting this badboy instead.

Wait ... did the button combo change on the Nexus 4??!?!? On the Galaxy Nexus it's Volume Up, Volume Down, and Power for fastboot. It's Volume Down and Power for download mode. Has that changed or is this just a typo?

Different devices, different combos. On the Nexus S, it was Volume Up + Power for bootloader (fastboot). Volume Down + Power is screenshot.

Volume Down + Power for screenshot is a software thing and should be the same on any phone with ICS or higher.
Volume Down + Power for bootloader is a hardware thing, and it's the same on my LG G2x. Not sure if it's the same on all LG phones though.

Turn on debugging, plug it in to your computer. Use adb and reboot to bootloader and use fastboot oem unlock, just like every other Nexus device out there. Don't really see why you put up a new guide for ever new Nexus device when you can unlock them all with the same instructions.

I'm sure if this is going to be someone's FIRST Nexus they appreciate this article very much...

So, make a generic guide "How to unlock the bootloader on a Nexus device". The instructions stay the same if you use adb and fastboot, so there is no worry about a button combo changing or not working.

Is there any other versions for nexus 4 like yakju or takju? I think its better only one version like ios one..

I don't see why there would be different versions. There's only 1 phone this time, not three (GSM, Sprint and Verizon) like the GNEX.

Doesn't matter how many phones and on what networks they run. The GSM Galaxy Nexus had a few different versions of the OS. takju/yakju mainly in the US then the regional versions like yakjuxw, yakjuux, etc...

Is unlocking the bootloader required to flash 3rd party ROMs?

There will be a nexus 4 toolkit soon after its release that will allow to do an all in one unlock bootloader/ install busybox/root and all that good stuff.

I really regret not taking you guys' advice and not doing this on my GNex early. I lost all my angry birds progress *sigh* (back in the times when adb backup hadn't been well-known)

One question: does relocking wipe everything? I doubt I'll ever relock mine, but I think it should be answered for others who might.

Good question. I believe only rooting wipes the phone, but it is good to know what to do before initially setting up the phone. Otherwise you might need to do it all again. Anyone got the answer?

This is stupid. Why would someone make a article on how to unlock the bootloader. its the same for every nexus device!
Android Central Newsletter
Get instant access to breaking news, the hottest reviews, great deals and helpful tips
Thank you for signing up to Android Central. You will receive a verification email shortly.
There was a problem. Please refresh the page and try again.