Final Android 7.1 Developer Preview build released, Nexus 9 added to Beta Program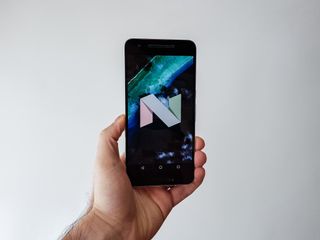 Just a couple days over a month since the first Android 7.1 Developer Preview was released, we now have Developer Preview 2 available for Nexus phones and tablets to get a near-final taste of the latest software. Those who have enrolled in the Android Beta Program for their compatible device — which now includes the Nexus 9 — will receive Developer Preview 2 this week via an OTA update.
Whereas Google considered the first Android 7.1 Developer Preview to be a beta-level release, this second preview is a release candidate for the build of Android 7.1.1 it intends to release to the public. The system and interface is "near-final" with the latest bug fixes and optimizations.
For app developers (which is who this is really for), they can continue use this software to develop their apps that target API level 25 in order to have them ready to go for when the software expands its reach. Google is updating the platform tools inside Android Studio to help the transition.
The release of Developer Preview 2 shows that Google is on schedule to release the complete version of Android 7.1 in early December, at which time any manufacturer will be able to use it on their own phones and tablets. When the software is finished, all supported devices — including the latest Pixel and Pixel XL — will get Android 7.1.1 updates.
Android Central Newsletter
Get instant access to breaking news, the hottest reviews, great deals and helpful tips
Andrew was an Executive Editor, U.S. at Android Central between 2012 and 2020.
Nothing for Nexus 6 yet??? That's a shame. I'm still waiting anyway.

Rumor is final build in Dec

Per Google, the N6 will be supported in the FINAL build, just but not the Beta.

How come the Nexus 6 has been left out of the Developer Preview Program?

Not sure about that just yet. Google said in the original Dev Preview release that the Nexus 6 would be added in a later release ... but it only added the Nexus 9.

This means my Nexus 9 has 1 more year to go.
Fingers crossed for Nexus 6

Downloaded and installed!

I have mine on the 6P. It downloaded and I will update it momentarily.

I'm a bit gun shy about doing this again. My 6P went into a boot loop when I had the last Dev Preview. I had it sent in under warranty to have it replaced/reflashed. If you look at the Nexus and AOSP forums, there's a number of others that had the same issue.

Yip, same here with my 6P. Currently away getting warranty work done on it to fix the bootloop. I think I'll sit this release out and wait for final.

I am downloading the update now in NYC. The file is 137.6 MB.

The download and update went well on my Nexus 6P. I was wondering why there was no November 05, 2016 security update earlier in the month, but now I know. It is rolled up into this update.

Yeah I had wondered the same thing and was glad when I saw the security update was there

Just forced a check on my 5X and it's there, pulling it down now, it's listed as 151.3 MB.

Well, that was scary as hell. It did some kind of 3 step thing during the update (or maybe it was three separate attempts, not sure). The first time around it briefly went to the update screen, then went to a screen that said the device was corrupt and couldn't be trusted, it sat there for a moment and then rebooted itself, it came to the update screen again (with two of the three dots lit at the bottom), it remained there briefly without completing the progress bar and then rebooted again, it came back up with three of three dots lit at the bottom and then successfully completed the update. All seems well now.

The same thing happened to me, but I freaked out when I saw the 'your device is corrupt' message. The only problem I have now is that I can't go back to an older version of android.

Just tried it on my 5X and at first I had the update. During reboot it said error, then rebooted. Now I'm still showing NPF10C with the October patch, and the update isn't available

Mine did the exact same thing.

The Pixel phones already have Android 7.1

installing now! lovely multi-colored circle animation. Had no issue on 6P with previous builds install, keeping fingers crossed xx.

update to NPF26F loaded with no unusual behavior/reboots on my 6P. i hope there are improvements in how Android 7 uses the 6P's battery and cell radio performance.

This is what am hoping too just installed it lets see over the next couple of weeks

Do we have any ideas of when we can expect to see the next set of new Tablets with 7.1?

I got the OTA for my 6p in a few seconds, nothing for my Nexus 9 despite unenrolling and enrolling 3 times over the last week. Still 7.0
Did anyone get 7.1 for their Nexus 9?
Android Central Newsletter
Get instant access to breaking news, the hottest reviews, great deals and helpful tips
Thank you for signing up to Android Central. You will receive a verification email shortly.
There was a problem. Please refresh the page and try again.