FIFA 19 vs. Pro Evolution Soccer 2019: Which is the better game?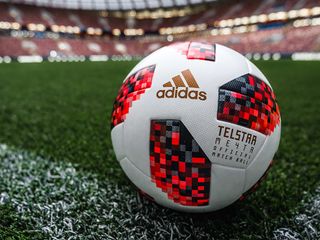 There are few video game battles like the one between FIFA and Pro Evolution Soccer. This decades-long rivalry is not slowing down in 2018.
Both titles have benefited from the stiff competition, with each company working tirelessly to prove their vision of what the game of soccer should be is the best one. Wondering what makes these two games just as different as they are alike? We'll jump into the comparison right here.
Which game has the best soccer licenses?
If you're after some of the most powerful licensed authenticity in a game, there is no longer any choice but to grab FIFA. The FIFA license already gave EA's game a massive edge over Pro Evolution Soccer over the years, and the latest swap tips the scales heavily in their favor.
EA has secured both major UEFA licenses, including the Champions League and the Europa League. This means the world cup and Europe's biggest competition can only be experienced in FIFA.
Pro Evolution Soccer hasn't lost out on all its licenses just yet. It still boasts direct club deals, as well as licenses for the top regional competitions and leagues in several major countries, including Portugal, Turkey, Belgium, Argentina, Scotland, and Russia.
FIFA 19 clearly dwarfs Pro Evolution Soccer 2019 in the authenticity area, and that alone will be the biggest point of contention for most who are on the fence.
Do these games play similarly?
When it comes to actual on-field stuff, FIFA and Pro Evo both offer compelling gameplay experiences, which make the game of football feel fun.
In FIFA's case, the gameplay is a bit more streamlined and easily approachable for an average gamer. This series was mocked for its arcade-style gameplay for years until EA made a huge effort toward improving its realism. It's probably not the most painstakingly accurate game in this regard, but it does feel damned good to play.
Pro Evolution Soccer, meanwhile, has built up a reputation for providing the deepest soccer gameplay you're going to find. This actually works a bit against their favor, as the mechanics and controls needed to get the most out of the game will take quite a bit of practice to master and is known to scare newcomers off. If you put in the time to learn it, however, Pro Evolution Soccer offers a more satisfying translation of the game from real life to digital form.
How do they compare graphically?
Both FIFA and Pro Evolution Soccer look absolutely stunning. The beauty of these games is most apparent when they get a chance to cut to broadcast-style shots of players, coaches, and referees throughout the match.
FIFA will get the edge when it comes to things like broadcast graphics and commentary. Having the rock-solid commentary team of Derek Rae and Lee Dixon going as the FIFA and UEFA banners transition in and out of the frame is a game changer. Having a brand new version of the Champions League's iconic theme song as you look to fight for the great prize in Europe is a game changer.
Both Konami and EA will take advantage of the PS4 Pro (or Xbox One X for our Microsoft-owning friends) to offer up their idea of the perfect afternoon at the pitch in glorious 4K + HDR.
Which gameplay modes are available?
Noticing a pattern here? FIFA simply has too much licensing power for Pro Evolution to compete with. Thanks to EA having the rights to likenesses for all major football players, FIFA's Ultimate Team mode gives you a massive roster of both former and current stars to build a fantasy squad. Being able to run the Champions and Europa leagues in their own dedicated mode will be quite the treat. The Journey continues to offer a cool sports story. And FIFA's career mode, while not seeing massive improvements this year, is still top notch.
That's not to say Pro Evo 2019 won't have its own goods. Its Master League mode still offers deep club management gameplay, with the addition of team roles for this year's release. And while it won't have the big swatch of licenses it had before (notably missing several Spanish, English, and Italian leagues), a community assets feature will let you fill in the blanks however you see fit.
Which one will you buy?
FIFA 19 is out September 28, 2018, and will be available for PlayStation 4 and Xbox One for $59.99.
Pro Evolution Soccer 2019 is out now for the PlayStation 4 and Xbox One for $59.99, giving it a bit of a head-start to have a better chance up against FIFA.
Get the Android Central Newsletter
Instant access to breaking news, the hottest reviews, great deals and helpful tips.