Fiat Chrysler reportedly in talks to partner with Google's self-driving car group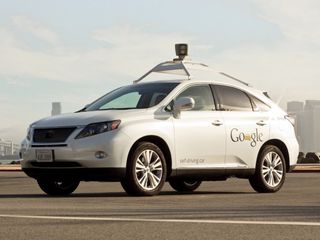 Google's self-driving car division may be getting some extra backing from established auto industry player Fiat Chrysler. According to a new report, the two firms are already in late-stage talks to collaborate on the tech giant's self-driving car efforts.
According to The Wall Street Journal:
The story adds that Fiat Chrysler's CEO Sergio Marchionne has reportedly been looking for partners to help offset costs for some time, and that the car company could even team up with a tech business like Google.
A few months ago, rumors hit that Google and Ford were in talks to form a joint venture to build self-driving cars, but that alliance was never announced.
If fiat/Chrysler is the partner of choice,I hope Google's self driving tech has been concentrating heavily on mechanical/electrical breakdown procedures. Posted via the Android Central App

Ha ha, this rings true as my Durango is BACK in the shop again today.

It won't be the only choice. Volvo, Ford and others are still working together. Posted via the Android Central App

Security too. The Uconnect hack was blown out of proportion, but there are still some valid security and safety concerns there. Posted via the Android Central App

Fiats 500 was rated the worst car in america. Poor quality, hard to obtain parts for with multiple backorders as most parts are outsourced to outside vendors and not made by Chrysler. These cars will most certainly malfunction and kill somebody.

Overkill much? Posted via the Android Central App

Seems there is a quality issue. I have a coworker with a 2012 Grand Cherokee with5 open recalls. My 2011 challenger has a technical service bulletin on the engine that called for the replacement of the left cylinder head. Fortunate it was still under warranty. Had alternator recall last fall. Maybe the 500 was picked due to its size. Posted via the Android Central App

We had an original 500 when I was little. We pushed that thing as much as we drove it, and my spot for pushing was just to the right of the rear license plate... However, I have to temper that by saying we have had five Chryslers that needed no significant work before 200,000 miles, my current driver has 283,000 miles on the original engine which was raced for two years. Posted via the Android Central App

I've owned Dodge/Chrysler/Jeep since I was 16. Shadow, Intrepid, Grand Cherokee, 4door 200, and 200 convertible. Out of all those cars, the Jeep was the worse owned car with 3 transmission failure and a known crap back in 2000. Other than that, everything else was smooth sailing. I had a recall on my 200 Convertible, and had to get the trunk wire harness replaced from the trunk pinching the wires letting the top down. I just replaced the front wheel hub assembly from bearing wearing out a at 50K. I will say other than the Dodge Dart, any 4 cylinder cars from them are straight crap. Posted via the Android Central App

To counter all the negative about Chrysler, I bought a 2015 200S in June, 2014. It's flat out been the best car I've owned, and one of the best I've driven. I haven't had a single problem with it in the 23k miles I've put on it. There are a few things I wish were a bit more fleshed out, primarily the user interface in the UConnect system and a few extra features with it, but it all works as expected.

Try saying that again after a few more years. Cars usually don't have a problem till at least year 5 or later.

Great - more bailout b.s. $ hard at work. Like financing Tesla wasn't enough. Posted via the Android Central App
Android Central Newsletter
Get the best of Android Central in in your inbox, every day!
Thank you for signing up to Android Central. You will receive a verification email shortly.
There was a problem. Please refresh the page and try again.