Facebook videos will now auto-play with the sound on by default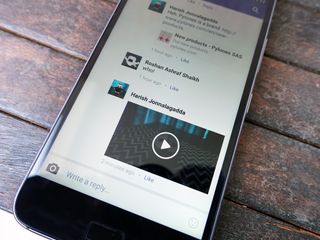 If you're not a fan of Facebook's auto-playing videos, get ready to be annoyed. Starting today, videos will auto-play with the sound enabled by default. If you don't have your phone set on silent, every time you scroll past an auto-playing video, you'll now hear the audio associated with it.
Facebook says that it introduced the change after receiving "positive feedback" from a beta test conducted last year:
Although videos will now play with the sound enabled, you'll be able to turn it off via settings:
You can now minimize a video and scroll through your News Feed, with the video continuing to play in the corner of your screen. Facebook is also making changes to the way vertical videos look on Android and iOS, including larger previews. Finally, Facebook's video app will make its debut on Amazon Fire TV, Samsung's smart TVs, and Apple TV.
Android Central Newsletter
Get instant access to breaking news, the hottest reviews, great deals and helpful tips
Harish Jonnalagadda is a Senior Editor overseeing Asia at Android Central. He leads the site's coverage of Chinese phone brands, contributing to reviews, features, and buying guides. He also writes about storage servers, audio products, and the semiconductor industry. Contact him on Twitter at @chunkynerd.
Haha, who is beta testers, Facebook? Is it people who live and breathe social media? I guess so. So in their mind they don't care about their surroundings and they dont care about any noise coming from random idiotic videos on Facebook. What about normal people who are forced to be on Facebook because thats the only platform certain relatives are sharing their photos? Why not make silent by default as it was before and give an option to switch on sound in settings? How about that?
Positive feedback to be more annoying to people around you :D pure cancer this is :)

There is an option to disable it in the settings, thank the gods.

Uhh, yeah, right. I'm sure what they meant by "hearing positive feedback", they really meant die-hards didn't notice, therefore, they received little negative feedback. "People expect to hear sound"?! I doubt that very much, unless you're new to Facebook. Even then, after scrolling over a half-dozen videos, I'm sure most new users get the hint of how it works, and Facebook rarely - if ever - received any complaints.

first thing i do with any new phone is turn of FB autoplay.

Eh, not a setting I would want enabled but you can disable it pretty easily. I haven't used the Facebook app in ages though, does it still render phones unusable at times. On my S6 it would lock up the phone on a daily basis, when I uninstalled it my phone ran like new (for a while, until it just slowed down because Samsung).

I don't have the Facebook app on my phone; not so much because of minor annoyances like this, but because - in my experience - it's still a battery hog. Case in point: I installed the app on my phone at around 3:30 on Super Bowl Sunday, and my battery was fully charged. By halftime, my phone was overheating, and my battery was down to 47%. As much as I'd love to say I'll reinstall it when the battery issue improves, I know that won't happen; that would require someone from Facebook to actually use the Android app. Now, I'm willing to change my mind if someone from AC can point to that issue being fixed. I'm not that stubborn.

First, I do not use their mobile app - sucks with the battery. And then for the web I immediately disabled this auto-run via setting. Stupid way to force show the video and later say - we have more video view than YouTube.

Positive feedback, lol. I wonder what those beta testers were given for their honest opinion... Glad I never got into Facebook.

Please God kill me now... Figuratively...

Things like this make me glad I uninstalled FB from my phone. They also keep giving me reasons to go to their site less and less.

Who gave the positive feedback, 15 year olds? Ugh. How irritating.

Don't use it much, and will now use it even less. Well done FB.

This post needs to be more specific about where "Videos in News Feed Start With Sound" in Settings is found. I looked in Facebook and in Android Settings and could not find it.

Feature is probably not out yet, it'll require an app update.

This will be removed within days of launch after people start posting normal videos with loud porn backing tracks.

It's as if Facebook goes out of its way to make the user experience as annoying as possible. Are they conducting some kind of massive social experiment to see how much they can irritate people?

I'm a beta tester for the FB app. I've never been asked anything about being forced to play video with sound automatically. No way would this have received positive feedback from me.

Lame. I just keep all the Facebook settings off now.

Another reason not to use to invasive piece of s*** on my phone, PC or anywhere else...

Nope, nope, nope, nope, nope and... nope. Auto-play is off on my phone and will stay off.

I figured out what's going on here, folks. When they started auto-playing videos by default, they lost the ability to track how many people actually wanted them-- no clicking to start the video = no data. So by defaulting to the sound being on as well, now they can see how many people fumble to find the volume control, or stop the video, or rage-quit the app by smashing their phone on the ground, and they'll once again be able to collect data on how many people really want to watch videos.

So glad I don't have an FB account

One more reason to disable my account. Seriously, I can't wait till Facebook is irrelevant.

Uninstalled the app. Over it.

i refuse to use Facebook or Messenger on my cellphone LMAO!
Android Central Newsletter
Get instant access to breaking news, the hottest reviews, great deals and helpful tips
Thank you for signing up to Android Central. You will receive a verification email shortly.
There was a problem. Please refresh the page and try again.