Eyes-on the stainless steel Sony Smartwatch 3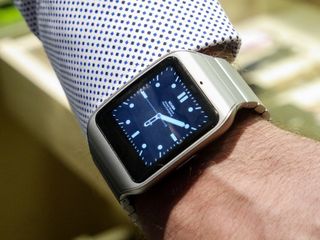 Before its CES 2015 press conference in Las Vegas, Sony announced a brand new stainless steel version of the Smartwatch 3. And just after the press conference we managed to find one to have a quick first look at. And it's exactly what you think it is. It's the Smartwatch 3 but with a metal band in place of the rubber one.
The design of the Smartwatch 3, the fact that it's a module that slots into a watch band, means that the stainless steel band has to follow the same pattern. So while the band itself is what you'd expect from a regular watch band, when you come round the front it has essentially the same look as it did before. Only metal, not rubber.
And that makes a big difference. One of our least favorite parts of the Smartwatch 3 has always been the band, and with this new version, Sony has gone a long way to appease that. Actually, they've gone further, because alongside the stainless steel band, a holder was also announced that will allow you to attach your own watch bands to the Smartwatch 3.
The holder itself resembles the front of the regular Smartwatch 3 bands but has standard pins in place of a moulded strap. As such, you can attach any of your favorite watch bands, and Sony showed off some examples here at the event of how it would look. Including some wild looking floral efforts.
So, it's purely a cosmetic change, but how a watch looks is a pretty big deal. And the Smartwatch 3 has never looked better.
More: Sony Smartwatch 3 review
Image 1 of 7
Android Central Newsletter
Get instant access to breaking news, the hottest reviews, great deals and helpful tips
Easily the ugliest smart watch...

Still ugly. Posted via the Android Central App

This watch looks amazing. I want. Posted via the Android Central App

I don't know how anyone could call that ugly. To me, it may be the best yet.

7/10 would describe it as fugly. Get outside more and meet people :p

Interesting thought, but 7/10 who comment on this site think wearing socks is a fashion statement.

It's hard to sport that watch with the clothes in my wardrobe, but it looks good now with the steel casing and strap. Posted via Android Central App

apparently I'm in the minority but I've always liked the look of the Smartwatch 3. And I really like the look with the metal too

Will the core from the silicon version be able to slot into the metal band as it should be the same? I haven't read any confirmation on that yet.

No. The Steel band variant is a solid piece, and comes with a IP68 rating, over the current silicone SW3's IP58. The reason for the "holder" being released is to appease those who bought SW3 and want a custom band.. I'm calling the Steel variant SW3.5 :P

I dont know about swapping but they are both IP68.

Still looks ugly to me. Posted via the Android Central App on the 2nd Gen. Moto X

Whoa. The steel looks okay I guess, but the holder with custom straps is HIDEOUS.

I'd love to see Sony just release a CAD file for that holder and let people go crazy printing/manufacturing whatever sort of holder they want.

I've got a SW3, which is great for running. Would love to be able to switch the band out quickly for when I'm not running. Unfortunately, I'm not a huge fan of the holder. I like TitusThorngate's idea of a CAD file!

I got one of these for Christmas and I love it. I had previously gotten a Moto 360 but I ended up returning it due to the poor battery life and voice recognition and lack of GPS. The Sony solves those issues so I am fairly happy, could look a little better though. My main problem with it is I have no idea where to actually buy extra bands (talking about the ones actually out right now). Can't seem to find them anywhere :(

SW3 stainless version looks amasing!
Android Central Newsletter
Get instant access to breaking news, the hottest reviews, great deals and helpful tips
Thank you for signing up to Android Central. You will receive a verification email shortly.
There was a problem. Please refresh the page and try again.