Why Broadcom's $130 billion Qualcomm deal would be bad for mobile innovation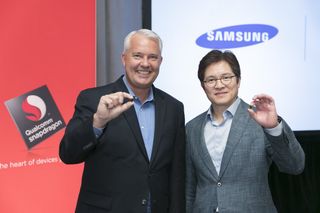 We spend a lot more time talking about Qualcomm on this site than Broadcom, but the two companies share a considerable amount of space within the smartphones, tablets, and other IoT products that we use today. Broadcom designs most of the Wi-Fi, Bluetooth, and NFC chips inside our devices, while Qualcomm dominates the mobile CPU, GPU and wireless modem space, especially in North America.
That's why Broadcom's bid to purchase Qualcomm for $130 billion ($105 billion in stock and $25 billion in assumed debt) would be such a blockbuster for the chipmaker, and for the semiconductor business in general. Broadcom Inc., as it stands today, is actually a conglomeration of a number of different companies after Avago Technologies Ltd. bought Broadcom Corp. in 2016 for $37 billion. Since then, Broadcom has sliced and diced its way to profitability; the company's CEO, Hock Tan, is known as a "ruthless cost cutter," and is known to "gut pie-in-the-sky research projects and focus on the most promising tech developments," according to Fortune.
Qualcomm, which makes the popular and ubiquitous Snapdragon line of mobile platforms, dominates the Android market in terms of SoCs (systems on a chip) and has an enormous patent portfolio that generates billions of dollars in licensing revenue from almost every company that builds a phone or device with a wireless signal. The dominance is so profound, in fact, that Apple — one of Qualcomm's biggest customers — is suing the company for anti-competitive practices. So is the U.S. Federal Trade Commission, which asserts that Qualcomm imposes "onerous and anti-competitive supply and licensing terms on cell phone manufacturers." Samsung and Intel have signed briefs supporting the FTC's claims, while earlier this year the Taiwanese Fair Trade Commission fined Qualcomm $773 million for similar reasons.
Broadcom's move to acquire Qualcomm would make it the third-largest semiconductor company in the world, behind Intel and Samsung, with revenues of nearly $50 billion per year. In fact, Qualcomm is the larger of the two companies by revenue alone, but Broadcom's cost-cutting measures leave it both more nimble to raise money for acquisitions, and more profitable on the balance sheet.
That cost-cutting would kill Qualcomm as we know it today, according to PCMag's Sascha Segan.
In Qualcomm's product line, Broadcom sees its future roadmap, a company led (or to some, misled) by engineers that have built up a bloated organization full of wasted resources that it wants to make lean. Its core business, even without the healthy licensing fees from Apple, is very strong, and its dominance in the cellular mobile segment is only set to continue as we slog towards the debut of 5G. Qualcomm believes that the handsome licensing fees it gleans, many of which rely on the continued use of legacy networks like Verizon's and Sprint's CDMA, are justified, and is using heavy-handed tactics like countersuing Apple to reinforce that fact. Broadcom may either settle with Apple (itself being a long-time partner of the phone maker) or sell off Qualcomm's patent portfolio to the highest bidder. Either way, Apple will win.
Broadcom is pursuing Qualcomm in a "rare moment of weakness," but still has to convince the company's board that the deal is worth the money. Many Qualcomm shareholders believe that the $105 billion net price for the company is too low, while others believe that it's not in the long-term best interests of the company.
Qualcomm is no stranger to consolidation in the semiconductor business, either: it is awaiting regulatory scrutiny of its proposed $47 billion acquisition of NXP Semiconductors, another big name in the mobile chip space. Broadcom promises to pursue Qualcomm with or without that deal. In the end, though, just as Broadcom itself is no longer the company it was a few years ago, Qualcomm's relentless drive towards 5G may hit a roadblock sooner than later.
Get the Android Central Newsletter
Instant access to breaking news, the hottest reviews, great deals and helpful tips.
Daniel Bader was a former Android Central Editor-in-Chief and Executive Editor for iMore and Windows Central.