LG V20 cameras: What you need to know about the manual shooter's dream phone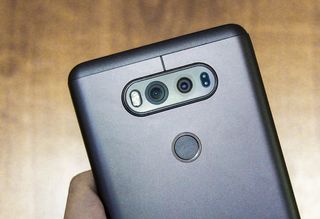 The LG V20 still isn't on sale just yet, but it's coming. And when it officially launches, it will arrive chock full of camera features that your current smartphone probably can't do — at least not without some serious trickery.
If you're looking to upgrade to a better camera phone, but you're not sure if the V20 will have much to offer, here's a quick glance at some of the camera features LG stuffed into its new smartphone.
It's got two cameras
The LG V20 is equipped with a 16MP f/1.8 OIS-supported primary camera and an 8MP f/2.4 super-wide 135-degree camera. The latter allows you to capture more of the scene at hand with the literal touch of a button. However, while the wide-angle camera modes are pretty useful in certain shooting situations, be forewarned that you can't use them inside third-party camera apps like Snapchat and Instagram.
Its front-facing camera is wide-angle, too
The 5-megapixel rear-facing camera features an ultra-wide 120-degree lens, so you can fit in more than a few people into your selfie.
It's got two manual modes
Whether you're shooting a video or snapping a scene, the V20 lets you adjust the exposure, ISO, and white balance with easy-to-use toggles. You can also adjust the shutter speed—up to 30 seconds for both video and stills. What's more: the manual video mode offers a helpful sound gauge and frame-rate readout, while the manual camera mode offers a histogram and f-stop indicator.
Keep in mind that if you're shooting with the wide-angle lens, you'll have to manually focus.
It's got filters
The truth is, we're still a society that dresses our memories in overly-contrasted, color-tinged filters. The V20 has eight of them built in. You can use them to record video and snap photos, and you can adjust them in manual mode.
You can make a video collage
Video collages are a fun way to share yourself on social media. I certainly had fun making my own musical concoction on Instagram when I was testing out the phone.
The LG V20 lets you make a multi-view masterpiece. It uses all three cameras at the same time. You can create an entire video collage, a still collage, or a "mixed media" collage, where you combine both video and stills. The only bummer is that it doesn't crop entirely well to social networks like Instagram.
You can shoot your own personal Story
Forget Snapchat. The V20 lets you shoot up to a minute of your own personal Snap story. A Snap a comprised of three-second vignettes that you don't have to shoot in one sitting. You can come back to the Snap throughout the day and then render it when you're finished. The Snap can be as long or as short as you like. You can also choose between multi-view layouts to add even more variation to your story.
You can edit from inside the camera app
The V20 is a smartphone for content creation, so naturally, LG made it possible for you to quickly edit videos. You can snip away at the length, or speed up and slow down bits of your timeline. But if you're looking for more granular camera controls, you'll want to invest in a capable third-party app.
Zooming is hard
If you're recording a video, the camera app will offer a virtual zoom slider at the top of the viewfinder. It's finicky and requires a bit of a learning curve before you can properly use it. There's a second slider option you can expand that's easier to use, but that's only offered when you're recording video. But it's really nice to have!
Steady recording is available
The V20 is equipped with Qualcomm's electronic video stabilization feature, which helps reduce the latency in the interface between the phone's gyroscope and the video image. It's like a souped-up version of optical image stabilization.
Pop-out mode is still useless
Smartphone makers tend to ham fist a bunch of extra camera features without actually verifying their worth. The V20's optional Pop-out mode seems like it fits the bill. It seems that the only point for this limited camera mode is to offer up a picture-in-picture experience. All it really does is devote the background to emulating what the secondary rear-facing camera sees. It's a cool effect, though I don't see its worth.
Your turn
Curious about what else the V20 can do? Sound off in the comments!
Get the Android Central Newsletter
Instant access to breaking news, the hottest reviews, great deals and helpful tips.
Florence Ion was formerly an editor and columnist at Android Central. She writes about Android-powered devices of all types and explores their usefulness in her everyday life. You can follow her on Twitter or watch her Tuesday nights on All About Android.