LG V20 cameras: What you need to know about the manual shooter's dream phone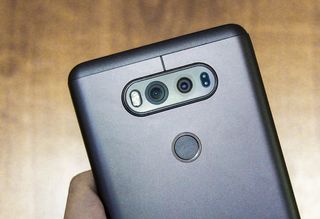 The LG V20 still isn't on sale just yet, but it's coming. And when it officially launches, it will arrive chock full of camera features that your current smartphone probably can't do — at least not without some serious trickery.
If you're looking to upgrade to a better camera phone, but you're not sure if the V20 will have much to offer, here's a quick glance at some of the camera features LG stuffed into its new smartphone.
It's got two cameras
The LG V20 is equipped with a 16MP f/1.8 OIS-supported primary camera and an 8MP f/2.4 super-wide 135-degree camera. The latter allows you to capture more of the scene at hand with the literal touch of a button. However, while the wide-angle camera modes are pretty useful in certain shooting situations, be forewarned that you can't use them inside third-party camera apps like Snapchat and Instagram.
Its front-facing camera is wide-angle, too
The 5-megapixel rear-facing camera features an ultra-wide 120-degree lens, so you can fit in more than a few people into your selfie.
It's got two manual modes
Whether you're shooting a video or snapping a scene, the V20 lets you adjust the exposure, ISO, and white balance with easy-to-use toggles. You can also adjust the shutter speed—up to 30 seconds for both video and stills. What's more: the manual video mode offers a helpful sound gauge and frame-rate readout, while the manual camera mode offers a histogram and f-stop indicator.
Keep in mind that if you're shooting with the wide-angle lens, you'll have to manually focus.
It's got filters
The truth is, we're still a society that dresses our memories in overly-contrasted, color-tinged filters. The V20 has eight of them built in. You can use them to record video and snap photos, and you can adjust them in manual mode.
You can make a video collage
Video collages are a fun way to share yourself on social media. I certainly had fun making my own musical concoction on Instagram when I was testing out the phone.
The LG V20 lets you make a multi-view masterpiece. It uses all three cameras at the same time. You can create an entire video collage, a still collage, or a "mixed media" collage, where you combine both video and stills. The only bummer is that it doesn't crop entirely well to social networks like Instagram.
You can shoot your own personal Story
Forget Snapchat. The V20 lets you shoot up to a minute of your own personal Snap story. A Snap a comprised of three-second vignettes that you don't have to shoot in one sitting. You can come back to the Snap throughout the day and then render it when you're finished. The Snap can be as long or as short as you like. You can also choose between multi-view layouts to add even more variation to your story.
You can edit from inside the camera app
The V20 is a smartphone for content creation, so naturally, LG made it possible for you to quickly edit videos. You can snip away at the length, or speed up and slow down bits of your timeline. But if you're looking for more granular camera controls, you'll want to invest in a capable third-party app.
Zooming is hard
If you're recording a video, the camera app will offer a virtual zoom slider at the top of the viewfinder. It's finicky and requires a bit of a learning curve before you can properly use it. There's a second slider option you can expand that's easier to use, but that's only offered when you're recording video. But it's really nice to have!
Steady recording is available
The V20 is equipped with Qualcomm's electronic video stabilization feature, which helps reduce the latency in the interface between the phone's gyroscope and the video image. It's like a souped-up version of optical image stabilization.
Pop-out mode is still useless
Smartphone makers tend to ham fist a bunch of extra camera features without actually verifying their worth. The V20's optional Pop-out mode seems like it fits the bill. It seems that the only point for this limited camera mode is to offer up a picture-in-picture experience. All it really does is devote the background to emulating what the secondary rear-facing camera sees. It's a cool effect, though I don't see its worth.
Your turn
Curious about what else the V20 can do? Sound off in the comments!
Florence Ion was formerly an editor and columnist at Android Central. She writes about Android-powered devices of all types and explores their usefulness in her everyday life. You can follow her on Twitter or watch her Tuesday nights on All About Android.
I'd like to know when it's going to be available for purchase.

It should be about October 20th in the US.

THAT'S what I need to know.

This new electronic image stabilisation is a step backwards, it is usually a feature on budget cameras. Best image stabilisation is still optical.

All these V20 posts. And still no non-Korean release date and pricing info.....

Yea I know right. I'm thinking it may be coming next month like the V10 did last year. But the whole "what you should do 1st" articles and what not can be helpful but are kinda I'll timed times if the device isn't even available for purchase yet.

I feel that LG isn't doing themselves a favor by revealing a device early and then being tight-lipped about availability. I mean, at least it wouldn't be so bad if they gave some firm details early, instead of playing the speculating game.

Completely agree. They can make a beast of a phone and honestly with a lil faith in Samsung falling just a tiny bit now is the time to strike while the iron is hot.

about 700 dollatrs but lesst than Note 7

Anyone know if it does Slow motion video at 240fps or still stuck at 120?

i'm anxious to see a comparison vs. the cameras in the galaxy s7, the iphone 7 and the lumia 950. i expect that it will give better resolution than the other android phones and the apple.

I need to know why it doesn't come w the most color accurate display in the world :)
What's the point of all these manual controls, if I can't see the picture/video I'm about to make

I don't get the pop out picture mode either.

Out of all the manufacturers that have, or ever have had dual rear cameras, LG has the butt ugliest rear camera module of them all.

I'd really like to know of the V20 supports aptx HD like the G5 does. I'm in the market for a new pair of Bluetooth and I'm torn between the LG tone infinum or the platinum. From what I've been able to gather between the 2, unless your device supports aptx HD you won't get any benefits from the more expensive platinums.

Worry no more. LG V20 supports aptx lossless quality audio for bluetooth connectivity just like LG G5 as well as the V10. You could chech their specs its included. I should know because I own a V10. :-)

What we need to know? When can we get it. That is all. 3 weeks and counting... This is my last impatient post.:D

I know this isn't the right spot for this post, but it's the most recent for the V20, so I thought I'd get most replies by asking here. .....the removable battery.....how do you charge a secondary battery when it's not in the phone?

The extra battery usually comes with a separate charging cradle to charge the battery separately. Since the G5 has it, the one for the V20 may also double as a battery bank.

A separate charging cradle. They'll probably bundle it in with the phone.

With the V10, they had a special where you could purchase a second battery and charging cradle for like $20. Hopefully, they'll do the same for the V20. If not, just charge one battery, take it out (it holds 100% for a couple of days), then charge the second one. It only takes about 90 minutes for a 100% charge (fast charge).

I'm sorry, hit the complaint button by mistake and did not mean to do that!
LG started bundling the battery and charger with the LG G4 and even threw in a 200 micro SD card as well for the G4 which i still own and us.
On again, i'm sorry!

Hi, regarding your question, third party companies typically make spare battery chargers for phones with removable backs. Just go on google and search up, lg g3(or lg g4/v10) spare battery charger. http://www.bestbatt.com/LG-BL-53YH-Battery-Charger-p/bblgbl53yhchg.htm?u...

Just release it already!!!!

I always like to take video and pics horizontal instead of vertical, but I am curious, because I think it would look ridiculous, is to use the wide angle lenses in the vertical position.

They could have had so much momentum because of the note7 fiasco, LG V20 is already a blunder. that's coming from a guy who will buy this phone from an s7 edge. Really wanted it to catch on so devs could dev for it and people would buy it so more cases would be released and it would force them to stay up to date on software updates. Now itll just squeak into the market.... Great job LG

At this point, I'm just waiting for all the camera features that aren't using hardware exclusive to the V20 to make it to the V10 via an update.

Vertical video.
That's enough right there to disqualify and discredit everything in this entire article.
Shameful.

I don't know why people get so hung up on what the camera looks like. Who really cares as long as it works?

I get it...some people use a smartphone nust for its phone ability qualities. However i use and buy smart phones not only for the standard phone qualities but also the camera. I am a Smartphone Photographer so the specs of a camera along with its manual controls/settings such as the LG V20 is a difference and deciding factor when i buy a Smsrtphone. Check me out on Facebook PhotographybyTripp and on Instagram Photographybytripp to see why i get "hung" up, and "care" what the camera's look like.

In their lack of Wisdom they have not decided to market in in the EU, the second largest market in the world......

I'm an ex-music video director (I've moved on to other visual arts now), but I still have the bug for videography. I like the idea of shooting with small cameras. Before I make a purchase though, I have questions. My questions to the reviewer of this article are, using the default video recording app: 1. Can I shoot in 24p (either 24.00 which is the film frame rate, or 23.976 fps, which is the TV film frame rate)? 2. Can I set shutter speed at 1/48th or 1/50th? Some cameras only allow 1/50th, you see, and some for none. 3. What is the highest bitrate allowed in 4k? What is the highest bitrate allowed in 1080p? 4. Can I set ISO, and shutter speed, and then lock exposure using these two values (aperture is going to be fixed anyway). 5. Can I set and lock white balance? 6. And finally, is there a "flat" color scheme? "Flat" colors (naming might differ) is a color profile, or a set of settings, that allow for minimum sharpness, contrast, and saturation. Please note that these settings must be set BEFORE you start recording (so they're not an after-recording filter). The video recorded as such looks dull, but maximizes dynamic range and makes the footage more capable of color grading. Unfortunately, Filmic Pro and Cinema FV-5 apps, the only two "serious" video rec apps for Android, are missing important features (Filmic Pro has no flat color support, while Cinema FV-5 has no shutter speed control). So my questions are for the default camera app on this phone. Thank you!

So far, I can tell you that it shoots at 64Mbps max at 4K and that there's an option for recording in 24FPS

6b. For the 6th question, the filters included, when in the standard mode, do they allow you to modify them for contrast/saturation/sharpness? Because if they do, then we might get close to that "flat" color style filmmakers are after.

I want to buy a SD memory card TO lg v20
With fast writing What write speed of LG to
microSDXC
?
No related articles found

Find out today's test gsmarena left hearing result -57DB that weak for headphones of O & B
LG V20 (headphones attached) -57.5 the G5 Gives a much better quality - 72 DB
LG G5 (B&O)(headphones) -72.1 Something here is not good

I'm very keen on this device. I, currently using a Galaxy S6 edge plus. so the 5.7 size is right up my ally. fact of the matter is I was going to upgrade to a note7 but after learning about the V20 and the $200.00+ price difference I'm now leaning too the V20 but I still have to see it and hold it first. I'm a shooter so the camera excites me as well.

Im waiting for the ASUS Zenfone 3 deluxe to hit the US much better specs 6 gigs ram 256 gigs rom 23 megapixel camera by Sony and 8 megapixel front camera aroung 600.00

Specs aren't everything these days, though. The price:hardware ratio is certainly enticing, but how's the experience?

As the other user said, specs aren't everything. You need manual controls to get the best pictures, and this phone has them. No other phone on Android does.

Odd, since my Samsung from last year let's me adjust.
ISO
Shutter
Exposure
White balance
Manuel or auto focus
Different metering modes
Filters Multiple LG and Samsung phones have these features, so do some other phones, LG just takes it a step further offering more control in video.

I would like more information about the microphone processing options and audio recording capability while taking video. And not just an explanation of it but somebody actually trying it out in real world situations like recording a live band.

I just got LG V20, I like the phone but when I take selfie , the picture review not turn the right angle, how can I fix that

Tap camera settings icon > Save as flipped. The image is flipped horizontally.
Android Central Newsletter
Thank you for signing up to Android Central. You will receive a verification email shortly.
There was a problem. Please refresh the page and try again.