Evernote hikes up prices, limits free users to two devices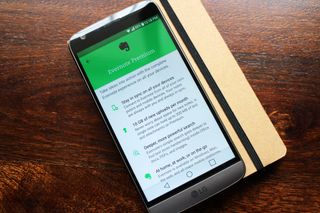 Evernote has announced that it will increase the prices for its Plus and Premium tiers, while limiting the sync functionality for Basic users to two devices. Under the new pricing plan (opens in new tab), Plus users have to shell out $3.99 per month (up from $2.99) or $34.99 yearly, and Premium users will have to pay $7.99 per month (from $5.99) or $69.99 annually.
Plus users get 1GB of uploads, while Premium users can upload 10GB monthly. Meanwhile, Basic users get 60MB uploads. Both paid tiers come with the ability to sync across an unlimited number of devices. From Evernote's blog (opens in new tab):
Evernote's FAQ page (opens in new tab) details how the device limitation will be enforced:
I've been a long-time user of Evernote Basic, and I use the app for all of my writing needs. I have the app installed on more devices that I can remember, which means that I now have to pony up for the service. I went with the Basic tier as that was more than adequate for my use case, which was to have my notes synced across all of my devices.
Would I be willing to pay to retain that functionality? Absolutely. Also, Evernote's regional pricing means that I can subscribe to the Plus tier for just ₹850 a year ($12), and the Premium plan for ₹1,500 ($22) annually. That's not bad at all for a service I use every single day.
What do you guys think of Evernote's strategy?
Harish Jonnalagadda is a Senior Editor overseeing Asia at Android Central. He leads the site's coverage of Chinese phone brands, contributing to reviews, features, and buying guides. He also writes about storage servers, audio products, and the semiconductor industry. Contact him on Twitter at @chunkynerd.
I briefly used Evernote but then I switched to OneNote and I could not be happier. Plus it's free

That's my next move, it's not worth paying $3.99 a month just to sync notes. OneNote it is...

Business is in tough times, gotta make money. just blame brexit.

They can charge whatever they want, and I can jump ship. I just switched to OneNote and transferred all of my notes with their import tool.

I just did the same thing. I just have to figure out how to encrypt some of my notes. I thank I will be watching some OneNote training video from Safari Books Online.

@Harish do you think Evernote is even worth it mate? They have become difficult to use over the years, cluttered, non-focussed and at times just laggy. Sometimes you just want a simple note taking app and not the whole plethora of features that remain unused for months. Now that Evernote has realised that they want to charge for multiple devices and all. Google Keep is so much better. Posted via the Android Central App

Evernote is easier for what I do, and its Windows/Mac clients are really good.

Uninstalled, Google keep - enabled. Posted via the Android Central App

I really want to love Google Keep. I wish that it had better date tagging like Evernote. With that being said.....I will probably switch to Keep

Going to Google Keep from Evernote and saying it's a "great idea" is like going from owning a Mercedes E to owning a Horse and Carriage and saying that's the best option for your commute, it's ridiculous! This phone has the AC App.

This is a great analogy. I was looking into Keep as well a few months back, but as a long-term solution is doesn't have the feature set. OneNote migration is done, seems to be good for the most part. Definitely an adjustment but for what I use it for, which is mostly clipping and notes, it should do just fine.

It's really not though. If all you do is clip websites and take simple notes Keep works just fine. It totally depends on use case. To take your analogy it's like you knocking him for downgrading to a horse when all he does is work a block away while you drive 50 miles. it completely depends on what you need/use it for.

I am actually surprised they still have customers. This app is so poor recently... Posted via the Android Central App

Google Keep or Onenote wipes the floor with this overpiced crap.

+1 Posted via the Android Central App

I like using EverNote because it has the ability to reformat and scale the text and images to fit the screens of my different devices. Unfortunately, it seems Microsoft OneNote doesn't have that ability. However, the subscription price for EverNote is a little too rich for my blood. Looks like I'm going to have to get use to using OneNote. Posted via the Android Central App

Never really used Evernote extensively, rather just a glorified document database (plus Web clipper). Can easily hop off any time. Posted via the Android Central App

So is there a way to import your notes from Evernote into Keep? I used the import tool yesterday to move 1,500 Evernotes into One Note, but I am finding One note to be crap. I need to select the specific notebook if I want to search for a note, which means I need to know which notebook a note is in. And, I tried searching for something I *know* is in a specific notebook and the search dots just kept going around and around. I guess I can consolidate my 20-some notebooks into 2 (personal and work) and re-import into One Note to see if that works better, but the search seems to crawl. UGH, and F-U Evernote. I would have gladly paid $20 for a lifetime license. Ass clowns.

@cincyguy look harder, you can search by notebook, section, page, or throughout onenote. The search functionality is actually very good. Posted via the Android Central App

Evernote is significantly better than Keep for keeping long term notes, but I'm not willing to pay for it for my use case. I shall import into OneNote like others. Posted via the Android Central App

I feel exactly the same way. Keep is good if you hear a song you want to remember the name of but if taking notes on research or anything like that, keep isn't good enough. To one note I go.

Bleh. I wasn't willing to pay for it on the old setup. I tried it out, was not impressed, especially for their fee structure. Let me buy it once, I don't care about updates or cloud services. I couldn't imagine paying $70/yr to use this app. I use One Note for lists, Squid for sketching designs, and Repli-Go for my PDF markups. I would use One Note to replace Squid, but One Note requires a data connection on my tablet, which I don't always have access too.

Looks like I will be switching to MS OneNote to handle my note taking. Thanks Evernote. Posted via the Android Central App on my Nexus 6P 32GB

This sucks. I've been a fan of Evernote for years, but I too will be switching to OneNote. I tried last year but it was too much work to get all my notes over, but now that they have a native importer tool I'll be making the jump. I don't mind paying for services I use, but I don't get that much out of Evernote to justify the price. Bummer.

I believe grandfather customer shouldn't pay. However they also have to make money somehow. Use s note and Google keep but for a regular user is fine but for business Evernote could be better

Why do you believe grandfathered customers shouldn't pay?

Bye Felicia! One Note from here on out. Bold move Evernote.

Got this email yesterday. Me and my wife share an account across several devices as it does everything we need it to. We were pretty floored. Looks like it's time to do some research into similar free apps. Posted via the Android Central App

Hey not to be redundant, but OneNote covers all the bases, is free, and there is an importer here: https://www.onenote.com/import-evernote-to-onenote

Yup. One Note is the heavy favorite right now. Especially if that importer is as good as it seems. Evernote is getting raked over the coals in Play reviews right now. They even have someone responding to the hate with a pretty poor standard response. Posted via the Android Central App

The importer is great. I just used it. But, the importer does not import encrypted notes. I got around that by decrypting my notes before importing. Now I am trying to find out how to encrypt notes in OneNote. I think I can encrypt/password protect a section. I just have to find out what a section is. I will be watching OneNote videos tonight.

Perfect, thanks. I can't help but look at the comparison chart though and wonder when OneNote will start charging for these free features that are paid on other services...especially with the Evernote refugees coming over.

Yeah. Seems like quite a few people will be moving to OneNote.

I do not like the "bulletin board" interface of Keep, and One Note does not allow me to share notes. Are there any other note taking apps that allow collaboration as well as Evernote?

You can put the app on another device and sign into that device with the email address you use on the original device and it syncs fine

You can absolutely share notes with OneNote. Heck you can even share your entire .One file.

Where in the android version of OneNote can you do this? I have looked all over and I find very little in the order of options when compared to the IOS version.

Just got the email about only allowing two devices on the free account. I have three. Downloaded One Note on my devices and transferred my data... Looks great. Time to uninstall Evernote from all my devices... :)

I think we should pay for great apps. However, I think dropping the gotcha strategy was a slap on the face. And more than any other reason, this is why I will prob discontinue use. I also understand they need to be profitable and maybe even fund development or they may just want to lighten their free user load. All good reasons to increase prices. Of course, they have most assuredly factored in an expected attrition, that will be compensated for with the price increase. But why not give some notice to your users? Hey valued users who have made us millions and supported our mission (yes free and paid), in effort to (state believable reasons)..in 60 days our price structure will change. In the meantime enjoy using the app you have grown to love. During this transition you can also upgrade at our current prices. But that's not how they did it. Hello Wall Street, next up IPO. Posted via the Android Central App

Getting all my Evernotes to OneNote was so much easier than I anticipated. Screw Evernote for doing this, greedy sods. They can go to Hell. The ONLY reason why I still use Evernote is because it renders articles so much better than OneNote, and its deep integration with Samsung's S Note on my Note 3. They could've pumped ads and charged for that, but NO, they forced the two device limit so you LITERALLY are forced to paying if you use anything more than two devices, which everyone does frankly. I'm not saying this as a leech, but when are SIGNIFICANTLY more value friendly options out there and they pull stunts like this, that's not cool. Also,it doesn't help that I'm not from the West who can just throw money to subscriptions left, right and center... This phone has the AC App.

They're greedy because they want to charge you to use their app? How rude!

Woefully overpriced; there are other apps/sites which offer similar functionality. I previously deleted my account; only reactivated it for use with Rocketbook. Will likely delete it again, or roll back to just two devices.

I've used Evernote for about 5 years, and although it's getting bloated with features I don't ever use, I still like it a lot. And I absolutely get that they need to make a profit to stay afloat. But that said, I hate the idea of subscription software in general, and the cost of either paid version of Evernote is WAY too high for me to consider it. I would have gladly paid 5-20 $ each to purchase 4 client licenses for my phone, tablet and two computers. But a recurring $40/year subscription? Sadly, I'm gone. Just imported my 400+ notes to OneNote. The importer worked pretty well, although the handling of tags was a little awkward when notes had more than one tag. Still learning how to best use OneNote, but looks like it'll fill my needs just fine.

With you on this one. I had around 600 notes and the tags were all messy after my import. Hour or so later and I've got it mostly cleaned up. Good thing was I got to weed out the stuff I don't need, and also get things organized better all at the same time!

I switched from Evernote a long time ago. Currently using Google Drive.

Go on... how exactly are you doing that? This sounds like a good solution for me.

I just have Drive (and Docs) installed. Easy to create notes for anything: car maintenance logs, recipes, grocery list, etc. When I need something I just open Drive and either navigate to my Notes folder, or search (e.g. meatloaf, or Ford) and it lists me the relevant notes. You can mark documents as 'Starred' for quick access (e.g. grocery list). You can also share your documents (or entire Notes folder) to your spouse, so they have access to the same. It also has the ability to scan documents and upload them with OCR. So I upload receipts that I may need for warranty or potential return purposes. I had tried Google Keep, but I didn't want another app running in the background all the time.

Happy that OneNote offers the "import from Evernote" option. Guess its time to make my switch permanent. Switch yours here: https://www.onenote.com/import-evernote-to-onenote

I switched all to One note before this. Better product for less (free). Posted via the Android Central App

Evernote is an exceptional product that I have used daily for over five years as a premium user. I pay yearly and will continue to too, and I am now retired. But I use it for many things. Google's solution is free and pretty nice but you cannot email notes into your Keep account like you can with Evernote.

Not enough return on the investment. Exploring alternatives. Posted via the Android Central App

I like Evernote better than OneNote, since OneNote saves webpages with really bad formatting using the desktop Windows program. The formatting of clipped pages using Evernote looks great. Posted from my Nexus 7 2013 via the Android Central App

I have been an Evernote Premium user for several years and find it invaluable (I use a lot of the premium features). I was pleasantly surprised to get an email letting me know that I am automatically getting a discount off the new price - I'll be paying $49.99 for the year, instead of the $69.99 new price. While I'll only get the discount the first year (when my subscription renews in August), its still a nice acknowledgement from the Evernote team for those of us Premium users who have supported them from the beginning.

Welp see ya later Evernote. I just don't use enough of it's features to justify a subscription i really wish they could have found another business model. I hope this means more features and a better app for those that do stay and subscribe but Evernote just wonder work for me from now on it looks like.

I tried Evernote on my OG Droid back in 2010.
I also dropped them in 2010. Hell, I still use pencil and paper for notes sometimes. Unlocked Marshmallow Nexus 6 on Verizon. I'm a happy guy.

It sounds like what Evernote mainly stands to lose are a bunch of angry free users and I'm guessing that was their plan after gutting all the dumb side projects and products they were wasting time with. That wasn't a worthwhile revenue stream. They have to become a real company now if they're not going to shop data like Google or have a billion other products to sell you like Microsoft. I'm definitely reconsidering the exact value as a premium customer after a $2 a month increase, but for people who are actually using powerful features of the program, switching to Keep or One Note is a farce. Keep is great but for a different kind of user. OneNote is basic on Android or Mac, has a notebook interface which is absurd in a digital format with thousands of notes, and has lackluster syncing (I own a reasonably priced office365 account too, I've tested it extensively). And have people who complain about the Evernote app actually use it every day in comparison? It's light years better than in 2014 let's say. It's great. It's a tough choice but after shopping around there aren't real alternatives yet. I think we might begin to see a new round of startups trying to be. The real choice is whether my workflow is worth this price hike, not whether I can shoehorn it into an inferior platform.

One thing you don't do..is forget all the people even these FREE users who helped them when they started by actively using their services but hey I guess money talks to them but loyalty doesn't Companies begin to get greedy when they see a need..and they jump on it I.E..AT&T buying DirecTV but getting rid of Unlimited of Data only to bring it back if you sign up with their newly acquired TV service which means both sell off each other If people think the companies are looking out for the good well being of its customers...think again guys Posted via the Android Central App

Eh, I'm one of those angry free users...but as I build content in Evernote, I've been thinking of paying up. This change makes me question why I just don't use One Note...which I now am. Importing things as we speak. It's been real Evernote.

I'd give them a one-time license fee of $20 or so if that were an option. I don't like subscription models though. I use it extensively - for text notes only - and have 3 active devices. I'll just remove it from the toy (Kindle Fire) and carry on. I'm going to assume that old cell phones and tablets that I don't use that haven't yet been wiped wouldn't count, of course. Posted via the Android Central App

Ridiculous. I am glad I don't use. One Note is great Posted via the Android Central App

Rarely used Evernote so switched to Google keep. It's simple and does what I need it to. Posted via the Android Central App

I use #Evernote for FREE with unlimtied devices! LOL!
Android Central Newsletter
Get the best of Android Central in in your inbox, every day!
Thank you for signing up to Android Central. You will receive a verification email shortly.
There was a problem. Please refresh the page and try again.