Essential Phone expands to the UK, France, and Japan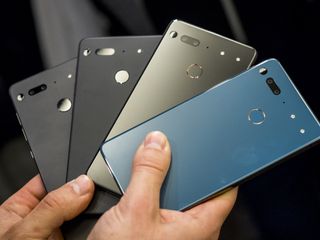 It's been almost a year since the Essential Phone was first revealed last May, and during that time, we've seen countless software updates that have continually made the phone better and better. Now, Essential is bringing the phone and all of its accessories to France, Japan, and the United Kingdom.
The Essential Phone has only been available in the United States and Canada, so this expanded release is great to see. It'll cost the equivalent of its current pricing in the U.S. ($499 for Black Moon/Pure White and $599 for Stellar Gray) and customers in these countries will "bear any shipping, duties or tax costs."
Additionally, customers in Canada now have the option of buying the phone unlocked through Essential's website instead of having to go through Telus.
In addition to the Essential Phone itself, folks in Canada, France, Japan, and the UK can also head to Essential.com to purchase the 360 Camera, Earphones HD, official fast charger, and other available accessories.
Get the Android Central Newsletter
Instant access to breaking news, the hottest reviews, great deals and helpful tips.
Joe Maring was a Senior Editor for Android Central between 2017 and 2021. You can reach him on Twitter at @JoeMaring1.
Good phone except for it's horrible camera. Hope the second version would have a good camera,at least at par with the midrangers

I'd say the camera is very much on par with mid range phones. With good lighting, it matches up to any phone

The camera is much better than when it first came out. Its on bar with mid range phones now but its no Pixel Camera

It might be much better than when it first came out. I bought it in April 1st week and sold a few days back. Everything except the camera was good. I used Nexus 6,One Plus 3T($435) apart from some flagships (iPhone7,S8, iPhone 6s, Note 8, iPhone 8 plus and now Mate 10pro). The essential camera wasn't even as good as a Nexus 6/OnePlus 3T..so can't call it mid range quality either.

The camera isn't on par with my S9 or iPhone X but it's definitely not bad. I'd rank it as a 7 out of 10. It's the only part of the phone that isn't awesome but it still won out to be my primary phone. iPhone X is second, Sony Xperia XZ Premium is third and my S9 is 4th (battery sucks).

I just picked one up on Swappa for $325 as my secondary phone to play with on the weekends instead of my iPhone X and now I'm having trouble with the idea of going back to the iPhone X for the work week. Amazing what a sub $500 phone can be like. The camera isn't the best but it's not at all bad.

Awful deal for a phone that's a year old now. I've no doubt they do much better with their v2 model so best waiting for a that

Aside from the camera, how do you expect anyone to do "much better"? You're delusional

Well that's normally what happens? How does the original Samsung Galaxy S compare to the S9? They improve year on year? How many companies nail the design of a device on their very first attempt?

Yeah wait for the new model that will be twice as expensive. 🙄

And no one will buy that one either

I'll buy it. If they get Verizon to sell it.

Yep. It'll end up around 550/650 euro (100$ for a different color? seriously?). For this money, you can get an S8, XZ1, and all last year's flagships in general. Depending on the country and shop, you may even end up saving some money. Not to mention that Essential's support can't be any good outside of US (sending the phone to US to get it fixed, anyone?). I honestly wonder why would they bother.

Glad to see Essential continues to grow.

If this is just importing from America, what's the situation with warranty cover?

They'll have customer support centers for France, Japan, and the UK.

Is there a UK site or I use the main US one? The currency is dollars only...

I know in the US, you can order through Amazon as an alternative to Essentials' site, just make sure it's sold on Amazon by Amazon or Essential.

Glad they opened their website beyond the US, I already got the Stellar Grey ($399) and the 360 Camera ($69) from Amazon but had they been open to Canada months earlier, I would have gotten my first one (Black Moon) from them instead of eBay. Telus is a joke.

This is great news to see Essential is expanding their global presence. That's how you sell more devices and get more R&D money...

I'd rather buy a Pixel, and the Essential Phone won't sell that well here in the UK next to Samsung or Apple. Even if the Essential Phone was £300, I still wouldn't buy it, they've been terrible with updates and quit frankly, the Pixel 2 XL is a better phone overall.

I think essential has been almost on par with a Nexus/Pixel device minus the delay for the Oreo 8.0 - 8.1 snafu

I particularly like their idea of a clean phone with almost no apps in it so that you populate it yourself as the owner, which also enable them to do quick updates.

Oh please, the Essential Phone is just a cheap imitation of the Pixels and will never be as good as the real thing.

Essential had lots of issues that needed fixing, but the updates were actually frequent. My essential got Oreo long before my Galaxy S8.

Best looking android phone, however it's a shame about the camera. I hope they nail version 2.

Naaaaa... People ain't gonna want to buy it! it's got a notch!!!

A bit late.
Can't be long until a new phone is released and just about everyone who wants one has bought it already.

Does this mean, we might see a dual SIM version soon ?
Lot of people I know from EU wanted this phone but couldn't get it because of the lack of that feature.