This year's 157 new emoji include kangaroos, toilet paper, feet, and more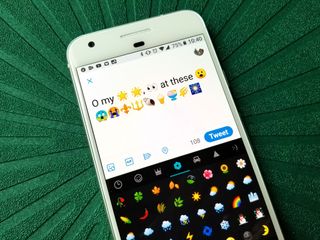 Although they're easy to make fun of, emoji have quickly become a standard addition to text-based communication. They're something I use every single day when talking to both friends and work colleagues, and in 2018, the world will be graced (or cursed) with 157 more of them.
The new emoji for 2018 are part of Emoji 11.0, and they'll be released with Unicode 11.0 this June. I won't go through every single one, but some of the highlights include a freezing and party smiley face, superheroes, raccoon, swan, kangaroo, lettuce, toilet paper, cupcake, and plenty more.
However, perhaps the most important addition is that of red-haired emoji.
You can browse the full list of Emoji 11.0 here, and similar to past releases, the new emoji should start arriving on phones in August and September.
What's your favorite emoji in the 11.0 release? Let me know in the comments below ⬇️😄👩‍💻🐶🍕🌮💰
Google has fixed the infamous cheeseburger emoji with Android 8.1
Joe Maring was a Senior Editor for Android Central between 2017 and 2021. You can reach him on Twitter at @JoeMaring1.
As long as they don't take away my right to bare cartoon firearms like the dictator snowflake pansie tim crook at apple did. I'm cool with whatever they bring 🔫 👍

If you ask me it's all a bunch of poop, emoji's!

Samsung did with their Oero update. Changed it to damn water gun!

Mooncake? That required an emoji?

Why does "smiling with 3 hearts" have 4 hearts?

Because 1, 2, 4, 3, 95, 98, XP, Vista, 7, 8, 10.

Toilet paper! To offer people so they can wipe away the 💩💩 they write. And not before time I say!

Before long all phones will require 256 GB of storage just to accommodate emojis and stickers!

2090 is right around the corner.

At last! The inequality has lasted to long. We red heads finally get our own emoji!

And the toilet paper is front-facing, just like God intended. Good work people.

A pirate flag but still no Saltire which has been promised to be coming soon for years

How about the Easter bunny huh? Easter eggs? And put the thanksgiving turkey on a platter please!!
Android Central Newsletter
Get the best of Android Central in in your inbox, every day!
Thank you for signing up to Android Central. You will receive a verification email shortly.
There was a problem. Please refresh the page and try again.