EE to consider terminating its relationship with Carphone Warehouse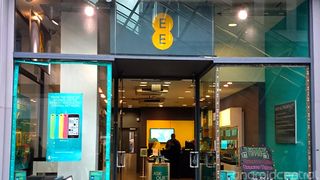 (Image credit: Android Central)
EE is looking to pull out of its partnership with Carphone Warehouse, with a decision to be reached following a review of its consumer retail strategy. Should the largest mobile operator in the UK terminate dealings with the retailer, it will be a sizeable blow leaving just O2 and Vodafone as viable options through Carphone Warehouse. The move would see EE deal directly with consumers, eliminating third-party retailers.
The UK mobile operator is a joint venture between Orange and Deutsche Telekom. Gervais Pellissier, the deputy chief executive of Orange, commented on how he wanted to see EE rely less on third-party retailers and drive sales by dealing direct to consumers. A EE spokesman failed to comment on negotiations, but did highlight how the company is reviewing its strategy:
Carphone Warehouse is currently looking to merge with consumer technology retailer Currys (owned by Dixons), which would be hit hard by potential retractions. EE will also be reviewing its partnership with retailer Phones 4u.
Source: The Telegraph
T-Mobile no contract style to the UK! D.T. is selling the success story! Posted via Android Central App

Eliminating a 3rd party almost always reduces costs Posted via Android Central App

This is actually a bad move IMO as many of us may well like to be on EE's network but will not under any circumstances buy a Network branded handset with all the Network Bloat and added delay in receiving updates from the manufacturer of our devices so that would effectively rule out buying any handsets and running them on EE. People like me are in no way the majority but i am sure there are enough of us to make a difference. Before anyone wants to state the obvious that we could most probably de brand and flash generic or custom Rom's not all of us want or feel the need to this. For instance for the first time in years and since i bought the M8 i have been happy to just use my M8 as HTC intended unlike all my previous Android handsets where i did feel the need to run custom Rom's to get rid of bloat and improve the look and performance of my device. Marc

Imo this is a bad move if ee goes ahead, I think most people go to the likes of p4u and cpw to get there phones instead of going to Yeh specific carrier stores. Also with p4u or cpw you usually get better deals and debloated phones and unlocked too. I personally will never go to a carrier specific store for those reasons. You would think carrier stores would be able to offer better deals but in my experience it's always more expensive. Also I think this is very obviously a negotiation tactic by ee to get a better deal. I think they are threatening to leave p4u too. Posted via Android Central App using galaxy s4

That sucks it means no more factory unlocked smart phones through carphone warehouse with EE unless you buy one outright the ones you get direct through EE are locked to EE with all the bloatware Posted via Android Central App

I would prefer Carphone to concentrate on Sim Free phones only - many of us love tech and sometimes the only way to get the latest phone (without setting up yet another 24 month contract) is to buy the phone sim free. Think Carphone should work direct with the Manufacturers (i.e. samsung, HTC, LG, Nokia) rather than operators to offer the lowest price for sim free phones and to have a vast array of official accessories for each phone they stock

I don't blame EE, going down this route. Once Carphone Warehouse become part of DSG retail, consumer choice will be limited anyway. The newly merged group will probably try to cut a deal with the mobile networks which will probably involve selling network branded handsets, abusing their virtual monopoly. Remember the 2 remaining competitors Phones4u and Go Mobile will be small fry once this new giant monolith company is formed and their negotiating power with the networks will be much reduced. Personally I agree with one of the above posters, in that it could be a tactical move by EE to put a line in the sand with DSG/Carphone to get a better deal for them, not the consumer. Expect bleak times ahead and maybe in 2 years time it will be virtually impossible to buy a Non Network branded handset on the High Street. My heart sank when I heard of the proposed merger of Carphone/DSG. Given DSG's track record in White goods/PC's, they are only interested in cozying up with manufacture's and suppliers to create an inflated retail market for what they sell.

Three pulled out of third party arrangements some time ago and you can only buy phones from their own branded shops, or online.
EE have an extensive network of shops, so they probably don't need CPW except in smaller towns; as do vodafone and O2. I imagine they'd rather set up franchises.

Looks like its time to look at another operator ..I only buy Sim free phones ..
All my experiences with ee shops have been bad .. Over priced hand sets and staff with poor attitudes ..no thanks ..
I have always had a great experience with the car phone warehouse ..always helpful. And they look for the best deal for my needs..
Not what will make them the most revenue..
I will be very sad to see that partnership end .
Looks like I may go down the Sim only route and buy Sim free on line ...I just won't buy from an ee shop... Posted via Android Central App
Android Central Newsletter
Get the best of Android Central in in your inbox, every day!
Thank you for signing up to Android Central. You will receive a verification email shortly.
There was a problem. Please refresh the page and try again.