EE 4G LTE arrives in the UK - 11 cities to start with, but plenty more to follow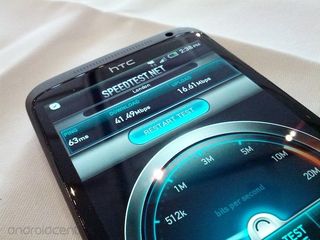 We have tested out EE's new 4G LTE service a couple of times already in recent months and have certainly been impressed with the speeds. So, great news today for those of you that live in one of the 11 cities that the service has today gone live in -- namely Bristol, Birmingham, Cardiff, Edinburgh, Glasgow, Leeds, Liverpool, London, Manchester, Sheffield and Southampton.
EE's Fibre Broadband service will also today be available to 11 million homes and business premises with download speeds of up to 76Mbps. A few pointers from EE --
4G mobile services available for British consumers and businesses for the first time ever today
Superfast service launches in 11 major cities across the UK
4G network rollout to increase to 2,000 sq miles every month
Fibre Broadband from EE available to 11 million premises, with superfast speed typically ten times faster than standard broadband
New research reveals around three quarters of businesses (74%) are planning to adopt 4G within 12 months
Anyone lighting up a 4G phone for the first time today? Let us know how you're getting on!
You can catch the full press release below the fold.
30th October 2012. London. Superfast services are available for consumers and businesses for the first time ever today as EE, the UK's most advanced digital communications company, launches its new 4G service in 11 cities.
The launch is set to offer a timely boost to the UK economy offering firms the opportunity to increase innovation, boost productivity and cut costs, as has been the experience of companies in countries such as the US, Sweden, Japan and Germany since the technology was first introduced.
Today also marks the arrival of over 700 EE stores on high streets across the country in one of the biggest and fastest transformations in UK retail history.
The delivery of 4G and the company's retail transformation has been underpinned by an intensive employee training programme as well as a comprehensive national IT infrastructure upgrade to ensure that EE customers receive expert service.
In its first phase, the 4G service is going live in Bristol, Birmingham, Cardiff, Edinburgh, Glasgow, Leeds, Liverpool, London, Manchester, Sheffield and Southampton. This will allow users to:
• Access the web on the go in an instant
• Download large email attachments quicker than ever
• Watch live TV on the move without buffering
• Download high-definition movies in minutes
• Play live multiplayer games on the go
• Make high quality video calls on the move
And today's launch is just the start as 4G coverage from EE will expand by 2,000 square miles every month, both into new cities as well as providing denser coverage in existing areas. This means the service will be available in a further five cities before Christmas, with more cities and rural locations planned for 2013, and 98% of the population due to be covered by the end of 2014.
On average, 4G mobile coverage will be made available to around two million people in Britain every single month between now and the end of 2014, making this the fastest rollout of any UK network in history.
EE's Fibre Broadband, typically ten times faster in homes and offices, is available to 11 million premises from today as well. Ideal for households or small businesses with multiple devices, EE Fibre Broadband offers maximum download speeds of up to 76Mbps – allowing customers to stream HDTV, play online games, watch films on demand or quickly upload or download large files.
EE, T-Mobile and Orange customers will benefit from a new level of customer service, with 10,000 EE experts trained to serve and sell to customers in a new way, designed around specific handset types. These experts can be contacted over the phone, online, or in one of the 700 newly branded EE stores on the high street and in shopping centres.
4GEE plans come with unlimited minutes and texts as well as revolutionary and exciting new services, including EE Film, Clone Phone[3] and inclusive nationwide BT Wi-Fi.
4G and the benefits to business
The world's first global study into 4G business benefits has been released today to mark EE's UK launch.
The study reveals that:
· 74% of UK businesses intend to adopt 4G within 12 months
· Newcastle's business community is showing the strongest demand for 4G, with eight out of 10 Newcastle-based firms (85%) intending to roll out the superfast mobile service within 12 months
· 78% in London plan to do the same
· CEOs and sales staff will be first in the business to use the new technology. The study noted a similar trend occurring in America.
British businesses expect 4G to help increase productivity (58%) and boost employee well-being and motivation (38%). The technology will also help firms compete through innovation - 50% want 4G so they can set up an internet connection quickly without having to wait for a fixed line to be installed. This is a boon for retailers wanting to set up a pop-up shop, or builders looking to set up a temporary office onsite.
that study on UK businesses was obviously made BEFORE EE's ridiculous tarrifs were made available to public, really, they are atrociously bad compared to everyone else, they stated that they would price 'very competitively' at the conference i attended, plainly they lied

The prices aren't that bad compared to the US. Plus, I pay £41 a month for 900 Minutes, Unlimited Texts and 1GB of Data, an extra £10 gets me extra minutes and 4GB more data. I see absolutely nothing wrong with that as it's usually £5/500MB.

They are priced very compeitively. For the life of me i do not know why the only advertised plans where for unlimited calls. Those plans where quite high since you got very little data. If you wind down the minutes to 1000 minutes, then it knocks a tenna off all of those prices, thus making you can get 2gb for 36quid, which is about the best you can get. Ofcourse three beats everyone, but they are the fifth network, and have the worst coverage, so they have to be agressive on pricing etc

From what I can understand, Three don't have any 4G price plans. Instead, they're simply upgrading their network, so it's the same price as 3G. Unless I've read a load of stuff wrong.

oh and i would consider 4g, if the nexus 4 was having it. Instead am going the off contract route, if Google keeps planning on dishing out nexus device for £239 quid, then i'll go off contract/ or 12 month sim only contract and keep buying the nexus brand of phones.

these prices arnt no good for heavy users like myself on average I use around 10gb o 15gb a month, EE says 500mb is for light users so what's the point using 4G if ur not gonna use the Internet to its full potential, use 3G if ur not gonna use the Internet that much some networks u pay £10 and u get 1GB a month to use, why pay £36 for half of the data just to load a page a few seconds faster the prices are a deal breaker for me no way.

I've written a latter of complaint to T-mobile requesting my S3 is upgrades to the LTE version as by EE jumping the gun and releasing 4G early (we weren't meant to see 4G until the bandwidths were auctioned off in 2013) it has now made my researched choice of phone not compatable with 4G.

Who ever come up with them prices should be sacked! Are them people actually aware what AVERAGE Customer is using in terms of data transfer on a mobile?? Pathetic...
Android Central Newsletter
Get the best of Android Central in in your inbox, every day!
Thank you for signing up to Android Central. You will receive a verification email shortly.
There was a problem. Please refresh the page and try again.