From the Editor's Desk: Coming together before we fall apart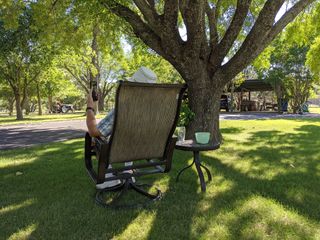 (Image credit: Ara Wagoner / Android Central)
I live where I live for one reason — Walt Disney World — and most of the time, living in Orlando is pretty great. I work from home in the morning, eat lunch, then I can grab my Chromebook, head to a theme park, and continue working on my articles while I sit in Fantasyland, Galaxy's Edge, or somewhere in World Showcase. It helped me get out, stay active, and be around other human beings for a while.
When the pandemic started and the parks closed, I suddenly found myself living in isolation for weeks at a time, with my human contact being limited to phone calls from home, the occasional video call with a special friend and my usual Google Meets for work. And nevermind walking three to seven miles a week anymore; I wasn't even leaving the apartment most days. It made me feel listless, especially once my sleeping issues returned and time seemed to lose meaning.
By early May, it was apparent I needed to go be around other people for a while again. With air travel a high risk without much reward in time/money saved, I decided that I'd make the long, long drive back to Texas. Eighteen hours in a car isn't exactly my idea of fun, but I had Android Auto and YouTube Music to keep my company as I arrived back home a week ago.
It's been weird having to carve out my own little work-from-home-space amongst my parents working from home. My dad's always had his setup in the master bedroom, while my mom has migrated from working in the dining room to taking over my twin's old bedroom. I tend to oscillate between working at the kitchen table — where I can watch the baby deer out in the yard — and working on my bed with a trusty lap desk when I need privacy or quiet.
Working from home is no foreign concept at my parents' house: my dad has always brought his work home with him and while my mom taught phlebotomy courses in-person until three months ago, there is no end to the prep, grading, and other work that goes into being an adjunct. And of course there's me, who has been proud of being able to work anywhere with my trusty #HaveChromebookWillTravel.
What is new for them is shifting coffee dates and happy hours to Zoom instead of meeting up at a local joint. And while Texas has mostly reopened — to the detriment of our COVID case numbers — my parents' gatherings, like most of the folks I know, have steadfastly remained digital.
Of course, some activities just can't be replicated over a video call: I made the 90-mile trek up to Waco on Thursday night so that I could sing karaoke for the first time since New Year's. And let me tell you, they had a crowd. TrueLove, like all bars and restaurants, was limiting capacity, but there were still enough rowdy girls' nights and boys' clubs rolling through to make it hard to hear your own conversations.
It wasn't the safest decision I've made since the pandemic started — every singer got a fabric mic cover to use and hand sanitizer next to the mic — but I wore my mask as much of the time as I could, tried to sit away from other people, and getting up to sing was really, really cathartic for me. Just doing it once did wonders for my soul, but I'll likely hit it one more night before I return to Florida and await the parks re-opening.
For the most part, though, being home has meant I'm eating meals more consistently, I'm definitely getting more exercise going on the evening walks with the dog, and I'm getting more sunshine, too. It's been nice to get a breather, step back, and take stock of things, especially when (gesticulates widely) all this is going on.
And of course, pet the parents' pretty kitty. Now, onto business:
Finally, a privileged white girl, it is not my place to preach about systemic racism and the overmilitarized and horribly uneven policing of America. Instead, I suggest reading up on some history — if you need places to start, next week is the anniversary of the Tulsa massacre and you can also look at redlining for something truly infuriating that is still impacting millions to this day — and rather than signing national petitions, find what local civil rights groups are trying to accomplish in your area.
This is not how I imagined pride month going, either, but to all in the LGBTQ community, the fight is not over, and we will never stop fighting until everyone has the same rights and protections in society. And we can never forget those who have been taken from us so far.
Android Central Newsletter
Get instant access to breaking news, the hottest reviews, great deals and helpful tips
Ara Wagoner was a staff writer at Android Central. She themes phones and pokes YouTube Music with a stick. When she's not writing about cases, Chromebooks, or customization, she's wandering around Walt Disney World. If you see her without headphones, RUN. You can follow her on Twitter at @arawagco.
You have to absolutely love that view from the kitchen. :)

That shot is technically the driveway, but it's a similar view out the kitchen.

Stick to writing tech reports..everyone has a story to tell, but they shouldn't be exposed to this nonsense here.. Perhaps in the self help forums or something.

And what nonsense is that? A post literally titled from the editor as describing what they've been up to? Or a post calling out that our country / world is in the throws of a reckoning long overdue as we've continued to ignore some pretty horrendous things? Which is it, are you just rude or are you failing at basic human decency?

I'm with Benjamin. It was a good slice of life article with a mention of current events, and we can only ignore what's wrong for so long.

Hey Ara, are you going back to Disney right after they re-open? We gave up our timeshare there just before they closed, which I think was a good choice. I'm glad you had fun at karaoke, but if we were close friends, I think I'd hold off hanging with you for a couple weeks, lol.

Lol, I'm going back to Disney once they re-open, and yeah, apart from karaoke, I've only really been around the fam apart from running errands (with a mask on) with my parents around town. I'm going back to Waco for a day or two with a friend (and another round at karaoke). I do need to go hunt down Jeramy Johnson and take him to lunch tho since it's so rare to actually have a coworker nearby...

Well said, girl. I really enjoyed a slice of your life during these hard and troubling times
Android Central Newsletter
Get instant access to breaking news, the hottest reviews, great deals and helpful tips
Thank you for signing up to Android Central. You will receive a verification email shortly.
There was a problem. Please refresh the page and try again.