eBay for Android makes buying and selling even easier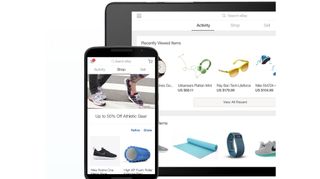 Online commerce giant eBay has launched a brand new version of its app for Android, which they call eBay 4.0. This update is meant to offer a more personalized eBay experience for both buyers and sellers, making it easier to browse through offers and find deals, as well as manage your own sales.
In particular, eBay 4.0 makes selling easier both for veterans and first-timers:
The eBay app is also a more personal experience for shoppers. Once you sign in, you can view a new Activity feed, which offers you updates on items that matter to you. There's also the new Shop tab, which is a curated blend of items just for you, organized by department.
Currently rolling out, eBay 4.0 should be available on the Google Play Store (opens in new tab) for all users soon.
Source: eBay
Update isn't in Android Play Store yet. Posted via the Android Central App

It says should be available soon Posted via the Android Central App

No material design? Posted via the Android Central App

So now sellers can get paid instantly instead of 21 days plus?
That would be nice. I would even consider going back to them then.

Never taken me 21 days to get paid. 5 tops. However I hate their 10% policy. But it's the easiest route to sell. Posted via the Android Central App

Still not going back to EBay and PayPal thieves with their policy of freezing your account every time you try and transfer your money to your bank account Posted from my S6

My account never been frozen. Not sure what you're talking about Posted via the Android Central App

+1 Posted via the Android Central App

Don't forget the eBay double dip! Posted via the Android Central App

The new update looks nice and clean Posted via the Android Central App

Not available yet in the Play Store. Writers should actually check to see if the links in the article actually bring up the version they after writing about, rather than copy & paste from the vendors. Lazy writing. What does "available soon" mean? Hours, days, months, end of 2017? Why not ask eBay for a specific availability date instead of just passing on their marketing brochure and pretending it's a genuine review.

It says it directly at the bottom SHOULD BE COMING SOON. If that's what's reported, how are they suppose to know? And what you gonna do it they get a reply oh we don't know soon... Posted via the Android Central App

eBay app just updated on my phone..... Posted via the Android Central App

Less useful than before, screwed up my save searches and not very intuitive. Posted via the Android Central App

Absolutely the worst app implementation I've ever seen. What did they have, one beta tester? Slow, glitchy, and poorly designed user interface. Totally non intuitive. Do yourself a favor and don't let this app auto update if it's not already too late. This is clearly not even a beta level piece of software.
Android Central Newsletter
Get the best of Android Central in in your inbox, every day!
Thank you for signing up to Android Central. You will receive a verification email shortly.
There was a problem. Please refresh the page and try again.