This is an early look at Gmail's new design for desktop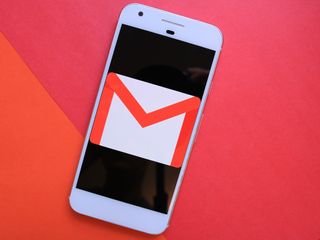 In the "coming weeks", Google will introduce a huge redesign for Gmail. Something along these lines is long overdue, and thanks to recently shared screenshots, we now have an early glimpse at what Gmail's new desktop interface will look like.
Obtained by The Verge, these screenshots reveal that Gmail's new aesthetic lines up nicely with the design language found in a lot of Google's other apps. Corners are rounded, there's a hamburger menu in the top left next to a fresh Gmail logo, and the red "Compose" button has been replaced with a white, circular one with a colorful "+" icon.
Like we already caught wind of, the images also showcase Gmail's new Snooze functionality that allows you to dismiss emails from your inbox for a certain period of time — something that was first made popular with Inbox back in 2014.
One thing shown that we weren't previously expecting is a new sidebar found on the far right. This allows you to quickly open Google Calendar, Keep, and Tasks without having to leave Gmail, and it would appear that you'll be able to add additional apps to the sidebar as well.
Last but not least, Google's added three layout views that'll allow you to change how your mail is displayed. The default setup will showcase things like photos, documents, and other items that are attached to message, a comfortable option will remove these attachment highlights, and compact mode will show more emails on your screen at once.
It'll still be some time before these changes make their way to all Gmail users, but seeing as how Google I/O is right around the corner, it's safe to assume we could get more details on Gmail's updated look during the upcoming developer conference.
A new Gmail design is launching 'in the coming weeks' with several fresh features
Joe Maring was a Senior Editor for Android Central between 2017 and 2021. You can reach him on Twitter at @JoeMaring1.
So, still no option to have the emails listed down the left and the body of the currently selected email on the right, lile most "normal" email clients? Pants.

You know Labs has a Preview Pane option where you can do that...?

And it works quite well. Been using it for years.

Thanks!!!!!! Maybe I'll start using it now!

This is why I still don't use it.

No night mode either huh?

Looks nice. But the snooze feature if nice. Still ... Why can't we have a reminder feature associated with a specific email, like Outlook does? Please Google. Please?

Google Calendar is useless unless they allow multiple accounts to be displayed at the same time. It's why Sunrise was so popular and why I use Apple Calendar right now.

You absolutely can display multiple accounts on the same calendar. My work does this for our employees, so we can see everyone's meetings and things.

You can absolutely do this. My wife and I share calendars, so I can see all her appointments on my phone or computer.

"Huge" might be overstating it a bit. It looks nearly identical.

I'll stick with Outlook, I love it. Gmail has always been my spam mail.

gmail also contains my spam mail, under the spam label. it does a great job at it (I scan through it occasionally and *very* rarely find something there that shouldn't be, and even more rarely see a spam email not labelled). I use Outlook (2013) everyday and I've NEVER seen it use its Junk E-mail system anywhere near as well as gmail's!!

That's because the desktop Outlook application requires you to set up rules for how to deal with spam, the web based version of Outlook also does a great job filtering out spam.

Same here. Sticking with Outlook for the day to day mail.

If I didn't need gmail for my phone, I would have never open an account. Nobody has my gmail account so I don't get messages regular or spam on it.

A Google account doesn't require Gmail. It just requires an email account to sign up.
Android Central Newsletter
Thank you for signing up to Android Central. You will receive a verification email shortly.
There was a problem. Please refresh the page and try again.