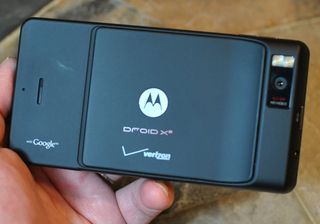 Behold, the new Motorola Droid X2, nearly the same as the original Motorola Droid X. Really. OK, mostly. Quite a bit, actually. That's not to say it's not better, because it most definitely is. And that's not to say it's boring, because it most definitely is not.
The original Droid X (read our full review) is still one of our favorites of the past year. And Verizon has shown a penchant for not wanting to upset the apple cart by radically changing a successful phone -- see the Droid 2 and Incredible 2 as previous examples of that strategy. Will that be enough for you to pull the trigger on a new DX2? Let's discuss our initial thoughts after the break.
Instead of telling you what's the same, though, let's just focus on what's different.
The Droid X2 one-ups its predecessor in the processor department, trading a TI OMAP 3630 for a new dual-core 1GHz NVIDIA Tegra 2 processor. As far as everyday use of the phone is concerned -- e-mail, using the user interface, etc. -- you're unlikely to really notice anything. Our review unit certainly feels snappy enough, but that could be from that new-phone experience that's always a little faster. And it's got that new-phone smell.
The Droid X2 also improves things in the display department. It's still a 4.3-inch touchscreen, but the resolution has been increased to 540x960 (that's qHD), up from the usual 480x800 (OK, OK 480x854 -- darn Motorola and its extra 54 pixels). Does it make a big difference? Looking at the phones side by side, not that much, surprisingly. You'll notice a few subtle changes -- the notification bar is slightly thinner (but that's compared to our Droid X running the Gingerbread leak), and the icons are a tad smaller and more spaced out. Is that a resolution thing, or just a UI thing? Dunno. But we'll never turn down a higher-resolution phone, even if we can still make out the occasional individual pixel.
And gone is the physical camera button. We're a little sad to see it go. Was it a purely aesthetic design decision? Did it make way for the dual-core processor? Something else? All we know is we just lost a little piece of functionality, and we're sad about that.
Software-wise, it's running Android 2.2.2. Again, it's time new phones launch with Gingerbread. That's not to say the Droid X2 won't get a Gingerbread update -- it most certainly will -- but it's time for new phones to have the latest OS out of the box. And the DX2 indeed has Motorola's Blur "enhancements." It's got the same updated skin as we've seen in the Gingerbread leak for the original Droid X. We're fine with that. And a good number of the Blur UI features we're OK with as well.
Otherwise, same phone, folks. Exactly the same form factor. Exactly the same look and feel in the hand, save for a couple of cosmetic differences, Faster, higher res, and the same awesome build quality from Motorola. And we're expecting better battery life thanks to the dual-core processor.
For $199 on contract, it might not quite be worth an upgrade if you're still rocking last year's Droid X. But if you're looking to move to get into the smartphone game or get into Android -- and don't mind not having LTE data -- the DX2 is unsurprisingly looking like a solid phone.
Droid X2 Specs | Droid X2 Forums | Droid X2 Accessories
Sign up for Black Friday email alerts!
Get the hottest deals available in your inbox plus news, reviews, opinion, analysis and more from the Android Central team.