Don't confuse our peanut butter with GIFs, says Jif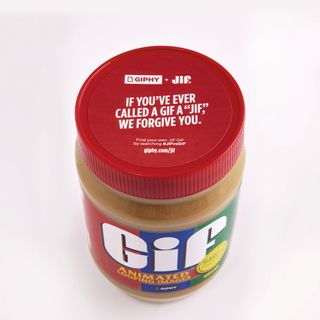 (Image credit: Liza Oestreich / Publicis Groupe)
What you need to know
Is it pronounced 'gif,' like gift, or 'jif,' like 'jiffy'?
Jif is partnering up with GIF-hosting site GIPHY to sell the debate once and for all.
Special-edition Jif / Gif jars available at Amazon

(opens in new tab)

.
Peanut butter brand Jif has had it with people misappropriating its name for those fun mini-videos with no sound. So, it's turned to GIPHY, one of the biggest sites for hosting these animated memes, to settle the pronunciation debate once and for all.
And if you've ever made the cardinal mistake of proncounding GIF with a soft G, the company forgives you:
In fact, the peanut butter brand is so confident in the pronunciation, that it has partnered with GIPHY to offer special limited-edition jars on Amazon (opens in new tab) to commemorate National Peanut Butter Lover's Day on March 1st.
But our crack-team of investigative peanut butter journalists (i.e., yours truly) has discovered a history of deceit on the confectionery brand's part.
Just a few years ago, the company was proud to be a namesake with the popular animation format on the web, and proclaimed its undying love for the creator of the format, Steve Wilhite, when he took to the stage of the Webby Awards with a simple message: "It's pronounced 'jif' not 'gif.'"
Obviously, the big peanut lobby has gotten to both Jif and GIPHY, and this flip-flop by the company is the latest sign of a confectionary system mired in corruption. We need a confectionary revolution where the top one-tenth of 1% doesn't tell the bottom 90% how to pronounce the word which, as their creator intended, is obviously with a soft G, as in 'jif.'
Anyone who says otherwise is simply an agent of the status quo and has been bought out by the peanut-industrial complex.
Android Central Newsletter
Get instant access to breaking news, the hottest reviews, great deals and helpful tips
I'll pronounce it jif when all the people who already do start pronouncing "gigabyte" and "gigahertz" as "jigabyte" and "jigahertz". Also, given that today is shrove Tuesday, this would've been funnier if it were about lemon juice.

Let me know when you start pronouncing YOLO as yohl-wuh. or LASER as lassser or SCUBA as scuh-buh or JPEG as JAY-Feg

Complete false equivalence aside, I can assure you I'll never pronounce "yolo" in any way.

How do you pronounce giraffe? or gin? gym?

The debate was settled when the creator of the format stated that the pronunciation was like the peanut butter. Anyone still arguing about it is simply doing so to be a contrarian.

Graphics Interchange Format
Unless you pronounce "graphics" as 'jrafiks', you pronounce it giff, not jiff.
Doesn't matter what the creator says, he was a programmer, not a linguist.
Android Central Newsletter
Get instant access to breaking news, the hottest reviews, great deals and helpful tips
Thank you for signing up to Android Central. You will receive a verification email shortly.
There was a problem. Please refresh the page and try again.