Do you use a case on your smartphone?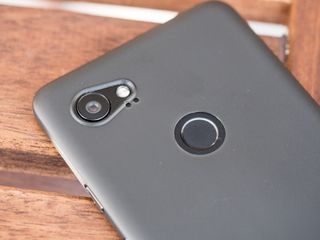 As much as I love to protect my phone at all times, I've never been a huge case fan. I'll throw one on my device when out and about, but as soon as I get home, I take it right off.
A few days ago, Modern Dad himself went hands-on with a case for the Pixel 2 called "Peel." Peel is a company that makes cases by the same name, and they're designed to give your phone some added protection while adding just a marginal amount of bulk. It's an incredible idea, and Phil found Peel's execution to be quite solid.
Shortly after this, some of our forum users started talking about whether or not they'd be picking one up for themselves – these are a few of the responses:
Whether it be a bulky or slim one, we'd like to know – Are you rocking a case on your phone?
Joe Maring was a Senior Editor for Android Central between 2017 and 2021. You can reach him on Twitter at @JoeMaring1.
If I'm going out on a date or some social gathering, nope.
Otherwise, my phone is "protected" by a Nillkin Nature case.

I don't get your reason on this

Me either. Unless your case is nasty, I don't get taking it off. Women like partners who use protection.

Not nasty, but the phone does look better caseless.

Lol I don't get it either. Probably the only few times I get to enjoy using my phone caseless and being confident that I won't drop or break it.
Or it might be an OCD thing. 😵

Yes. Why don't we do polls anymore?

They were a big fat pain, but I do kinda miss running the weekly poll back in the day...

I use a case that clips on my belt for my personal cell phone (Moto G4+). I recently got a Samsung temp phone for work, and in that case (pun intended), I usually carry it off in my back pack outside of office hours, and just in my back pocket when not in my office. I will eventually get a BlackBerry and will be on-call, so I guess I will have to get some case that will clip on the other side of my belt, so I can carry both at the same time.

Yes, I use a Zover wallet case for my s8+. A glass sandwich needs protection. But due to gorilla glass 5 I don't use a screen protector. Anyway, I've had a couple of drops no problem with Zover! Very durable cases, worth the 29.00 I paid for it!

The only time I don't buy a case if it it's a phone that has a confirmed 'send back' date for work. Otherwise, all phones get cases. If anyone upgraded Pixels this winter and still has their old cases, I'll take them off your hands!

Yep. Phones are expensive and since "thin is in" they're harder than ever to hold on to.

True dat! I can't hold my NOTE 5 with out one. Slips right out from my hand.

Yes. Simply put, for longevity. We drop stuff all the time and while I am very careful with my devices, I will at least drop it once during my time with a phone. It's good to have that security.

Typically not on my Pixel 2 when I'm in the car or at work. But I have a UAG for when I go camping or walking around downtown. (More prone to drops when walking and in and out of pocket)

I think you meant Modern Dad not Modern Day in your article :P

Almost have to, they're so slippery they slide right out of the hand.

I ALWAYS use a TPU Gel case.

Only in my car (magnet holder).

I am using the Note 8 btw.

I didn't use a case with my great HTC One M8, the best smartphone I had for almost 4 years. But it was a tank, a chassis fully made from metal. With my recently bought Google Pixel 2 (non XL) I use the great looking Official Google Fabric Case (cement color) since there's glass on the top of the back and I'm afraid tó break it. Glass back smartphones is, in my humble opinion, one of the stupidest design decisions I have ever saw on a item we use so much and is so prone to be dropped.

I use the s8+ & use a Zover wallet case for my glass sandwich. I've dropped it a couple of times, not a problem. With phones being made with glass you need all the protection you can get. At least in my case, hey that's a pun!

I just don't drop my phones & I've been using touchscreen phones since the PDA days (b4 Apple invented them). The only cases I ever use on occasion, aren't for protection, but serve a utilitarian purpose (like a wallet case when carrying a regular wallet isn't practical or a charging case). I don't understand how some people are so clumsy. Its a different story if u work a job like construction or something, then a protective case is understandable.

Case and screen protector on every phone I've ever owned. Currently have the sandstone case on my OP3T.

I sure do. Every phone I own ends up in a case within 24 hours of my purchasing it.

Cases are cheap these days as long as you're not buying them from the carrier store. Not everyone needs a bulky case, but there are good slim ones. I usually go with a minimalist case. Enough to prevent scratches and help with minor falls.

I use the rhinoshield bumper on my pixel 2 xl. I love it and feel like it provides the balance between protection and style that I need.

Nope, i have a orchid gray s8 and the damn thing is a work of art. i love looking at it! Why cover that up? I have very sticky fingers when it comes to phones, i'll drop everything else before i drop my phone. :-)

I still don't get why anyone would use a case. S8, S7 and all my previous phones all caseless. They are just too beautiful to put in a case. I get to 'feel' the beauty of my phone and I never drop them.

I don't know how on earth you don't drop these super slick things. I've never dropped my phones either, but that is only because of the grip of a case.

I'm not a case fan, I love beautiful well-built phones and like to see mine all day...and I'm pretty careful with them. I have the Best Buy Blue S8+ and put the matching Samsung thin clear protective cover on it. It won't do much for a drop of any height but it does protect the back glass from scratches (see Tim1954's comment below!) while still displaying the phone in all its gorgeous glory, and it's slightly less slippery than the naked phone.

I have cases for varying uses. I love cases so much that I highlight them on my YouTube channel "TECH-FIGHTER". Depending on the circumstance I might go with a slim case or a case with extra heavy-duty protection but I almost hardly ever go with a naked phone because I do not like the feel of slippery glass phones in my hand. Plus I like to coordinate my case with my style so if I'm wearing a suit I will use a nice leather case but if I am out camping or doing something rugged outdoors I will usually use a more protective case. For the gym I use something somewhere in between. Due to the switching around most of my cases never get really dirty or worn out.

I never used a case until buying the Pixel XL. It was thin and slippery, now I feel uncomfortable holding the phone without a case. I owned the iPhone X briefly and didn't use a case and would like to go back to using no case on the next phone as long as it is not too slippery.

Spigen Tough Armor case on my S8. No screen protector. The case makes my phone easier to grip, eliminates glare into my spouse's eyes when she's driving and I'm using my phone, and has protected my phone against a few falls. Plus, it has a kickstand.

I dont typically like encasing my smartphones but my Note 8 is far more slippery than my Note 4.
So...I use a Note 8, Spigen Air Skin. It's transparent smoke colour looks matte black when on the phone. It's a mere 0.36mm thin.
It provides a little bit better anti slip over the all glass back.
It definitely won't help in a drop situation but it will keep the fingerprints and micro scratches at bay.
Cheers!

I always use a heavy duty drop case. I know I don't use high end model phones but i can't afford to lay out $150- $200 every time I'm clumsy. I wont leave the store with a new phone without purchasing an appropriate case.

Interesting how many are saying they never drop them. I never dropped mine either.... Until I dropped it. The resale value of my phone crashed by 95% in 3 gut wrenching seconds. It still works and I'm still using it with a cracked screen but my next new phone will have a case on it.

I always have a case on my phones. Mainly for grip. I like to get a thin TPU case, as the metal sides on phones are usually pretty slick. The TPU case adds almost no bulk to the phone, while adding well improved grip. That protects the phone in more ways than you realize. If you have more grip, you have less chance of dropping the phone. Plus just about any case is going to protect from scratches, provided you remove the case and wipe any dust/dirt from time to time.

Only because the chance of the glass back breaking

Always. Because unfortunately I HAVE to (for grip) ever since the Nexus 5. No OEM has been smart enough since then to use a grippy material on ALL SIDES of these huge slippery phones.

Hmm... I've never used cases except battery pack ones until now, but just looking at my S8 all full of scratches and I may have to reconsider. I might get the S9 active this year I think... I'm super careful and gentle with my phones and yet....

No case needed here. Galaxy s8 active baby

Actually, I'll only put a case on if it's a high risk situation. The U11 feels so good in the hand that it just feels natural. It has been dropped or bumped off or fallen off of something about ten times so far, but no damage yet (I'm surprised too). The damages so far are some micro abrasions on the bottom edge from the car holder, and some scratches on the corners of the front from curious nurses. The car holder I lined with felt.

Unless you have skinny little ***** hands phones are to small without a case.
I use a case... No screen protector.

I use a thin case, just for the added grip. These Samsung edge phones are too hard to hold onto without. Currently using the Samsung clear case on my S7 edge. Couldn't do it at $35 when they were new, but now that Amazon has them for $8.50 it's a bargain. Looks beautiful on the phone too.

Yes , I have never seen anyone using a phone without a case...

Using a OnePlus 5t with a Karbon bumper case for a little drop protection and some extra grip. While it does feel better in the hand without the case, it's just to slippery, wouldn't feel good about using it while out and about without one.

Isn't that what insurance is for?

I have the MNML matte black for my Pixel 2 . Feels nice. More like a skin. Has a slight camera bump on the latest release. No drop protection.
Android Central Newsletter
Get the best of Android Central in in your inbox, every day!
Thank you for signing up to Android Central. You will receive a verification email shortly.
There was a problem. Please refresh the page and try again.