Do you think the Galaxy S20 Ultra is too big of a phone?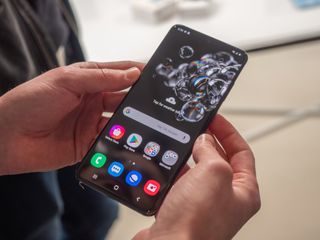 (Image credit: Android Central)
If you want to get your hands on the most powerful and capable phone Samsung has to offer in 2020, the Galaxy S20 Ultra is what you're after.
Equipped with the Snapdragon 865 processor, quad rear cameras capable of 100x zoom, and a huge 6.9-inch 120Hz display, there's no denying that the S20 Ultra is packing the heat. However, it's also quite large.
Looking through the AC forums, here's what some of our members have to say about the Ultra's size.
What about you? Do you think the Galaxy S20 Ultra is too big of a phone?
Joe Maring was a Senior Editor for Android Central between 2017 and 2021. You can reach him on Twitter at @JoeMaring1.
Will this phone have earbuds included with them🤔

Wired, yes. Wireless, only in some countries (as a free gift).

S20+ is just about the same size as my Note 9. Prefer to not go any larger. The smaller S20 size appeals to me. All said, the Notes are the designs I truly enjoy using daily.

The ultra is too big for me a small woman but wouldn't be too large for many. Its looks like an awesome phone.

I'm a plus kind of guy but this s20+ & Ultra are too big for my liking. I use Verizon and their not carrying the base model until it can modified for 5g which totally makes no sense. Verizon won't handle it until quarter2. Maybe by then there be the red model, will be watching?

Verizon is not carrying the smaller S20 model due to its 5G support being limited to the sub 6Ghz range. Verizon has no sub 6Ghz 5G. They only offer mmwave 5G and that requires the S20+/Ultra. Appears standard S20 cannot be "upgraded" to support mmwave. It's missing hardware, including the mmwave antenna.

It's just the antennas. All the 865s support MMWave.

I thought the S10+ was the perfect size, not too big and felt great in the hand. I gave it to my wife and got the Note10+ and like it but hate the squares edges and it feels slightly too big but I've got used to it. For the prices on trade in the Ultra is what I'm eyeing even though it's slightly bigger than the Note10+ I think the curves corners will make it more comfortable in hand. It would of been nice if they all had the same cameras across the board or went 6.0, 6.2 and 6.5 on the screen sizes. We have the Note series for giant screens 6.7 and up.

Yes! I don't need a brick in my pocket.

The phone I'm using now has a 6.3 in screen with modest bezels and I have to stretch to get to the corners so yeah this phone is probably to big for me. The price tag certainly is.

Size of the phone is fine, it's the *size* of the price that I find stupidly *oversized*

Wait until you hold it. Samsung has done an amazing job with the ergonomics on these devices.

I used the Lumia 1520 for years; slightly shorter, but wider. I had no problems...

I just got an iPhone 11 Pro. The battery life is amazing, better than my barely used Note 9. I could never go back to a big phone now. The only reason I put up with them was for good battery life, but they're no longer needed. There are legit small flagships with good battery life, now (due to superior power management, more efficient SoCs, and better optimized/tighter code). My Note 9 feels like a tank when I hold it now, and not in a good way. This iPhone is more comfortable to use in pretty much every way, and I never have to shift my grip or resort to using two hands to manage it... Samsung needs a legitimate small flagship. These phones are sizing people out of their market and pushing towards competitors.
Android Central Newsletter
Thank you for signing up to Android Central. You will receive a verification email shortly.
There was a problem. Please refresh the page and try again.