Discovery Plus: What shows are available?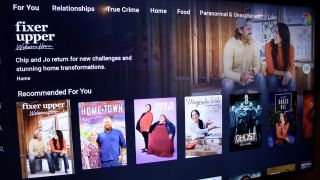 (Image credit: Keegan Prosser/Android Central)
Launched in January 2021, the Discovery Plus streaming service boasts a massive and varied media library featuring roughly 55,000 episodes of series from networks including HGTV, OWN, TLC, Food Network, and more. But with so much to choose from, where do you start? Here's a sampling of the shows available on Discovery+ right now.
Discover it all
(opens in new tab)
Food, family, drama and more
The Discovery+ media catalog includes 55,000 episodes of content from the likes of HGTV, Animal Channel, Discovery, Food Network, TLC, and more. Subscribe right now.
Discovery+ originals
Discovery+ boasts a lineup up of new shows that air exclusively on the streaming platform. From spinoffs of TLC's popular 90 Day Fiancé to completely new shows centered in true crime, food and home improvement, here are some of the best Discovery+ originals streaming right now.
True Crime
Discovery+ has collected the best of the best in true crime from networks including ID and A&E. Whether you want to look back at old cases or help solve one alongside real detectives, here's a selection of trending true crime shows available on Discovery+.
Too close for comfort
(opens in new tab)
Evil Lives Here finds people recounting true stories about living side-by-side with sociopathic friends or family who eventually went on to commit violent crimes.
Outdoor outlaws
(opens in new tab)
North Woods Law (Animal Planet)
North Woods Law follows employees of Maine's elite Game Warden Services as they keep order and patrol more than 18 million acres of rugged terrain.
Crime stoppers
(opens in new tab)
The First 48 highlights top police departments across the United States in the critical first 48 hours of murder investigations. The long-running series gives unprecedented access to crime scenes, interrogations and forensic processing.
Food & Home
Discovery+ is the hub for your favorite cooking and home improvement shows. In addition to providing acces to series featuring professional chefs like Bobby Flay and Guy Fieri, the platform is the home for content from Chip and Joanna Gaines' new Magnolia Network. You'll also find the best in home renovations, whether you're spending big or remodeling on a budget. Here are some of the shows you can check out on Discovery+ now.
Science & Technology
Discovery+ also offers a selection of classic and new series for the nerd inside us all. Do you like to bust myths? Do you want to know the science behind the products you use everyday? These shows from networks such as Discovery, Science and AHC will probably do the trick.
Busting the BS
(opens in new tab)
In Mythbusters, special effects experts Adam Savage and Jamie Hyneman use their expertise and scientific fact to bust a new batch of urban legends in every episode.
Making it make sense
(opens in new tab)
From aluminum foil to contact lenses, How It's Made explores how everyday items are manufactured and produced.
Conspiracy theory
(opens in new tab)
Codes and Conspiracies (AHC)
Codes and Conspiracies explores the world's most iconic places, inventions and influential people in the context of historical "facts" that have been warped across decades.
Relationships & Lifestyle
Discovery+ is the hub for all the relationship and lifestyle-centered shows you probably consider a guilty pleasure. If you're a fan of TLC's popular docuseries or addicted to all the love-related reality shows on Lifetime, here are some shows you might want to catch up on.
Nature & Animals
Do you love cute animals and protecting the planet? Discovery+ also features a variety of nature docuseries and reality shows that put animals and conservationism at the forefront. Here are a few of the series you can stream right now.
All the animals
(opens in new tab)
Crikey! It's the Irwins (Animal Planet)
Crikey! It's the Irwins follows Australian conservationists Terri, Bindi and Robert Irwin as they care for more than 1,200 animals daily at the Australia Zoo.
Making a change
(opens in new tab)
Pit Bulls & Parolees (Animal Planet)
Pit Bulls & Parolees centers on Tia Maria Torres and her family at the Villalobos Rescue Center, who work to change the stereotypes surrounding pit bulls by pairing them with paroled felons who volunteer to find the dogs forever homes.
The circle of life
(opens in new tab)
Narrated by David Attenborough, each episode of Planet Earth explores a different habitat on Earth and explores how the living creatures in that habitat survive.
The best Discovery+ has to offer
Discovery+ is a solid service for streamers looking for a bit of everything when it comes to television. From recipes and home improvement to real-life success stories and the science that surrounds us every day, the networks included under the Discovery+ umbrella have you covered.
If you're someone who loves to see how other people in this crazy world navigating life, than any one of the 90 Day spinoffs (opens in new tab) may be your guilty pleasure. If you're more interested in catching the bad guy, then The First 48 (opens in new tab) might be more your cup of tea. And if you love animals and are looking for something uplifting to binge, Pit Bulls and Parolees (opens in new tab) might be the series you didn't know you needed.
It's also worth noting that Discovery+ is also affordable for the amount of content it offers in its media catalog. Specifically, Discovery+ currently offers subscribers to tiers of plans. The basic ad-supported plan costs $5 per month, while the ad-free version costs $7 per month. You can also try either level of subscription by when you sign up for a free trial of Discovery+.
Discovery is waiting
(opens in new tab)
All the TV you love to watch
Subscribe to Discovery+ for 55,000 episodes of content from the likes of HGTV, BBC, Science, TLC, and more. Subscribe right now.