DirecTV brings NFL Sunday Ticket app to your Honeycomb Tablet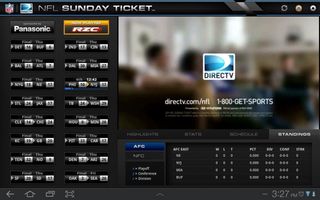 No doubt about it, Football is back in full swing. Last week the NFL released its official app for tablets and now DirecTV has gone ahead and launched its NFL Sunday Ticket app for Honeycomb tablets. With it, you can stream any NFL Sunday Ticket game in HD plus, you also have access to the Red Zone channel.
The app doesn't come without a few caveats though. You do have to have a NFL Sunday Ticket subscription through DirecTV in order to have access, and it's only Sunday games that are available. Sunday night, Monday, Thursday and Saturday NFL games are not part of Sunday Ticket and therefore not eligible for streaming. If you're a DirecTV subscriber and can make use of this app, you'll find the download link past the break.
Android Central Newsletter
Get instant access to breaking news, the hottest reviews, great deals and helpful tips
Why oh why can't I watch a single game? I'd pay $10 for a single game.

Sweet. Watched it yesterday with the regular app and it wasn't pretty. Hopefully Directv gets their shit together for next week. Big problems with the entire package (not just the app) for about the first half of the noon games.

Can somebody with a PS3 and a Sunday Ticket Subscription check to see if they scan download and use the Honeycomb Tablet app? :)

I downloaded the app and used it some yesterday along with the PS3 with only one problem; you can't use them both at the same time. It will tell you that you are logged in on another device and force you to log out of one or the other. This is also the case if you try use the app on the phone along with either the PS3 or tablet. Hope that helps to answer your question. On a side note I had all sorts of problems on the PS3 and tablet for the first set of games and didn't have many for the second set.

I tried using it for the first set of games too. I had no luck with the app on my Xoom (wasn't even tablet formatted and games wouldn't stream at all). Gave it a shot on my laptop and the stream was awful. Poor picture quality, low frame rate. Not really watchable. Glad to hear people had some success with the second set of games (I had given up on it by then). Let's hope they'll have their act together by next Sunday. And as Druskey said, you can only stream one device at a time.

Oh I'm an idiot. Didn't realize there's a tablet and mobile version. How the heck did I end up dling the mobile version from the market?

The problems alot of people had were directv problems. Not the app or ps3 or anything else. My problem is that my game was bkacked out. Last year i could still watch it on the phone or PC. Now it says "do to nfl rules this game is not available in your area" this is bullshit. I live 80 miles from the stadium and pay $300 a month for the ticket! Are they dry humpin me?!?!

I hear ya, I've been a Sunday Ticket customer for 14 years and I am sick of this $300 bullshit. I paid $150 when I first got it. I wish they would open it up to Uverse then I would make the switch. More providers should bring the price down.

Call them and argue about the price I got it for 150 this year :-)

I concur with the poor delivery from Directv to date, as well as the "argument" over price. I simply called them and they quickly verified I've been a "valued" customer for 17 years - promptly gave credits north of $150.
Android Central Newsletter
Get instant access to breaking news, the hottest reviews, great deals and helpful tips
Thank you for signing up to Android Central. You will receive a verification email shortly.
There was a problem. Please refresh the page and try again.