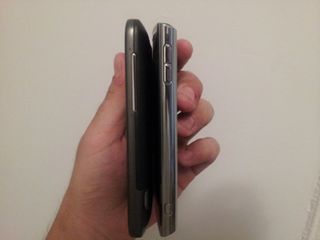 Close your eyes and imagine this: you're a tech giant that has made billions of dollars on desktop and laptop computers. You were once one of the largest tech companies in America, and today you still maintain a large PC market share. But the times, they are a changin', and you realize in order to stay relevant, you'll have to play the smartphone game. But with competitors who have already giants in the industry, how can you compete?
I'd imagine this is what Dell must feel like at this moment. CEO and founder Michael Dell has pledged his allegiance time and time again to Android, promising that the company will commit whole heartedly to the platform. Yet as of today, the company has only two Android-powered smartphones on the market. How can it compete with the giants that are HTC, Motorola, and Samsung, who together have released scores of handsets since Android's debut?
Dell's answer appears to be the Venue, its first pocketable Android-powered smartphone. Sure, the Streak was released last year, but it was identity confused, falling somewhere in the purgatory between smartphone and tablet. The Venue is 100 percent smartphone, and Dell appears to have given it its all. But is it enough? And with a $99 price tag on a two-year AT&T contact, finally available nearly four months after its initial release, is it too little too late? Here, we'll look at what the Venue is, what it should be, and what it means for Dell's future in the Android playing field.
Initial Hands-on
Hardware
Dell is banking on its hardware designs to create a niche for itself in the smartphone market. One look at the Venue and you'll see that the company put its heart and soul into creating a sharp, distinguishable, and sexy smartphone. Right out of the box, something about the Venue really catches your eye. It might be that curved 4.1-inch AMOLED screen, or maybe the chrome bezel that accents it. Perhaps it's the boxy stature with curves in all the right places, while maintaining a thin and pocketable figure, that sets the Venue apart. Whatever it may be, one thing is clear: the Venue looks great.
Dell has picked a happy medium between the 3.7-inch form factor we've seen in the past and the increasingly popular 4.3-inch heavyweights we've seen in more recent offerings. The Venue has a look and feel of its own that screams "I'm big, but not too big." Think of it as a Streak that went on a diet and stopped before it got all "creepy" looking.
I can't stress enough that the Venue just feel's "right" in the hand. At 4.76 inches tall and 2.52 inches wide, you won't notice much of a difference between it and say, an HTC Thunderbolt. But with those curved edges and boxy corners, it has a completely different feel than what HTC has created for themselves. It's thin, but at .51 inches it is not the thinnest I've seen. And then there's the weight. 5.8 ounces doesn't seem like a lot, but the Venue's got some heft. By no means is it uncomfortable to carry around, but by no means is it light. To put it in perspective, it's only .33 ounces lighter than the Thunderbolt, one of the heaviest phones on the market today due to its LTE radio. Hold them simultaneously and you'll be hard pressed to notice a difference in weight, so keep that in mind.
On the top of the Venue you've got the standard 3.5 mm headphone jack, with a tiny yet noticeable power button next to it. On the left you've got a pretty cool volume switch that shifts from vibrate to loud, and on the right you've got the standard volume rockers. On the bottom right you've got a dedicated camera button, which is always nice to see. The Venue's speakers and power jack are on the bottom of the phone.
The back has a sturdy (albeit plastic) battery door that is a breeze (but not too breezy) to slip off. HTC, take note: there's no reason to murder your customers' fingernails. Open up the battery door and you'll see a 1400 mAh battery below an easy-to-access SIM slot, flanked to the left by an equally easy-to-access microSD slot. The Venue ships with a 16 GB microSD card, though it supports cards as large as 32 GBs.
Now let's talk about that screen. It's a 4.1 inch AMOLED with 800x480 resolution and Gorilla Glass for strength. It sounds really great on paper but in the real world, it underwhelms. That pixel count doesn't live up to its reputation, as I noticed some pixellation and a general "washed out" look. Colors seemed bland and unfortunately, the screen just wasn't as sharp as I had expected. This could be due to the screen's slightly concave design, which really turned me off. It gives the phone a unique look and I see what Dell was trying to achieve, but something went awry along the way. It's hard to grasp without seeing the phone first-hand, but let me put it this way: the concave design gives the appearance of thickness to the glass, which undermines the AMOLED pixels underneath. It's almost like the screen has to travel through unnecessary layers before it meets the eye, which inevitably hurts its appearance, and quite possibly its performance. I noticed unresponsiveness many a time, whether it was unlocking the phone or switching between homescreens. There were multiple times that the screen bugged-out and required more than one tap to achieve a goal. Unpleasant to say the least. Plus, the screen seemed to me to be a lot more smudge-worthy than others, and almost always had some sort of greasy streaks on it.
And by the way, I take issue with the "Gorilla Glass" on the Venue. I'm not saying it isn't there, but it's ineffective, at least from what I saw. On the review unit Dell sent me, there was a scratch on the screen when I took it out of the box. Maybe the reviewer before me was wearing diamond earrings, or took the Venue to the beach, but make no mistake: the Venue's screen is NOT indestructible.
Inside, the Venue is running on the goodies we've all come to enjoy. On paper, it's a powerhouse:
1 GHZ Qualcomm Snapdragon 8250 processor
512 MB RAM
1 GB on-board memory (16 GB microSD card included)
4.1 inch capacitive AMOLED display at 800x480 resolution
8 MP rear camera with autofocus, 4x digital zoom, flash, and 720p video record
1400 mAh removable battery
WiFi, GPS, Bluetooth enabled
UMTS/HSDPA (850/1900/2100 Mhz)
GSM (850/900/1800/1900 Mhz)
As you can see, the Venue has the guts to run on AT&T and T-Mobile's EDGE network, and AT&T's 3G network. The Venue even supports HSUPA high-speed uploads, though it isn't a true 4G device. Currently, neither network offers the smartphone directly: Dell is the only place to buy the Venue. Recently, Dell added an AT&T subsidized version to its online store, joining the $499 unlocked version available since January. It's $99 on a two-year contract, but don't expect to walk into an AT&T store to pick one up. Though it is AT&T-subsidized, it is available only on Dell.com.
I wasn't blown away by the Venue's first-generation Snapdragon processor. In fact, I'm sad to say that I was a bit disappointed in the Venue's performance. It has all the internals to be speedy but it's almost like the Venue doesn't use them to their full potential. I noticed lagging in switching between screens and processor-heavy tasks like Flash video playback. If you're looking to do heavy gaming, look elsewhere.
I had no problems with GPS connectivity, nor with WiFi for that matter. As a phone, the Venue is just fine, with minimal interference and as good voice quality as you can expect from AT&T. Across the line, people heard me just fine, and I them. The speakerphone was loud and clear, though it presented just enough noise and interference to keep me from using it on a regular basis. To be fair, I have never found a speakerphone that I liked. The battery is just fine, as I managed to make it though (nearly) the whole day with moderate usage including emails, texts, phone calls, and some web browsing. You won't be disappointed, though expect to plug in by the time you're ready to crash on the couch and watch TV.
One note: the Venue lacks an LED notification light. I'm going to refrain from anything too harsh and just say that this is a really stupid move. I can go on, about how this is nearly an instant dealbreaker for some (myself included). I can rant and rave about how hard this makes choosing this phone. But I'll leave it at this: dumb move, Dell. Dumb move.
Software
The Venue runs Android 2.2 Froyo, and comes with minimal Dell skinning. The experience is closer to Vanilla Froyo than, say, HTC's Sense is, though it isn't completely pure. Apps like the camera and music player are true Google-flavored, but Dell has added its Stage widgets to the UI. There are 7 in all (one for each homescreen out of the box), including Contacts, Email, Gallery, Home, Music, Social, and Web.
Prepare yourselves: dare I say I enjoy Stage's widgets and overall experience. They're fast, they're pretty, and they're largely unobtrusive. The home widget includes your nine most recently used apps, along with location-based weather conditions. I like it, and I will make no apologies. I also liked the Music widget, with a 3x4 grid of my favorite artists, albums, or playlists (user-defined) At first I was hesitant but I soon realized that Dell knew what they were doing here. Light, clean, and intuitive, just how I like it.
The rest of the UI is largely Dell-less, aside from the company's Sync and Video Stage software. The former can sync your phone with other Dell devices, and the latter is a great little video store that allows you rent or buy movies directly from Dell. You've got a lot of new releases, so don't think you'll only find the dregs here. It's powered by Roxio, who clearly brings a knowledge of media to the table. My only complaint was the price: $3.99 for a rental? With Netflix currently trickling out to Android devices, the price seems a little steep.
You're already familiar with the rest of the software if you've ever used an Android device. The Venue comes with the standard Android keyboard as well as Swype, and each perform well. The browser is standard though it suffers from the Venue's underperformance. It sometimes struggled to render pages and was often steps behind my Thunderbolt (running on the same WiFi network) in loading time. No major problems, though, and certainly no deal breakers here, or anywhere else in the software. Other odds and ends that came pre-installed were a backup and restore app (for your text messages, bookmarks, and other user options), the Quickoffice suite, and Tune-In Radio (which supports internet radio only, given that the Venue doesn't come with an FM tuner).
Fun fact: It appears Dell has left the Venue pretty wide open for hacking, as it's been rooted pretty easily with SuperOneClick. It makes me wonder whether some hardware tweaking will yield better overall performance. Let's hope developers pay the Venue some attention.
Camera
We've got an 8MP shooter that comes loaded with options and settings that really add up to some decent picture quality. With autofocus, face tracking, exposure settings, a plethora of preset scenes and color effects, and customizable sharpness, contrast, and saturation, there isn't much more that I could have asked for (other than maybe a front facing camera). The results are mixed, with pictures coming out with a bit of a washed out look. I've seen worse, but I've also seen much better. The Venue also records 720p video, which appeared to suffer from the limited frame rate.
The wrap up
I'm nervous for Dell. I sympathize for them like I did for myself in high school when nobody would sit with me at lunch (wah wahhh). It must be hard for a company to try to enter a field that's already dominated by heavyweights that keep churning out top-of-the-line devices. But Dell is committed to making it work. I'll take Michael Dell at his word when he said his company will continue producing Android-powered smartphones. And being that the Venue is only the company's second Android venture, I want to cut them some slack.
But Dell needs to step up its game if it wants to be recognized. Its got a beautiful cake in the oven, but now it needs some icing. I love what Dell is doing software-wise with its light Stage skinning. It stands right up to Sense and Touchwiz, and I can even say I like it better than MotoBlur. It strikes a perfect balance between a true Google experience and a light Dell touch. Trust me, it's good, and it can only get better.
Dell seems to still lack its sea legs, though, as apparent in the odd introduction of the Venue to the market. You can't expect people to accept a $499 off-contract price as the only option. And you can't wait nearly four months after initial release to offer carrier-based subsidy. Today, even at $99 on an AT&T contract, the Venue doesn't seem worth its price tag.
To achieve true success, Dell must now focus on hardware. It's got sexy down pat, but there are some missteps along the way that make the Venue really hard to commit to. They've got the right idea for the screen but have somehow managed to muck it up with that concave design. Sleek? Yes. Pleasant to use? No. What's the point of an attractive screen if it's unresponsive and always dirty? What's the point of a Snapdragon processor if it's easily choked? And no LED notification light? REALLY? Optimization is key here, and is clearly something Dell is still working on. I have faith in you, Dell. You're far from perfection but with a little determination, you will improve. You've got all the ingredients, now turn it into something delicious.
Android Central Newsletter
Get instant access to breaking news, the hottest reviews, great deals and helpful tips
it look nice, but not something i would be getting though

Dell REALLY needs to put these into stores. Selling them through Dell.com means only power-users and tech junkies will go looking for it. And power-users and tech junkies will probably go with HTC and their unlocked bootloaders and community support. For the "average" user to find this, it needs to be where "average" users shop: Best Buy and ATT store. This phone will end up suffering the same fate as the STREAK ... not enough people will know about it, and thus it won't sell well even though it is probably a great phone. Dell does hardware right. Android provides all the software. This is a great marriage. But just get a REAL marketing department for pete's sake!

I like it, and I like the review, good job.

What's the name of the clock widget on the thunderbolt?

I believe its called, "doutchbag, find a thunderbolt forum".....yeah thats it.

I was underwhelmed with the Streak (5") even after getting it for $49 from a Slickdeal. Currently my 3 year old uses it for his games and the occasional small trips we make to watch movies. Agreed that the minimal Dell touch to the experience does help a lot. The Venue is definitely pretty to look at, but when it comes time for my upgrade I don't think I'll be heading to Dell. I don't see why they didn't just focus on a tablet experience, instead of phone? I have a feeling they'd be able to knock that out of the block no problem, design wise.

Anndrew Vacca Shame on you for mixing in your personal comments. This is one of the biggest problems with Android Central Reviewers. You mix in your subjective comments as they are a fact, but are your opinion. You opinions should be in the closing of the review.

Being that they know smartphones better than anyone ill take their opinions to be as close to fact as it can get... if u don't like it go elsewhere. This isn't a science site, relax bro

Andrew has been a expert for 10 months and six days.

Michael Dell? Is that you?

THis is one of the best looking phones IMO

Only need to focus on hardware? They are launching a Froyo phone when GB is available...Sounds like they need some software work too...

It was technically released 4 months ago when nothing except the Nexus phones had GB. I think they've already given up on updating the phone, and that's the problem.

Dell should target the 7" WiFi-only tablet market. Just because I want a 7" WiFi-only tablet.

Why don't you get one then?

Got a Nook Color. Not thrilled with most of the 7" tablets at the price point they're at.

I love my Nook Color. There is a great developer community behind it with instructions to install Froyo, Gingerbread, or Honeycomb on it. Dell already has a 7" WiFi only tablet. It's only $50 more than the Nook Color. There are LOTS of cheap 7" tablets much cheaper than the Nook Color (Archos, Augen, eLocity, Pandigital, etc.) but you get what you pay for & they don't have quite the development communtiy behind it like the Nook has.

First off... I don't believe the 4G LTE radio in the Thunderbolt is the reason for it's heft. The Thunderbolt has a metal casing, which, while it feels luxurious, adds ton of heft. Reason why I can say the radio doesn't add heft is because I own the Droid Charge which has an LTE radio and is really light, mainly due to the plastic case it has (I'm not a true fan of the plastic, but it does the job). The weight isn't all that dependent on the internal hardware, it's more of the casing it has. Second, I don't see how not including a flashing notification LED is that important. I mean, all you have to do is turn the screen on and look to see if you have a notification. It's not that hard. If that really is a deal breaker for you, then several other phones will kill you when they do have a good hardware piece and lack an LED notification. Is this screen a regular AMOLED screen or is it sAMOLED or sAMOLED+?

um, 2 minutes into um your video umm I couldnt umm take it ummm anymore. Umm your lack of ummm speaking ummm experiance ummm, Is umm quite ummm horrid umm.
Android Central Newsletter
Get instant access to breaking news, the hottest reviews, great deals and helpful tips
Thank you for signing up to Android Central. You will receive a verification email shortly.
There was a problem. Please refresh the page and try again.