Daydream's next update is bringing Cast, Notifications, and Social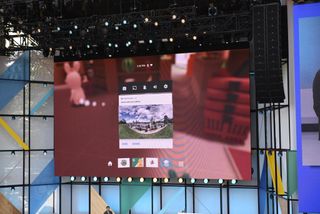 Separate from all of the awesome things coming to Android in the O update, Google has some big things coming to Daydream. While the overall purpose of this update is preparing the platform for the upcoming Standalone Daydream launch, existing Daydream-ready phones are going to benefit in several huge ways.
This new version of Daydream is codenamed Euphrates, and this is what we know so far!
New UI, New Dashboard
The big visual changes coming to Daydream will be immediately obvious. The starting launcher screen is being adjusted with more visual backgrounds that move with you and a new system for making your apps front and center. From here, you'll be able to access a dashboard by pressing the Home button.
This dashboard will give you quick access to settings and friends, but also offer a look at notifications on your phone. It's the first time notifications have been available through daydream, but currently its not clear what kinds of actions users will have within Daydream when interacting with a notification.
Casting and Sharing
This new Euphrates dashboard will also make it easier for you to capture screenshots and record video. The core function looks similar to what is currently available on the Gear VR, where you get a notification letting you know video is being recorded and you can share to your connected social networks. Screenshots will happen on a timer, so you ask for a screenshot and take a moment to frame your shot before the capture happens.
The big thing happening here is sharing through Google Cast. This will let you share what is happening in your headset to a nearby Android TV or Chromecast, making it so people in the same physical space as you can see what is happening on the screen. This sounds an awful lot like cheating for games like Keep Talking and Nobody Explodes, but lets just say you're all on the honor system from here on out.
YouTube VR Reimagined
The final change coming with Euphrates isn't within Daydream core, but instead within the unique YouTube VR app available only in Daydream. YouTube VR will make it possible to share VR videos with friends in a way that allows everyone to watch something together at the same time. It's part of a significant UI overhaul for the already impressive YouTube VR experience, and it's also the first real attempt at social VR we've seen from Google directly.
Google isn't saying when exactly Euphrates can be expected, but we know the new standalone headsets are coming this holiday season so it's likely we'll see this huge shift around the same time. Are you excited about the Euphrates update? Share your thoughts below!
Russell is a Contributing Editor at Android Central. He's a former server admin who has been using Android since the HTC G1, and quite literally wrote the book on Android tablets. You can usually find him chasing the next tech trend, much to the pain of his wallet. Find him on Facebook and Twitter
Guess I picked a good time to have a Daydream View

I can already cast what is happing in Daydream to my TV. Launch the Home app and cast screen, then launch Daydream. I have been doing this since I got my Daydream headset. Makes it much easier to help people that you are showing off the VR experience to. I will note, this method does eat up battery and cause the phone to warm up / get hot quicker.

It also casts the whole screen and looks terrible. This will cast a single cropped eye, so it looks more natural to the viewer.

Is this update going to work with existing daydream headsets ?

Very cool new features, esp. the casting to a TV (this would make it so much more fun to bring a VR headset to parties!...cuz then everyone can see what the person in VR is reacting to - no clunky wires or expensive standalone VR required!) the social YouTubeVR feature sounds really neat also.
Android Central Newsletter
Get the best of Android Central in in your inbox, every day!
Thank you for signing up to Android Central. You will receive a verification email shortly.
There was a problem. Please refresh the page and try again.