Cyberpunk 2077 crosses 13 million copies sold when adjusted for refunds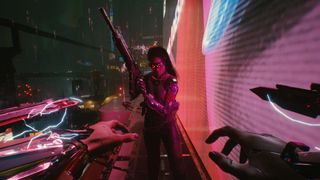 (Image credit: CD Projekt S.A.)
What you need to know
According to CD Projekt S.A, Cyberpunk 2077 has sold 13 million copies.
This number is adjusted to reflect all of the refunded copies so far.
Cyberpunk 2077 released on December 10, 2020.
Cyberpunk 2077 continues to be the subject of much critical and commercial scrutiny but in spite of the poor reception to the game's base console versions, sales still appear to be strong. CD Projekt Red parent company CD Projekt S.A. shared an investor report today confirming that Cyberpunk 2077 sold over 13 million copies so far.
This report, which is based on "reports obtained from digital distribution platforms and data collected from physical distributors" is noted to account for any refunds requested so far, though the exact number of copies that have been refunded remains unknown.
While the high-end PC version Cyberpunk 2077 was critically praised, the console versions, especially on Xbox One and PS4, have been of incredibly mixed reception. Poor performance, visual quality, glitches and console crashes have all been frequently reported. CD Projekt Red has released several hotfixes so far, improving overall performance and removing some of the more egregious glitches and bugs, as well as toning down the number of dildos.
Microsoft and Sony are offering unconditional refunds for Cyberpunk 2077, as are retail stores such as Best Buy. Microsoft has put up a performance warning for anyone looking to buy Cyberpunk 2077 digitally on Xbox, while Sony Interactive Entertainment pulled the game from the PlayStation Store.
CD Projekt Red is planning to release additional patches throughout January and February to improve the overall experience. Additionally, next-gen updates for the game to take full advantage of the Xbox Series X, Xbox Series S and PS5 hardware are coming sometime in 2021.
Samuel Tolbert is a freelance writer covering gaming news, previews, reviews, interviews and different aspects of the gaming industry, specifically focusing on PlayStation on Android Central. You can find him on Twitter @SamuelTolbert
No refund here...Awesome game, minimal issues here.

I somehow very much doubt those numbers. First of all, these were given to their shareholders and they have lied plenty to them in the past ten years. They've only ever distributed dividends to investors twice in all that time, choosing instead to use the bulk of their money to marketing for Cyberpunk 2077. Even now, this is nothing more than spin control to try and stop the hemorrhaging of their stock value. I don't believe it for a minute. They might have sold 13 million copies but that will be dramatically reduced when all refunds are taken into consideration, particularly when CDPR has already publicly stated that they will be footing a good portion of those refunds out of their own pocket. Sony has stopped issuing refunds despite removing the game from their store. Microsoft is continuing to offer refunds and still sell the game but that is likely to end soon as they will not want to be the ones doling money back for a failed game, despite being partnered with CDPR on the game. Best Buy is offering refunds for copies even if they are opened. Again, not likely to continue if the numbers keep growing. As is customary for CDPR, each new patch and hotfix is meant to address certain specific issues but as is also the norm for CDPR, each new update creates even worse issues for the game than before. At least GoG allows for the player to rollback the game to a more stable version but Steam does not so those players now are faced with either an unplayable game due to framerate issues and stuttering or corrupted savesd. Steam won't issue any refunds based on their established policies. So, no, I don't buy for one second that it's 13 million copies sold when adjusted for refunds. Simply not credible at all.
Android Central Newsletter
Get the best of Android Central in in your inbox, every day!
Thank you for signing up to Android Central. You will receive a verification email shortly.
There was a problem. Please refresh the page and try again.