CyanogenMod 10.1 RC4 update rolls out to address math calculation bug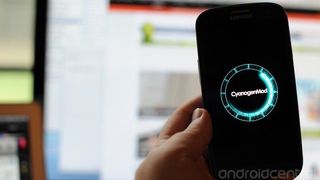 Rest assured you didn't use 100GB of mobile data over night
CyanogenMod pushed out a small update to CM10.1 yesterday bumping the software up to RC3, but it turns out there was a small math calculation bug that gave users quite a scare the next day. Because of changes made to the way the software handled complex math calculations, many devices had issues anywhere the system had to calculate and display numbers. The end result were some shocking data usage counters, which often showed devices using 100GB or more over night from very basic usage. The bug, it turns out, was giving exponentially (yikes!) incorrect results when counting on any device with a chipset other than those the new code was tested on, which understandably caused some panic.
Fear not, your phone didn't randomly pull down over 100GB of mobile data while you were sleeping last night -- and the update today to CM10.1 RC4 has fixed the issue. Things like this happen, and that's part of the nature of flashing custom ROMs. Luckily the issues were simply cosmetic, and can be fixed with a quick update to RC4 from the get.cm source link below.
Source: +CyanogenMod; More: Get.cm
Android Central Newsletter
Get instant access to breaking news, the hottest reviews, great deals and helpful tips
Andrew was an Executive Editor, U.S. at Android Central between 2012 and 2020.
Did they abandon the One XL? Hasn't been a release since a nightly in March.

Seriously! I'm on the EvoLTE and I swear it seems like people have just forgot this phone exists. I'm on a nightly from 03-12-13 and the stable version isn't even 10.1 it's 10.0 what's even more crazy is every once in a while I'll get a notification from the built in CM updater in the ROM AND from Goo Manager saying theirs a ROM update available. But when I click it nothing happens it doesn't even take me to the corresponding screen where the notification came from. So when I go check manually it says no update available for this ROM. It's happened about 3 separate times in the past two weeks.

Same reason as One XL, as i posted before. DMCA takedown, the devs are working on getting camera working without DMCA takedown library, and updating to 3.4 linux kernel

No it, along with other recent pre-one HTC devices, got a DMCA takedown, do to the use of a Dx0 lib.so file that was needed to get the camera working. This lib was included with the stock sense FW, but the company apparently didnt like it on a custom non-offical firmware. The CM team is working on it, they are working on getting the kernel updated to linux version 3.4, and getting camera functional without the Dx0 Proprietary library. You can get unofficial nightlies , google [ROM][JB-4.2.2][UNOFFICIAL] CyanogenMod CM10.1 Nightlies for Evita

Even if I were on RC3 (I'm still on a nightly from about a week back), there's no way I'd believe it anyway since I'm on Sprint. Unless you're in a Wimax/LTE area, it's nigh impossible to pull that much data overnight...

Lol! No kidding mate, Sprint sucks in my area as well. I saw the data and did not believe it for a second.

CM10.1 RC4 working great the bionic! good to know about that bug cuz i was wondering about RC3 data usage

Yet again the T989 (Hercules/T-Mobile Galaxy SII) users are left out again. I'm guessing it's other hardware-related issues as hercules has a Qualcomm Snapdragon S3 SoC, not Exynos or OMAP like the other SGSII variants. Oh well, there better be a stable build for it, but it doesn't matter too much, as there are options like AOKP, AOSPA, etc.

very interesting ! now CyanogenMod 10.1 RC4 available for download very interesting one download it now - http://goo.gl/0wsuY

I like CM 10.1, but after updating several times between nightlies and RCs, my phone (VZW GNex) got too laggy at RC 3 so I last night moved back to Mmuzzy ROM (4.2.2) and will go back to CM 10.1 once the stable release hits with a clean install. I imagine that is any day now...
Android Central Newsletter
Get instant access to breaking news, the hottest reviews, great deals and helpful tips
Thank you for signing up to Android Central. You will receive a verification email shortly.
There was a problem. Please refresh the page and try again.