Cyanogen rakes in $80 million in funding from Twitter, Qualcomm, Telefónica, and more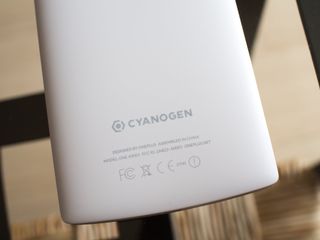 In a round of Series C financing, Cyanogen has raised $80 million in funding for their alternative Android OS, CyanogenMod. The company intends to use the influx of cash "to hire talent and accelerate the development of its open OS platform.
The funding round brought in the investment arms of several large companies across the telecom and web industries, including Twitter Ventures, Qualcomm, and Telefónica Ventures. Existing investors such as Andreessen Horowitz and Tencent Holdings also pitched in more money. Notably absent was Microsoft, who after sustained rumors declined to participate in the funding round (they've got their own mobile OS competing with Google's Android to take care of, after all). It's interesting to note that with Microsoft's rumored participation the funding round was expected to raise $110 million, but without Microsoft (and possibly other unnamed firms that opted not to become investors in Cyanogen), $80 million was raised instead. That's no small number, of course, and it'll still do Cyanogen well to have that kind of cash on hand.
CyanogenMod is available freely for nearly 300 devices, and is pre-installed on the OnePlus One and Alcatel OneTouch Hero 2+.
Press release:
Cyanogen Raises $80 Million in Series C Funding
Ecosystem Rallies Behind Cyanogen's Open OS Vision
PALO ALTO, CA--(Marketwired - March 23, 2015) - Cyanogen Inc., a leading mobile operating system pure-play, announced the completion of an $80 million round of Series C financing. With offices in Palo Alto and Seattle, the company will leverage the infusion of new funding to hire talent and accelerate the development of its open OS platform.
The financing was led by Premji Invest and includes participation from new strategic investors Twitter Ventures, Qualcomm Incorporated, Telefónica Ventures, Smartfren Telecom, Index Ventures, Access Industries (the US-based industrial group headed by Len Blavatnik), Rupert Murdoch, Vivi Nevo, and several yet to be announced partners. Existing investors Benchmark, Andreessen Horowitz, Redpoint Ventures, and Tencent Holdings Ltd. also participated.
"We're committed to creating an open computing platform that fundamentally empowers the entire mobile ecosystem from developers to hardware makers, and most importantly, consumers around the world," said Kirt McMaster, CEO of Cyanogen Inc. "We're excited to have the backing of an amazingly diverse group of strategic investors who are supporting us in building a truly open Android."
"We invested in Cyanogen because we're big proponents of what they're doing in opening up Android and supporting global and local ecosystem players," said Sandesh Patnam, Technology Sector Lead of Premji Invest. "Cyanogen is well positioned to become the 3rd leading mobile OS, and we're excited to back them in growing their business on a global scale."
To date, Cyanogen has received a total of $110 million in funding. Cyanogen is known for both its commercial distribution, Cyanogen OS, and open-source project CyanogenMod.
Android Central Newsletter
Get instant access to breaking news, the hottest reviews, great deals and helpful tips
Derek Kessler is Special Projects Manager for Mobile Nations. He's been writing about tech since 2009, has far more phones than is considered humane, still carries a torch for Palm (the old one), and got a Tesla because it was the biggest gadget he could find. You can follow him on Twitter at @derekakessler.
Really? Posted via the Android Central App

Horrible! Posted via the Android Central App

errr, what? This is good news mon frere. I've used cyanogen on many a device with pleasure. Surely more options is a good thing, no?

What's with all those big companies sending money cyanogens' way? This seems like providing and aiding in a coup-d'etat if you asked me, weird.

thank god Ms didnt invest in CM

Let me see if I understand this; Google makes Android, then Cyanogen mods Android, now they are collecting millions of dollars to develop a Google free version of the software that they modded from Google? Is this actually legal? Posted via the Android Central App

Sure why wouldn't it be? It is not different than selling a website that is built on an existing Framework like WordPress or dot net nuke. It is all about following the license. Open source parts stay open and closed source stuff is what you are selling. I am simplifying things a bit but that is it in a nutshell Posted by my soon to be retired Note 3

+1 Posted via the Android Central App

Unreal. Let's see what happens.

I think I'll write some buggy software, start a company that is clueless on how a business should be run, and see if i can get some suckers to give me a few million dollars. Seems like a good retirement plan. Posted from my Droid Turbo, Kelly and Ozone

You left the part out where you go to work for a real company, can't hack it and return to the buggy software you left dangling in the wind like nothing happened. That being said, if cm is written for a device, it is not half as bad as trying to throw it on a m8 or s5. It is all about tweaking the drivers right Posted by my soon to be retired Note 3

Ha ha! All "suckers?" Are you sure about that? Have you worked worked at a pre IPO business before? "Suckers" all around. Hard ass working "suckers" from my experience. And Lollipop isn't "buggy" /S Posted via the Android Central App

Wow. Even Google's own partners are starting to find ways to detach from them. Let's see if Cyanogen can succeed at doing just that. Posted via the Android Central App

Well, it painfully paint the picture of how lost the rest of the market is in trying to compete with IOS. While android provides all a fighting chance, Google just like Microsoft before it, gets all the value and hold all the cards outside of China. What some oem's still don't get is that it's now a platform fight and selling only hardware on costs is simply not a long term survival plan. Xiaomi seems to be the only player on the android camp that understands where the future is heading. It's a platform play, you control the platform you control your future.

Google pulled out of China. That's why Xiaomi has their own store and likewise with Meizu. Hugo Barra knows that the only way these phones will have any appeal to anyone in the West is with Google Mobile Services in tow. http://techcrunch.com/2015/03/03/xiaomi-app-store-china-only/

CM is not a Google partner.

Well i wont be buying a phone 'powered' by CM. Dont trust them, never liked their buggy product.

May be Samsung can invest in CM. They want to compete with big boys likeApple, Google and Microsoft in software but suck big time. They need help may be CM can do a better job than Samsung.

to be fair... I had CM on my samsung devices because they blew...

It is way past time to give up that tired storyline. Tw is a close second to sense now and way better than stock Posted by my soon to be retired Note 3

That's your opinion, I'm not saying you're wrong. I actually prefer stock now. I had phones from Motorola and Samsung. Samsung has a few useful features, especially multi window. I prefer to choose what I want on my phone. I wonder if illiterate people get the full effect of alphabet soup

This seems crazy! CM would also have to create a new app store right? And how about android? Couldn't google just decide to do like IOS and stop giving it out for free? Posted via the Android Central App

Android has matured nicely from the days that open was indeed a good thing for the common user (being able to root, change files, etc). I no longer root my devices because Android is now stable to use daily without doing so.....the point I'm trying to make is that Google does in fact own Android and allows other companies to "fork" and use it free of charge. I can see a future with Google taking Android complete closed source and if and when that happens I will be laughing my ass off to see these rouge, do nothing companies such as CM, Amazon, and Xiaomi who have leached off Google, squirm and sweat to see them "try" to build an OS without Google doing 99% of the work for them while they take all the credit where credit is not due.

It would be easy to do it as well. All Google would have to do is remove all the libraries that they have closed source from the open source parts and "open source" Android dies. realistically the only thing that they really have to release is the Kernel since that is Linux based and under that license. They did it with Honeycomb and can do it at time they wish. The other choice is going to something like replicant which is a totally open source android product (they removed the closed libraries and built their own) but that has not been worked on, from what I can see, since the SGS3 and Note 2 days. THey could, however build out their own "Android" and still use google services. They would not have to create a new ecosystem. It is what CM does now. YOu are not allowed to have the Google apps bundled in with the install of CM but have it be a separate thing. No way Google changes that. Even though CM has a small user base (in the grand scheme of things) Android itself is not a money maker. It is the ads that make the money and denying Google apps would be like turning down free money. Along those lines, it is possible for CM to do a reverse course on Google/Android and go to Tizen. Still immature and not a good direction IMHO, but it is an avenue for CM to go if Google cut them off.

Well done, NoNexus. Good info !!!! Posted via the Note 4 or Tab S 10.5

Yeah, the owner of Cyanogen is still a tool.

Meh, Cyanogenmod isn't the best anyways so good luck with them I suppose. Hopefully bankruptcy follows them soon Posted via the Android Central App

Why are these companies wasting their money on this stupid crap? I'm not going to ever buy an Android phone or device that's not connected to the services I use or the people I communicate with. I love the way everything syncs between my devices from my contacts to my apps. Having the calendar app use your contacts or Google Maps to auto fill addresses is great. The dialer is so much better because it does the same thing too. Without all of Google's services running in the background, everything is going to be separate and disjointed like it was in the early days of Android. Is Cyanogen going to be building their own backend system that everyone will have to be tied into as well? How will that be any different than what Google does? This just seems like another Amazon play. Why do people, the customers, want so many different ecosystems that separate them from all the people and services on the other ones. I'll just never get it. I guess we will see if this really is better in time if all the customers jump on this bandwagon but I don't see it happening.

The sellout is real Posted via the Android Central App

The interest will wane. Moving from Google isn't the best way Posted via the Android Central App

At the end of the day isn't Cyanogen basically just an Android mod? It runs on Android apps and rely on Google Play for apps and services. How is it different from a custom launcher you can download from Google Play? Posted via BlackBerry Classic

OK, I'll say it now... F Cyanogen!! Correct me if I'm wrong but according to the article Rupert Murdoch is listed as an investor. Isn't he the same Rupert Murdoch from News Corp?
You know from the PHONE HACKING controversy? If I'm a company whose main product is a mobile phone OS do I really want to have him associated with my company? It doesn't matter if it's just as an investor. The more he invests the more power he is going to have over them. Add to that the fact that with Twitter and other unknown companies as investors you better prepare for a bunch of bloat included on your Cyanogen phone.

People are free to blow their own money. That being stated, I have no problem with Android, so an Android free experience is absolutely worthless to me.

Another day, another unethical company raising funds.. Yaaawn, back to sleep I go

How can CyanogenMod become the 3rd most popular OS when it uses the android framework as it's base? Isn't that like saying I'm going to make a custom operating system but the core of the OS is the windows framework? I used CM in the days of my G1 and it was brilliant but it's just a ROM. Just a custom version of android, but hey if these guys can get rich off of their work I say go for it. Everyone deserves to get paid for their time if someone is willing to pay.
Android Central Newsletter
Get instant access to breaking news, the hottest reviews, great deals and helpful tips
Thank you for signing up to Android Central. You will receive a verification email shortly.
There was a problem. Please refresh the page and try again.