Cruising with the iOttie Active Edge Bike and Bar Mount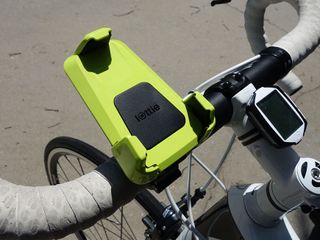 Admittedly, it's been a few weeks since I'd taken my Trek Madone out for a lengthy spin. So, once we received the iOttie Active Edge Bike and Bar Mount in the store, that gave me a reason to test the waters on an accessory that I'd never used before. Now I'm wondering how I ever rode without one.
After taking it out of the box, it seemed almost too clunky to attach without it sticking out like a sore thumb. And, well, yeah — that's pretty much the case. But, upon giving it a chance I can see the reasons behind its design, and grew more fond of it as I rode on.
It comes in a lime green or dark blue, and the mount itself is made of a hard plastic with a glossy finish — giving it a sleek look with the bike. There's an anti-slip pad in the middle and cushion pads inside the arms that elevate your phone from the plastic, which is great in case you hit some heavy trails. You'll need to check the diameter of your handlebars, though, to ensure that they're not too wide for the mounting clasp. Bear in mind — while I used this mount with my bike — it's also designed for motorcycles, scooters, strollers, and anything with a bar no larger than 1.4 inches in diameter.
Bundled with the mount are a couple rubber strips which can be used as cushioning between the plastic clasp and your handlebars. Depending on what you're mounting to, you may have to cut them to size. Since I mounted to the handlebar cushion, I didn't find them necessary. Once you've found the ideal mounting location, there's a 2 inch tightening knob that secures the clasp to the bar. You can then slide the actual mount together either vertically or horizontally.
Image 1 of 11
The Active Edge Bike and Bar Mount works with a number of different devices varying in size thanks to the adjustable cradle arms. Accepted sizes range from 2.25" up to 3.1" wide and 6.5" in height. So, that means many devices can fit without having to remove your case, which is nice. There are release buttons for both the top retainer arm and cradle arms on the side, making it easy to adjust to your device on the fly.
While riding on the trail, I never had to second guess the hold on my device. Sure, it rattled with the rest of the bike when hitting rugged terrain, but its position never faltered. For tunes, I prefer to ride with my Motorola S11's, simply for the sake of not dealing with cables. The positioning and flexibility of the cradle arms would allow the use of a wired headset with no problem, though.
The verdict
For being a novice in the realm of phone mounts for bikes, I found my first experience with the iOttie Active Edge Bike and Bar Mount rather pleasing, from installation to in-action. I came to really like its sporty design, even if it's not the most low-profile mount on the market. It would be nice, however, to have a quick swivel option to rotate the mount while riding, instead of having to completely remove it. Still, the mount proved itself on both smooth and rugged trails and doesn't require a single tool to set up. It's available right here at ShopAndroid for $34.95 in both colors if you want to give it a spin.
More mobile mounting solutions
Get the Android Central Newsletter
Instant access to breaking news, the hottest reviews, great deals and helpful tips.