Convenience vs. privacy: What's more important in a messaging app today?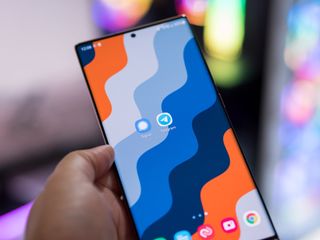 (Image credit: Harish Jonnalagadda / Android Central)
Facebook's decision to update WhatsApp's terms of service has set off a global discussion around privacy. The revelation that the messaging platform would share more data with Facebook led to a user backlash, with rival service Telegram becoming the most-downloaded app globally in January, and Signal picking up so many users that its servers crashed.
However, WhatsApp's sheer scale means that an exodus to rival platforms doesn't really put a dent in its daily active users. Even though 100 million users switched to Telegram and Signal in the last few months, that's less than 5% of WhatsApp's global userbase. With two billion users around the world, WhatsApp is a messaging behemoth like no other.
User data is the currency that has powered the monumental shift in technology over the last decade. Google would not be able to predict what you're typing into Chrome without a limitless dataset of information. Facebook wouldn't be able to bombard you with ads in Instagram if it couldn't monitor everything you do on your phone. Amazon, similarly, leverages vast troves of user data for its recommendation engine.
We pay for these services with our data, trading privacy for convenience. But there has been a growing awareness around privacy, and it was WhatsApp that actually led the charge when it rolled out end-to-end encryption to all of its users back in 2016. WhatsApp showed us that we don't have to forego privacy just to be able to talk to friends and family, and while its new privacy policy is what led to an exodus to other platforms, the core of the service is still intact.
WhatsApp cannot access your messages or hear your calls, it cannot access your location when you share it with a contact, and it doesn't maintain logs of who you've messaged or called. None of this is changing, and while WhatsApp accesses your contacts, it will not share that data with Facebook. While its association with Facebook means the service will get worse in the future — just look at the ad-ridden mess that is Instagram in 2021 — as a privacy-focused messaging platform, WhatsApp still has a lot to offer.
My extended family is spread out over three continents and six different time zones, and we primarily use WhatsApp for communication. Following news of the impending privacy policy change, there was a dedicated push from my family members to switch to an alternative, like Signal or Telegram. Normally, I would be the one driving this change, but this time it was of their own volition; my dad asked how he can move all of his group chats over to Signal (we have a handy guide for that), and he transitioned over to the platform without any hassle.
Although WhatsApp isn't changing how it handles messaging, the changes to its privacy policy made millions of users realize its association with Facebook for the first time. That was the biggest driver for the exodus, and while Signal isn't as convenient to use as WhatsApp, the privacy gains are driving the push to the platform.
My main issue with Signal is that it doesn't back up chats to Google Drive; it instead stores them locally on your phone, so if you're switching to a new device, you have to back up manually. Other than that minor issue, the platform itself has a lot of the features that you'd want in a messaging service in 2021: it lets you share text, voice messages, photos, videos, and GIFs (and now stickers), you can make voice and video calls, and it has group chats.
Signal uses the same privacy protocol as WhatsApp; but what makes the service stand out is that there are no ads or trackers. Signal is run as a non-profit, and it is not affiliated with any tech companies. It has reiterated that it will not collect or sell user data, or monetize its service with ads.
In short, Signal is what WhatsApp initially set out to be prior to its acquisition by Facebook. It is a lightweight messaging platform that lets you talk to friends and family, and do so without worrying about your data being collected. It works just as well on the best Android phones as it does on budget options that cost under $100. WhatsApp democratized privacy, and Signal is now the torch-bearer for that push in 2021.
Android Central Newsletter
Get instant access to breaking news, the hottest reviews, great deals and helpful tips
Harish Jonnalagadda is a Senior Editor overseeing Asia at Android Central. He leads the site's coverage of Chinese phone brands, contributing to reviews, features, and buying guides. He also writes about storage servers, audio products, and the semiconductor industry. Contact him on Twitter at @chunkynerd.
I prefer convenience and while I am a strong advocate for privacy, I feel we all gave up our privacy when we created our Google amd Facebook accounts and most people don't care as long as its free.

I always chuckle when a Android rag such as Android Central talks about privacy while praising Google

Keeping that backup local is the purpose of keeping their number one priority privacy. You device should be encrypted and the moment its on Google Drive or another unsecure, unowned cloud server it's compromised.

i switched to signal to try and rid myself of my last facebook related account (left facebook years ago and instagram last year). signal is fine until you send a video. and then it gets degraded to the point of being unwatchable. i'll have to keep whatsapp for the many friends around the world too lazy to switch. and wechat for it's adorable stickers. video on both is far better than signal.
Android Central Newsletter
Get instant access to breaking news, the hottest reviews, great deals and helpful tips
Thank you for signing up to Android Central. You will receive a verification email shortly.
There was a problem. Please refresh the page and try again.