Chrome's app launcher is being retired on Windows, Mac and Linux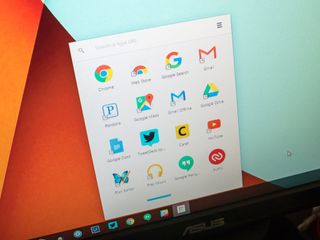 Google has announced that it will soon retire the Chrome app launcher on Mac, Windows and Linux. The company says it made the decision because the launcher is rarely used on those platforms. While new Chrome installs will come without the app launcher starting in the coming weeks, Google says current users will still be able to use it through July. From Google:
Users will still be able to access Chrome apps by clicking shortcuts in the bookmarks bar or heading to chrome://apps from the address bar.
Again, the app launcher's removal is only for Chrome installs on Mac, Windows and Linux. The launcher will remain in its current state for Chrome OS users.
Bummer. ...been using it for a while to launch Keep,Postman, calendar etc. .. Note 5

Me too. I guess I can adjust though.

This extension might help alleviate some of the pain. Been using it since they nixed the launcher in the new tab page. https://chrome.google.com/webstore/detail/show-apps-in-new-tab/nohbdifok...

I guess it'll have to do. Thanks. Posted via the Android Central App

Dangit, I liked it. Posted via the Android Central App

There goes another feature I used daily :(

For some reason the Edit link doesn't work on mobile..
I wanted to add that this menu at least helped me to maintain a similar workflow between my desktop (on which I need Windows) and my Chromebook. I don't want to pin apps in my Windows taskbar as a workaround, it's already crowded enough as it is..

Exactly. The bookmarks bar isn't a good place as I have 3 Chrome Launcher pages worth of stuff. And going to the website to access them isn't as convenient either.

Have you looked into a program called Fences by stardock? The program is a one time fee of $10 but I have found it to be a lifesaver for organizing a desktop. It's essentially iOS folders on your desktop. I like the developers so much I actually use deskscapes by them too. Posted via the Android Central App

Did you know you can pin folders to your Windows taskbar? Do that and the only thing missing that the Chrome Launcher had was direct Google search.

I use this all the time at work... Sucks to lose it Posted via the Android Central App

Brilliant news! Posted via the Android Central App

This bytes Posted via the Android Central App

Didn't like it personally.

Really Don't care Posted via my calculator running android N with SnapDragon 820 with 4gb of Ram with LTE

Then why say anything at all?

If people never commented when they were in favor or neutral on a change, then the perception would be that the change is a huge problem for everyone! It's OK. You don't have to worry about them using up all the space on AC's hard drive. At least the comment was somewhat on topic, unlike your and my replies. Posted via the Android Central App

There is a difference between expressing you opinion to further a discussion vs expressing your opinion just because..... Posted via the Android Central App

Yet another feature I use every hour in a day going away: (

I literally use that every day... Why get rid of it? They've already implemented it, surely there's no signficant ongoing cost associated with it? Those that do use it find some value in it and those that don't use it aren't forced to. I thought it was a great launcher. Saved me from having to have tabs or bookmarks on my browser to fire up Youtube/Drive/Keep etc. Shame to hear it's going.

Same here. I use it daily on desktop. Posted from my Moto X Pure Edition via the Android Central App

What the hell google? Freaking idiots. Posted via the Android Central App

There's an app launcher for Windows? Wow. That sounds way better than how I've been doing it. Posted via Android Central App

I tried to use it but it wasn't worth the separate menu when you could just pin those same apps into your primary OS menu. Posted from my Nexus 6.

Must kill anything that looks like an app drawer....

Hmm. I use it all the time too. It surprises me that their justification for getting rid of it is that people don't use it. Posted via the Android Central App

That sucks. I use Keep, Calendar and Drive on a daily basis. This is one of the better aspects of Chrome, for me.

Low percentage of ppl were using it, me included. Posted via the Android Central App

Boooo! I use that one quite a bit. It's a great way to keep my stuff at hand. I hope there's some sort of alternative.

This will ultimately differentiate the chrome app on a PC from the chrome OS on a chromebook, for the noobs. Posted via the Android Central App

I used to use the chrome app launcher on Windows. Then I got a Chromebook. Now my windows laptop just collects dust... Posted via the Android Central App

I might get a Chromebook. I'm checking them out now. Which one do you have? Posted from my Moto X Pure Edition via the Android Central App

Toshiba Chromebook 2 Posted via the Android Central App

Where do they get these metrics from? I cant believe people dont use it. I do multiple times a day, as does everyone I know that is a regular Chrome and Google Apps user.

It should at least be an option for those that use it. I'm guessing it's just an HTML 5 interface, most changes could be made in the background without an update. I use this regularly and it's a bummer for it to go away but I suppose I can adjust. Posted via the Android Central App

It's bloat, slowing Chrome down. I wouldn't be surprised if a launcher shows up in the chrome store anyways Posted via the Android Central App

I use this thing all the time. really frustrated they are taking it away. sigh Posted via the Android Central App

So, are they going to give us another quick and convenient way to launch non Google chrome apps and extensions? I don't mind using the little box of squares(for lack of knowing the name) that you find on your chrome homepage or within any Google webpage, but those are only home to Google apps.... I'll be honest, I really only use the launcher to launch my invoice app's chrome extension, but it sure is useful and convenient..... Too bad Google doesn't usually respond to public pressure or petitioning!

Make chrome://apps your homepage or bookmark chrome://apps and put it on your bookmark bar. The second solution requires one extra click than the launcher currently does. Posted via the Android Central App

WTF Posted from my Nexus 6/Nexus 7 2013/Surface Pro 3

Wow a bunch of people used that redundant little thing! For me it was more natural to just launch the browser and then use the bookmark version. My browser stays open 99% of the time, so seemed redundant to go back to the taskbar when I was knee deep in the browser. It was cool tho. Posted via the Android Central App

It will be missed, but these days I do a quick text search for the app I'm looking for. My hands are on the keyboard most of the time a is quicker to type than find the cursor and move it to the app launcher. I do hope to utilize voice dictation in the future though. Google Now is awesome for some quick voice triggered searches. I believe Cortana is getting there too on Windows 10. Posted via the Android Central App

Is there a way to call a specific app from a link? Like chrome://appname? If so, you could just make desktop shortcuts and then dock them wherever. If not, I'm sure there will be a third party solution before long. Posted via the Android Central App

Are they getting rid of the Chrome app shortcuts they put in Windows' Start Menu too? That's nice since you can just hit the Win key and type Keep. ETA: I guess if it's bloat they're trying to get rid of, this shouldn't be affected since they're just Windows shortcuts with the target set to Chrome along with some options set.

Darn, been using this launcher for all network computers at our office. Going to miss it. Posted via the Android Central App

I also use this feature all of the time. I've found that it's the quickest way for me to bounce between Google services on different accounts. I will really miss this! I think more people would have used this if they just knew how helpful it was,

I ditched it as soon as it launched. I prefer they stay inside the Chrome. Posted via the Android Central App from Samsung Galaxy S7 Edge

I use it often to launch keep. I hope we can still have app shortcuts in Windows Taskbar for like keep and hangouts. They don't really show within browser too but as separate windows.

Google. I use this daily for my office purpose . why Google why Posted via the Android Central App

Weirdly, I've already transitioned to the In-Browser version so this doesn't affect me all now. Good thing I adjusted early...

Not cool VZW Moto X DE/N7

It never worked on Linux and I always wanted to have. Posted via the Android Central App

Nooooooooo! It always worked for me on Linux. Use it all the time :(. Posted via the Android Central App

Great, so now we have to launch an app to launch an app.

Never used it. So for me personally, more bloat removed from chrome is ideal. Posted via the Android Central App

This sucks, I use the launcher every day. Much better than pinning apps.

WTF - I use it all the time, everyday!!!

This doesn't get rid of the apps themselves right? I really like using Keep on my Mac as almost a standalone app. I frankly hope they make more of their products work like this. I never use the launcher icon thing though (I use spotlight for launching everything). Posted via the Android Central App

1 web apps are as useless on a desktop as t i t s on a bull 2 really, is it that hard to load it some other way? you know...like...the website??? 3 that stupid thing literally CRIPPLED every machine I ever tried it on...once I left my pc for two weeks while it sat there, totally frozen, witing for the app launcher to respond. No I'm not kidding. I really wish I were. 4 "Again, the app launcher's removal is only for Chrome installs on Mac, Windows and Linux."
......so every OS the app launcher is available for, then...

It's horrible. It's obviously hindered your ability to construct coherent English. Good riddance.

You guys need to look up Fences by Stardock. It's $10, but that is a lifetime serial number. Posted via the Android Central App

Please stop spamming Fences. It's not the same thing and it's just one more program on your PC. The Google App Launcher is far lighter on hard drive space and resources than Fences.

I use it, but technically could do without it.

WTF? Now how am I supposed to access chrome apps like local programs? Are they forcing me away from my beloved Web apps?! Posted via the Android Central App

No... just the pop out launcher that you can nest on the taskbar.... like a app drawer on Android. You can still create the shortcuts, even pin the apps to the taskbar individually. I liked being able to clean things up and group them together though.

Finally. I have never used and it was just clotting my task bar.

Honest question: is there a faster way to get a Google search than from the app launcher? I put the shortcut on my taskbar. Win 2, start typing, enter. That alone makes this announcement suck for me. What do you guys use to get to a search fast?

Great. I hated that bloody thing cluttering my already too crowded desktop. Besides, it was pointless. Chrome itself had it anyway. Posted via the Android Central App

so now you have to open chrome every time just to launch an app...

Chrome gets opened anyway.

True, but the launcher send it right to where you want it. Opening the browser means extra keystrokes. It's not the end of the world but the launcher just made things that much more convenient. I guess that's why Big G is killing it.

Quite vexed about this Posted via the Android Central App

Here is a good alternative:
https://chrome.google.com/webstore/detail/apps-launcher/ijmgkhchjindcjam...
Except that it opens the 'launcher' from within Chrome.

I use this frequently throughout my day for both work and at home. I think if people realized it's functionality, more of them would use it, and Google wouldn't be so inclined to kill it off entirely. At work, I switch between 3 different Google accounts (1 personal and 2 different work accounts). It was also so easy to click the app launcher, select which account I wanted to work with, and then open an application under that account. It worked just as well at home with my girlfriend and I while we share the same PC. She can select her Google account from the app launcher, and keep all of her apps and data separate from mine. Not only that, but it condensed all of Chrome's installed apps into 1 icon on my taskbar, for multiple users. I really hope someone makes something that is comparable to the app launcher in the coming weeks, since I really don't see an easier way for me to juggle multiple Google accounts, and the different apps between them. :[

I liked the concept but I never used it in practice. They are just shortcuts anyway. Since Chrome is always open it's just as easy to open them directly in the browser.

Strange, as I use it daily. Sad. :(

Quite upset! I got over losing iGoogle and will get over losing the launcher but I did use it daily and am not happy about it! I really wish large companies would consider their users/customers/consumers. It seems to be a pretty minuscule win for the Google shareholders. Enjoy that one extra cup of coffee every year!!!

Google I use the darn thing.... There should be an option to install it if you need it. Or even to send a request for it. Posted via the Android Central App

Damn you Google! At least on win10 if you pin the apps to your taskbar they will sometimes change icon into a blank document and if you then open the app through it the pin will disappear when you close the app. Leaving you to have to find it and pin it again. If you pin them to start they just show up as Chrome icons. I pinned a folder with all the shortcuts to my taskbar and it opens a file explorer window you then have to close again. Having to first open the browser to then click on the app you want is so impractical! If you wanna **** us over like this, please make sure the proper icons show in Start on windows 10 when you pin them there.
Android Central Newsletter
Get the best of Android Central in in your inbox, every day!
Thank you for signing up to Android Central. You will receive a verification email shortly.
There was a problem. Please refresh the page and try again.