Chevrolet dealers offering free Android Auto update for select vehicles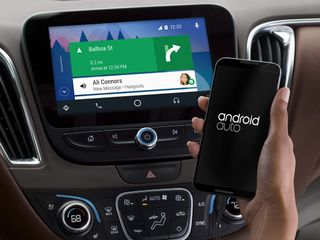 If you own a Chevrolet car with an 8-inch MyLink systems, you might be able to take it to your local U.S. Chevy dealer and get a free software upgrade so it supports Android Auto.
Chevrolet stated:
Chevy vehicles with the 7-inch MyLink system installed already support Android Auto. Currently, 14 different Chevy models support Google's automotive software OS. If you are interested in having your system updated, be sure to give your local Chevy dealer a call to schedule an appointment.
Source: Chevrolet
Get the Android Central Newsletter
Instant access to breaking news, the hottest reviews, great deals and helpful tips.
I was hoping my 2014 Cruze could get this update... Chevy's MyLink software is terrible. Posted via the Android Central App

Yup. Horrid. The voice recognition and playback is laughably atrocious. My dad owns a '14 Terrain, and I was hoping he would have been eligible for an upgrade...

I have MyLink on my 2013 Sonic and I like it. What are you having a problem with? It could be our MyLink installations are maybe different models.

So wish Subaru had this option. 2015 Legacy and the car OS is terrible. Posted via the Android Central App

I'm with you man. My Crosstrek's stsyem is terrible.

I love Subaru but since Toyota owns them I do not think they will have Android Auto anytime soon.

Not sure where that info came from, but Subaru is wholly owned by Fuji Heavy Industries...Toyota does own about 9% of the shares of Fuji, but that doesn't make them a controlling interest at all. Posted via the Android Central App

Okay you are correct GM did own a controlling stake and I didn't realize Toyota only purchased 40% of that. Granted Toyota does own 16.5% and in Japan I believe 20% is considered controlling interest. Toyota and Subaru do have a lot of synergy right now and I do not expect that to change.

I'm hoping the trend catches on!

c'mon Chrysler! and update the 2015s too

I held off on a 2016 cherokee limited because it did not have AA compatibility yet on the uconnect. I told the sales guy to give me a call when he can get me a 17 that comes with Android auto capability baked in. Just didn't understand how that can be important enough to wait. Posted via the Android Central App

Wow that climate control cluster in the picture is a freak'n mess! Different sizes and shapes, no real pattern as to the placement, big block in the middle to block the buttons on the right, here's a curved blue line to unify the look with, well, nothing, the temperature gets dials, the fan gets buttons, I can't even tell what that button under the defrost does. No not that defrost button, the one under the fan button not the other defrost button. Just imagine - the designers at Chevy spent a significant amount of time coming up with THAT. Not that I got that off my chest, what were we talking about?

Pretty sure those center buttons change which vents the air comes from, the button you're confused by sends the air toward feet. Not that complicated.

Just my opinion but I don't find anything wrong with that. At least there is a symmetry with the buttons, and I find it more "modern" (kind of) compared to the old "Chocolate tablet" shaped controls. But again, just my taste...

Free, for select vehicles? You mean to tell me that people are paying for the update? Posted via the Android Central App

No...it's only available for certain vehicles. It's free for any vehicles it's available for.

Is Chevrolet still in business?

Yes, didn't you see their new commercial on Chevy Malibu?
:-)

Lol, yeah the one where supposedly real people (not actors) think an unbranded Malibu is some high end car like a BMW. Please! All that shows is people are dumb as a box of rocks or their marketing department thinks so (either way it's offensive). Not to mention the actual vehicle in that commercial retails for about 36k! For that price you could get a top of the line Kia or Hyundai that puts that Malibu to shame!

The 2015 Kia Optima looks great, but the 2016 models of both Kia and Hyundai have both gotten considerably more blah looking this time around. Chevy is on par with them at least, if not having them beat in the styling area this time. $36k for a loaded Sonata/Optima or Malibu is still too much, especially when you could move up to a Genesis or Impala LTZ for not much more. Mid size cars have gotten crazy expensive now.

Gotta love internet elitists and their followers. Some of us own these trash cars, and keeping your uninformed comments to yourself is encouraged. Posted via the Android Central App

At one time they were owned by Government Motors. Or was it General Motors? I wonder if illiterate people get the full effect of alphabet soup

No Love for my 2015 Silverado :-( Posted via the Android Central App

I have a 2014 Ford Explorer with the Microsoft Sync system. It is not bad but I would prefer to have Android Auto. Catch up Ford!!!!

They will be adding it to vehicles that have Sync 3 if they haven't already.

The 2016 Ford Explorer isn't even on the list for Sync 3.

I know as I'm in the market for a new SUV with 3 rows and I might need to get one before the end of the year. I have eliminated vehicles without Android Auto so my list is really short. Hyundai SantaFe, Ford Flex, and Ford Expedition. I still have not heard that the Traverse is getting it so I had to eliminate that along with the Honda Pilot. The Durango is on the fence as I keep hearing the top systems will be getting Android Auto but without an announcement that will be eliminated as well. The 2017 Explorer will have Sync 3 so if that is out by the middle of the summer it might be an option. Tahoe was eliminated due to price but it does have Android Auto.

At least your Ford sync is still working. My 2014 F150 sync system cropped out on me after 6 months of use. Went from excellent to sporadic pairing issues to won't pair anything at all. Posted via the Android Central App

Now if somehow we could get an update to my terrible TomTom based Mazda system, but that will only come with a complete replacement with Aftermarket... Posted via the Android Central App

Someone get GMC on the bandwagon!! Wait...my bad... http://media.gmc.com/media/us/en/gmc/home.detail.html/content/Pages/news...

Too bad they chose to only update current 2016 models. All older models are left behind.

Except that its not even all 2016 models. How in the crap they thought it was logical to update '16 Sparks but not '16 Sonics are beyond me

i know this article is about Chevy, but Ford is supposed to get this. does any one know when???

I've had a 2016 Colorado for two weeks now. My dealer service department haven't got the update on their end yet (asked them today).

Ditto for me---called the dealer today and they think they will have the Android Auto update available soon---they will notify me. But I will start calling in a few days. The sales people never told me about these issues. But I am thinking positive for now---that it will all work out. I am using an Android phone and I remember the salesman telling me that the Apple phone is preferred. We will see.

Still waiting for my dealer....am going to call each week. So far, he doesn't have the update at the dealership.