Catch up on what's trending with the new Moments tab on Twitter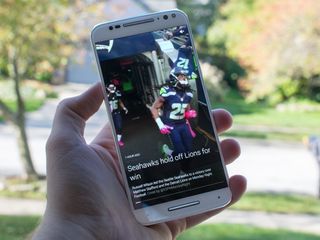 Twitter is adding a new feature for its Android users today in the U.S. called Moments. The idea behind it is to help users find tweets centered on a specific subject or event and collect them in a tab.
Twitter says:
Twitter adds that each Moments tab is constantly updated with new posts or information:
Twitter is curating most of the Moments tabs, with some created by third-parties like Buzzfeed, Entertainment Weekly, Fox News, NASA, New York Times, the Washington Post and more. Twitter hopes to open up access to Moments for more partners in the future. While the feature is being introduced in the U.S. first, a Moment tab can be shared with any Twitter user.
Source: Twitter
Would've been useful during natural disasters of the past where I had to just follow search terms myself. I can see this being very useful, actually. Twitter is always first with the real-time happenings during these things, rather than the news outlets, since it's real people reporting on the scene all at once. The March 11th, 2011 Tohoku earthquake and subsequent tsunami in Japan was humbling and mystifying to watch unravel on Twitter. -Posted via the Android Central App on my G4-

Been playing with this and I LOVE it. Real slick interface, only problem I've come up with is that under the "Sports" heading, almost none of the videos work on NFL posts. They're included in the moment, but then say something to the effect of "Can't load video". Hopefully that gets better. As a side note, I wish that the in-app browser was available on the phone version of the app. The twitter beta on my tablet uses it, but I can't get it on my S4.
Android Central Newsletter
Get the best of Android Central in in your inbox, every day!
Thank you for signing up to Android Central. You will receive a verification email shortly.
There was a problem. Please refresh the page and try again.