Camera, or phone? Panasonic's Lumix CM1 aims to be both with little compromise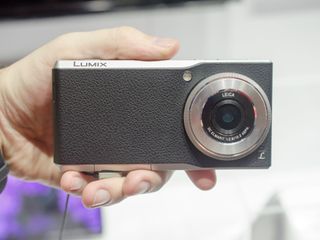 Well, it's mostly a camera — but we're okay with that.
Panasonic is known far more for its cameras than its mobile phones, but the new Lumix CM1 combines its imaging expertise with a full-on smartphone experience to create one unique device. On one side is a standard phone experience with a familiar KitKat interface running on a 4.7-inch 1080p display and powered by a Snapdragon 801 processor. On the other side, you basically have a high-end point and shoot camera, with a 20.1MP 1-inch sensor, f/2.8 28mm Leica lens and complete manual controls
The smartphone side isn't all that exciting honestly, with no customization from Panasonic other than what's needed for an insane camera experience. This is the KitKat we know, and it runs quick and smooth on the Snapdragon 801 and 2GB of RAM backed up by a 2600mAh battery. The important part about the CM1 is the camera — hit the dedicated camera switch to move between phone mode and camera mode.
The Lumix CM1 looks and feels like a camera, as it should, with quite a bit of girth — it comes in at 204g in total — to fit all of that imaging goodness. The 1-inch sensor is several times larger than any average smartphone, which enables great low light potential and overall crisp images. The Leica lens will definitely help, too, as will the full manual controls. Aperture, ISO and shutter speed can all be controlled manually from the interface or from the control ring that surrounds the camera pod.
Image 1 of 16
The camera app interface is one of the most advanced I've ever seen on a phone, and even rivals most standalone cameras out there. It has a full interface of all the information you need, and lets you control every aspect of the camera. There are proper aperture, shutter speed and full manual modes, just like a camera, and you can even shoot in RAW and edit photos later if you'd like.
I obviously haven't spent enough time on the phone or analyzed the pictures just yet, but this looks to be a pretty great combination — and one that's come off better than the Galaxy K Zoom — if you're focused on taking pictures. We'll see how it ends up working as a phone, but I'm a fan of this idea in my short time spent with it.
Android Central Newsletter
Get instant access to breaking news, the hottest reviews, great deals and helpful tips
Andrew was an Executive Editor, U.S. at Android Central between 2012 and 2020.
I want this so bad Posted via my Xperia Z2

Me too for the wifey. She'd love this because she is a complete photog. The comment in the article about it not being that exciting as far as the UI, I disagree simply because it sounds like it's basically pure Android with a few tweaks for the camera. Sure its not Lollipop, but I definitely would rather have "basically" pure Android running on it than some overdone ugly Panasonic UI. It more than likely has a lot higher chance of getting an update or 2. That being said, I'm a little surprised they didn't go with a bigger battery because camera software pulls a lot of power. Zenwatch rhymes with Winwatch. Coincidence? I think not.

Panasonic is back in the game. This is an amazing product that blows the socks off anything else being offered in this category. Posted on my Galaxy S5

A phone with a Leica lens = awesome!

Only available in Europe
Even Not available in Japan Posted via the Android Central App

The Lumix CM1 isn't anything new, it's been available in Europe for a while (and it's pretty expensive at 800€. That's almost US$1000). Panasonic is just announcing it for the US market. For those wanting to see how well the camera performs, I highly recommend checking the 2 part review at SmartCamClub (formerly PureView Club) here http://smartcam.club/node/3233 and here http://smartcam.club/node/3236

Was going to mention the price. Silly. Buy a good camera for shooting, and a better phone for your pocket for less than this hybrid.

If you don't mind WP, you can get a Nokia L1020 for less than half the price or even a Nokia 808 that has the best camera on a phone and then get a great Android flagship and still be below the 800€ of this one. If you are willing to give 800€ just for the camera, you'll buy a DSLR instead. Posted via the Android Central App

No xenon flash? Why put all the work into such a high-quality camera phone and then only give it an LED flash? Posted via the Android Central App

I wish Panasonic would release another Eluga globally. Posted via Samsung Galaxy Alpha

Way too expensive. Hope they don't plan on selling very many. Posted via the Android Central App

No duh. You thought it would be $500 or less? AC is the one place where everyone likes to be cheap. Posted via the Android Central App

It seems like putting a really good camera in a really good smartphone at a price point that makes it a compelling alternative to buying a good phone and good camera separately just isn't feasible yet. Sent from my Nexus 5, behind six proxies

It might make sense if you could count on Panasonic to keep the phone side of it up to date. But so far, I don't think you can count on *any* smartphone manufacturer to keep *any* of their devices up to date. I suppose you could say Apple is the best of the lot for that, but even they end up coming out with OS updates that won't work well on a phone that's just a few years old - even if they make them available. Most Android OEM's don't provide you with updates for anywhere near that long, so it's irrelevant whether they'd work well or not. The point is that this thing is more camera than phone, and people don't trade in their cameras every 18-24 months. It might be worth the price if it were feasible to keep it for 5-6 years. I bought my last real camera in 2003...

Only $150 more than a Note 4.

Only Posted by my soon to be retired Note 3

Only $150 more than the phone that inspired dozens of comment threads full of people complaining about its price. Sent from my Nexus 5, behind six proxies

It's ridiculous haha. I'll a comparison with this and the Lumia 1020 which is a fantastic camera and probably the best on phones albeit it being a few years old now. And that's incredibly cheap these days. 1000 is very pricy for this Posted via the Android Central App

Price not withstanding, I hope Panasonic enjoyed Kodak's lunch. Wubba lubba dub dub!

Now people who seems to only care about the camera on a smartphone can calm down. Ill stick with my dslr and a great phone with a bad camera, but good enough for social networks Posted via the Android Central App

I'm with you. DSLR for when I know I'm going to be shooting, Note 3 for day-to-day. Posted from my TARDIS!

Same here! :) Posted via my HTC One M8

Snapdragon 801? Kitkat when Lollipop is already available? In 2015? NO. Posted via the Android Central App

This already launched prior to Lollipops availability. Posted via the Android Central App

This is what Kodak should have done. AC App on SGS3

Samsung did it Posted by my soon to be retired Note 3

Physical control wheels and stuff that clicks again on a phone. Oooooh yesss! Posted via the Android Central App

I really hope this comes to the US. I'd love to use one of these.

I want it! I'm looking forward to reading more and I'm sure you'll post some examples of it's camera capabilities when you get some more time with it :-)

Gotta say, after finally receiving a proper DSLR for Christmas (the Nikon D3200 w/lens kit), camera phones are not even close to the real thing. This will be nice for spontaneous pictures (assuming it is ready to take a picture quickly after pressing the button).

"Aperture, ISO and shutter speed" just like Lilly in HIMYM
Android Central Newsletter
Get instant access to breaking news, the hottest reviews, great deals and helpful tips
Thank you for signing up to Android Central. You will receive a verification email shortly.
There was a problem. Please refresh the page and try again.