Bury Me, My Love selected as the top game at Google Play Indie Games contest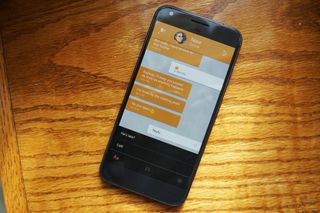 Download: Bury Me, My Love ($2.99) (opens in new tab)
The Google Play Indie Games Contest wrapped up this week with Bury Me, My Love (opens in new tab) chosen as the big winner. Developed by a team based in France, the game is a slow-burning "reality-inspired game" that tells the fictional story of Syrian refugee Nour and her husband Majd and their communication through text as Nour attempts to migrate to Europe.
Lately you may have seen some apps that try and tell stories through the medium of text messaging (opens in new tab), and on its surface Bury Me, My Love seems like another one of those apps. Iin this game, however, you are part of the story and the choices you make playing the role of Majd will affect Nour's journey as she trys to migrate safely to Germany.
The game can be played out in real time or with a fast play option. Playing in real time, you will receive message notifications as Nour completes different legs of her journey and sends her husband updates on her progress or when she needs some advice. Alternatively, you can switch to fast play to keep the updates coming or if you want to get through the story quicker.
At first, I was kind of underwhelmed by the game, but that's because it's a really slow-burning story that takes a while to unfold. The struggles migrants face trying to escape a war-torn country makes the process long and arduous, and Bury Me, My Love does a brilliant job capturing seemingly genuine glimpses into that experience in a familiar format — through texts between two partners.
Based on your choices, Nour is able to visit over 50 different locations and there are 19 potential endings available, each with widely divergent outcomes. I'm still on my first playthrough and am enjoying how I can passively check in whenever a new notification pops up. I've yet to reach any shocking content but given what we know about the hardships refugees face, the realities of the Syrian refugee crisis, and the developer's warning about the game experience having an effect on sensitive, younger players I find myself very cautious with the decisions I make in this game.
Compared to the more traditional games that Bury Me, My Love was set against in the contest, it certainly stood out from the crowd with its unique yet passive gameplay and serious subject matter. And it's likely not going to be as popular as some of the more traditional puzzle and adventure games on the finalist list. But having just played through a small section of the game so far, this is certainly a unique gaming experience.
What did they win?
For winning the contest the developers will receive €150,000 in vouchers for promoting their game and tickets to attend both the 2018 Google I/O event and the 2018 Game Developers Conference in San Francisco 2018 along with other prizes from Google.
Old Man's Journey (opens in new tab) and Yellow (opens in new tab) were selected as runners-up, and will also receive vouchers for marketing along with passes to attend the 2018 Google I/O event.
Here are the remaining seven games that rounded out the top 10:
You should see the 10 finalists popping up in your Google Play app as part of the "New Indie Highlights" or "Our Indie Picks" collection in the coming weeks.
Get the Android Central Newsletter
Instant access to breaking news, the hottest reviews, great deals and helpful tips.
Marc Lagace was an Apps and Games Editor at Android Central between 2016 and 2020. You can reach out to him on Twitter [@spacelagace.
God, another super "edgy game" with no actual gameplay and a strong political message. Count me out - keep your politics out of my games, games are about fun - not about teaching us about how kids die of cancer, not for pushing some political agenda, and yes, they have to be fun. The last thing we need is more garbage in the gaming community, we have plenty already with every dead beat snow flake, free-range, flat earther parent using video games as babysitters and they're surprised their adderal-addled snowflake kids turn out to be monsters...

Whiny deplorable. Go back to your basement with the rest of the keyboard nazis, you worthless POS.

Everyone knows Google has been SJW Central for a little while now. More importantly, calling someone nazis just because you don't like a comment they posted only shows how unhinged you are.

Was sure that Old Man's Journey will get it. Oh welp, the game is selling pretty well anyway. Probably earned more than the ad cash price. Putting this game on wishlist and might give it a shot when I have nothing else to play and see how it ended up winning.