BlackBerry's DTEK60 is its most powerful phone yet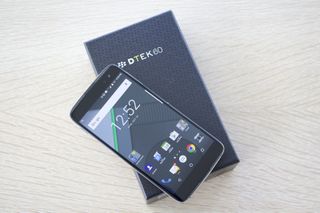 BlackBerry has announced its latest smartphone today, the oft-leaked DTEK60. Succeeding the DTEK50, which was announced earlier in the year, the DTEK60 is also made by Chinese manufacturer TCL, but steps up the specs, and the price, significantly, for people looking to interact with BlackBerry's heralded Android software suite.
With a 5.5-inch QHD display, 4GB of RAM, 32GB of storage, a 3,000mAh battery, and 21 megapixel rear camera, the BlackBerry DTEK60 is considerably more powerful than its predecessor, but at $499 USD ($650 CAD), it is not in the same price range, either.
According to BlackBerry, the phone "provides enterprises and organizations with full access to the Android ecosystem and higher-end specs to help power productivity. It comes equipped with all the security features that BlackBerry's Android OS devices have, including best-in-class security patching and the DTEK by BlackBerry app that allows users to monitor and control their privacy on their phone."
The phone itself, as powerful as it is, was unveiled with little fanfare and no carrier support in the U.S. or Canada. While it does have some features that the DTEK50 lacked — a fingerprint sensor, a high-resolution camera with 4K capture support, and a high-density display — BlackBerry is not emphasizing the hardware, but the software. This mixed message is something that BlackBerry does very well, and is best seen in the introductory paragraph of the DTEK60's press release:
It's the software that the company wants people to care about, and rightfully so: it had almost no influence over the DTEK60's hardware, but has built its version of Android into a powerful, attractive and, most importantly, secure conduit for its enterprise-first philosophy.
To that end, the DTEK60 has the same security features as its Android predecessors: DTEK, the app; Hardware Root of Trust; FIPS 140-2 encryption; Secure Boot; and Android for Work support, in partnership with Google. Because of that extra security, it launches with Android 6.0.1 Marshmallow, with no immediate plans to update to Nougat.
More: Read CrackBerry's hands-on with the DTEK60!
According to BlackBerry, "customers who order DTEK60 from ShopBlackBerry.com will receive a complimentary accessory bundle. US and Canada customers will receive a DTEK60 Soft Shell and Rapid Charger for free and customers in the UK, France, Germany, Italy, Spain and the Netherlands will receive a DTEK60 Pocket Case and Rapid Charger for free. This offer expires on November 8th at 11:59 pm PST." Go get it!
Get the Android Central Newsletter
Instant access to breaking news, the hottest reviews, great deals and helpful tips.
Daniel Bader was a former Android Central Editor-in-Chief and Executive Editor for iMore and Windows Central.
This whole thing makes me a bit sad. My boss just got the Priv last month and it's a beautiful, powerful phone. Such a shame that Blackberry has brought this model out now, when they've announced they're quitting the phone business.

Yeah, I was going to say, I thought BB announced they were dropping out of the phone hardware business... what's all this about then?

I think, IIRC, the articles I read stated they would no longer be making the hardware portion of the phone but would be supplying the software only.

There are still gonna be Blackberry branded device, but they're gonna be designed and manufactured by other companies, with Blackberry just doing software. As the article says, TCL made this phone

Irresponsible and poor journalism led many to believe BlackBerry was exiting devices. That and their own PR is horrible and always a step behind.

They didn't make the phone. Alcatel did.

They aren't making their own phones, like the Priv. But will continue to put their software on third party phones like the DTEK60.

BB is quitting. this phone is just alcatel phone with BB software

Is this not the same as the Idol 4S? Similar specs. Just wondering. And considering it's manufactured by TCL, I'm a bit suspicious it could be a rebranded Idol 4S (which isn't a bad phone either).

It seems based on the Idol 4S, but some of the specs have been upgraded. The DTEK50 was also basically a rebranded Idol 4

It is much better than a 4S, just do a phone comparison on phone arena

As I said, some of the specs have been upgraded. It's lineage is pretty clear though. It's very similar to the Alcatel Idol 4S with Windows 10 Mobile, which is another upgraded version of the Idol 4S

You're referring to a different model, the windows alcatel phone is called the idol 4 pro and hasn't been released yet

A bunch of T-Mobile's material on it was leaked a few days ago, it's called the Alcatel Idol 4S with Windows 10 in their promo material. At least that's the US branding

It has upgraded specs vs the alcatel idol 4s
Upgraded processor with the 820 Snapdragon from the 652 Snapdragon
Upgrade to the RAM at 4GB from 3GB
Upgrade to the GPU with the Adreno 530 from the 510
Upgraded camera with the 21MP back from the 16MP back camera of the 4s.
Upgraded software and same day updates.
If you are going to compare phones have the decency to actually do research. You are thinking of the alcatel idol 4 pro or the TCL 950.

I've done my research. I already said it had upgraded specs vs the regular 4S. The Windows version, which is being called the Idol 4S with Windows 10, as seen in the T-Mobile leak (they may well be calling it the Idol 4 Pro elsewhere, but T-Mobile is clearly marketing it as the Idol 4S with Windows), also has the 820, 21MP camera and 4GB of RAM, as well as a fingerprint reader like the DTEK60. The only hardware difference compared to the Idol 4S with Windows 10 seems to be a FHD screen instead of a QHD screen. So, I've yet to see where anything I've said has been incorrect

Go to phone arena and search alcatel idol 4s

I'm well aware of the Idol 4S. I'm also aware of the Idol 4S with Windows 10 and the DTEK60. You're not telling me anything I don't know

http://www.phonearena.com/phones/Alcatel-Idol-4s_id9973

Are you just not understanding anything I'm saying?

Maybe this will help you: http://www.windowscentral.com/t-mobile-us-alcatel-idol-4s-guide

Yeah windows central messed up
http://m.windowscentral.com/photos-reported-alcatel-idol-4-pro-windows-1...

Click on the alcatel idol 4s link inside the article you sent and it brings you to the alcatel idol pro 4

So? Every piece of material leaked from T-Mobile is calling the phone the Idol 4S with Windows 10. It may be called the Idol Pro 4 in other parts of the world, or that maybe have been it's working name, but it's official name for T-Mobile is clearly the Idol 4S with Windows 10

If alcatel named that device idol 4s, then they are idiots, because it will add confusion as we have gone back and forth regarding different specs for the same named device.

Perhaps the mistake happened with T-Mobile and it was copied over into Windows central, but why would alcatel name a new device with the same name it released in February of 2016

I think T-Mobile knows the name of the phone they're selling

Lol I would not surprised if T-Mobile f'ed up
But it seems very odd that two models with the same name have different specs.

Actually isn't the DeTek50 an Idol 3?

BlackBerry will no longer be making devices in house. However they will still be releasing phones, there was a lot of confusion around this and I think it's really thrown people off. Getting a lot of mixed messages from BlackBerry, but the DTEK60 does look really good. Can't wait to try one out, may even consider one as my next device.

No one ever said that there would be no devices from Blackberry. BB stated that they would not be manufacturing devices in-house. Same as Apple: Foxcomm builds their devices. Smart move by BB. The Dtek line looks like a winner. Although the Android market is crowded, the BB seems to have the edge on security. Unfortunately, their advertising is lacking big time. Hard to compete with the big ad budgets of Samsung and Google.

Not the same as Apple, as Apple still designs their phone. Blackberry actually had Foxconn manufacturing their phones for a few years, but their new strategy is a step further as they're not only no longer manufacturing their phones, they're not designing hardware any more either.

Not a bad phone. Battery life would be my main concern followed by the lack of water resistance.

You can get water resistance for a few extra hundred dollars from Samsung or apple.

Most powerful claim bit no statement of what processor lol! Anyways it's looking pretty promising for $500. ($450 2 months after release probably)

What's the manufacturer cost difference in adding CDMA and VZ/Sprint compatible radios? Other manufacturers can seem to do it

Does this phone come have a micro SD slot, water resistance and front facing speakers?

From what I have read it does have micro SD, Front facing speakers, but not water resistant.

Mmmh, no water resistance is kind of sad, but everything else about this device looks very good

BB Needs to push Samsung and Apple back out of enterprise where nothing but security really matters. That's what these devices seem to only focus on. And they need carrier support to do this.

If them relinquishing hardware helped make them one of the best companies to keep up with Google on updates, then kudos to them. Know your strengths, but more importantly, know your weaknesses. Not saying that making good hardware was a weakness, but if that put them in a hole financially and didn't allow them to produce good software, then good on them. The phone looks great, has great specs, and is in that upper-mid price range. Would have been a huge hit if it were 50-100 bucks cheaper, but either way it seems to be a great phone. I hope they have enough success to keep them going, because many android phone makers could learn a lot from their approach to software.

BlackBerry is not making phones - they are having others (TCL) make them and putting their software on.
BlackBerry are still selling phones - very good ones for less money.
Already ordered the Dtek60!

Like the phone but it all too late for me. Just finished using my Z30 which has served me well, but was sick and tired of BlackBerrys attitude to loyal consumers and their irritation at questions on hardware. I've jumped ship now - sad and all but its only Enterprise and Organisations that matter to BlackBerry now.

Looks like Blackberry is taking a step in the right direction. The price of this makes it pretty competitive with other flagships out right now. $399 would be the ideal price but $499 isn't bad.