BlackBerry officially announces plans to launch the Android-powered BlackBerry Priv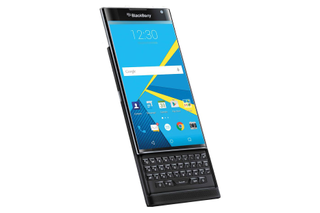 As part of its Q2 Fiscal 2016 results, BlackBerry also took the time today make its plans to launch the BlackBerry Priv, which will run Android with BlackBerry security, official. Although the information lacks specifics surrounding the actual launch of the device, the confirmation of its existence was needed given all the leaks recently.
Announced part of their hardware roadmap, the company was sure to mention that while they may be releasing an Android device, BlackBerry 10 will continue as well.
Needless to say, there's still plenty to learn about the BlackBerry Priv and we've still got plenty of time before it all gets laid out but at least now we know when to expect it.
Cool maybe they'll get some business. As they need it. Never owned a blackberry but they're phones always interested me.

I will keep my eye on this device. I like what I have seen from it so far.

"Today, BlackBerry is announcing TWO new additions to its handheld device roadmap. First, the company will launch a flagship slider device, Priv, which will run on the Android operating system" Am I missing something in the article or is a 2nd addition not actually mentioned?

"Second, the company will continue to develop and enhance the BlackBerry 10 operating system and is confirming plans to..." Middle of the second paragraph Posted from my XT1575

Boo. Continuing to update an OS shouldn't count as an addition. I was looking (and hoping) for something bigger. :(

It's actually the best is and most secure....I've tried all and it's the most fluent.. Amazing gestures...real life multitasking....its new and needs developers to creat apps....its used in hospitals, nasa and top officials in government

Smart move by Blackberry, late is better than never. Posted via the Android Central App by OnePlus One

Today BlackBerry announces the dumbest name ever for a new device. What were they thinking? Looks to be a great device and RIM needs to remain relevant but "dat name". Please say it ain't so. *The boy you trained, gone he is. Consumed by Darth Vader.*

Yeah, I'm not buying it because of the name, and if I did, I wouldn't tell anyone the name if they asked me what phone I have, to embarrassing. Posted via the Android Central App

The name reminds me of a toilet. It sounds like "privy". The only worse name would have been "loo". Posted via the Android Central App

Yeah, Because this Phone is da Sh!t!!!

It can't be worse than iPad which sounds like a tampon company lol

better than Ativ S Neo...

ATIV S Neo doesn't remind me of a toilet, though. Posted via the Android Central App

Neo sounds like an awesome name. The Galaxy Neo would've been better but better than privy haha. The Venice sounded much better if you ask me Posted via the Android Central App

Yeah. Totally should be The "Blackberry P6" or "BB Pure Style S"

This release may put my faith back in BlackBerry...I left BlackBerry for Android a few years back,maybe with this launch I'll return (stressing the word "maybe")! Posted via the Android Central App

I kind of liked the name Venice better, I mean...what is a "Priv"?

Priv = Privacy Posted via the Android Central App

I guess, but...ugh, that's probably the worst phone name since the Pre.

I didn't say it was good. Just the meaning behind it. Posted via the Android Central App

I vote for the name "Blackberry Private Dick"

Privy A toilet, an outhouse. Which is about right +++ Insert witty signature, watch as others not get it, profit +++

Or privy, which is a toilet. LOL Posted via the Android Central App

Yeah, I thought Venice was kind of a cool name. And I get where "Priv" comes from, but it makes me think of "privy" just as much as "privacy." Posted via the Android Central App

This. Posted via the Android Central App

Venice was actually a decent name. Posted via the Android Central App

In other words "we're releasing Privy to see how it sells. If it outsells all our BB10 offerings, we'll dump BB10. If not, at least we tried". Posted via the Android Central App

At least it's easier to say than "Galaxy S6 Edge Plus" or "HTC EVO 4G LTE".

Haha or my all time favorite: Samsung Galaxy S2 Epic 4G Touch

Oh, man. I forgot about that one!

That was a Sprint thing, all other carriers it's just the galaxy s2 Posted via Android Central App

Still better than toilet +++ Insert witty signature, watch as others not get it, profit +++

I guess the Apple iPad & Nintendo Wii were failures too, because of their name...

I'm looking for something different, so if the price is right and the specs are better than what I currently have (N6), I'll be a guinea pig. I'm in. Posted via the Android Central App

I actually really like Blackberry OS. In some ways, I think it's superior to both Android and iOS and they have clearly put a lot of work into it. I'd hate to see them abandon it, even if it is a necessity. We need a third strong platform and Windows Phone just doesn't seem to be getting there. I don't want to live in a world where the only two options I have are Android or iOS. That's just boring. But, apparently it's reality since those are the only platforms with develeoper support.

I really have a love/hate relationship with Windows Phone. Their implementation is too too stagnant. I love the platform. I really think it's better and more stable than Android, but the development, phones, and lack of apps support is just, horrible. Posted via the Android Central App

I'm with you. I have purchased several Windows Phones and I still have the Lumia 1520. Some of the stuff is great, but it's got basically the same problem as Blackberry. It doesn't help that they have essentially "reinvented" the OS three times now. It doesn't inspire a lot of confidence from people who are actually loyal to the platform. Right now, my biggest beef is a lack of app support (not just apps, updates to them) and that it won't work with basically any of my peripherals (smartwatches, Fitness gadgets, etc.) and I don't see that changing any time soon.

Yep Posted via the Android Central App

The juvenile teenager in me really wants to nickname this the Blackberry Perv...

Good for blackberry, I hope this phone just strengthens android even more. It's not my cup of tea, but the few blackberries I ownd were solid devices, there was just something better that came along! Posted via a LG G4

They need to hurry up. BlackBerry fans are really feeling deprived. DEPRIVED CARL Posted via the Android Central App

Have you seen the recent Blackberry Passport SE? Google it and check it out. Us BlackBerry users have options. Beautiful beast of a device. Posted via the Android Central App

The blackberry passport se looks beautiful....amazing speakers and keyboard....using the website on my that phone is great different experience

I audibly groaned. +1 Posted via the Android Central App

I've always liked BlackBerry, but let's be honest their device naming since the days of the Pearl/Curve/Bold/Torch has been horrendous. In my opinion they should have stayed with those. With the exception of the pearl, the names would slot nicely into the current lineup. Classic = Curve
Passport = Bold
"Priv" = Torch However this is just my opinion, and I will be lining up to buy the Priv regardless. Posted via the Android Central App on the Xperia Z3

I agree there. This new naming especially Priv is just not good. Those earlier names also made sure you new at what level you were slotting in on their line of devices. Of cause I've never owned a Blackberry before but at that time I new what I was looking at. Posted via the AC App from SM-N910F

Seems funny to have Bla1ze have an article in AC. Fitting since it is about a BB.

As a former BlackBerry user I hope this device will be a success. But sorry, that name is horrible. Why not just keep the name Venice?
Remembering the abysmal marketing they had in recent years, naming it Priv seems to continue that...
I think a bunch of people are not gonna buy it just because of that name... Posted via the Android Central App

I hate to say this but I think you might be right. I cautiously hope that the name isn't a show-stopper for people looking at purchasing this device. Time will tell I suppose.

"which will run Android with BlackBerry security" Yeah.. until someone roots it :P

@graffixnyc
"which will run Android with BlackBerry security" Yeah.. until someone roots it :P LOL! This is the exact same thing I've been thinking!

Hope they don't pull a BBerry Playbook again and announce it 12 months prior to release. The Playbook was cutting edge at announcement and 12 months behind by the time it was released.

I'm still gonna call it the Blackberry Venice. His momma named him Venice, imma call him Venice!

Finally! Back to Blackberry! Here I come! Posted via the Android Central App

I agree. best of both worlds. All of blackberry's software features and security with access to google echo system

Meh. Posted via the Android Central App on the Note5.

I don't like the whole Blackberry going to Android thing. I say this as a much bigger Android fan than a Blackberry fan (and as one with no Blackberry, nor any realistic plans of buying a Blackberry) but from a "Blackberry's best interest" perspective, it seems to me that partnering with Android would be like partnering with The Borg.

This phone will help raise Android market share a tiny faction of a percent while helping BB sells some phones. From my Note 3 to thee

I think its very cool and will be a hit.

I like it now if it is not all bugged we will be in business. Only one lil issue why not have it to where the slide out keyboard is used in landscape? Seems like the phone will be top heavy like it is now? Posted via the Android Central App

i thing its very easy for me after im reading this blog <a href="http://blogmuz.com/cara-instal-playstore-pada-blackberry-os-10-z3z5z10q5... Pada Blackberry OS 10</a><br/>
Android Central Newsletter
Thank you for signing up to Android Central. You will receive a verification email shortly.
There was a problem. Please refresh the page and try again.