Best Storage Options for Gear VR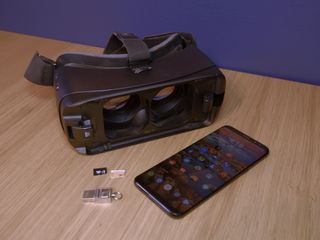 Your phone only comes with a finite amount of space to hold all of your information from photos to contacts. So, you might find that you quickly start to fill it up as you download all of those awesome new VR games for your Gear VR. When that starts to happen, or if it's already happened, you might be trying to figure out how to get more storage out of your phone. Well, we've got all the details for you below.
Onboard storage
Why you can trust Android Central Our expert reviewers spend hours testing and comparing products and services so you can choose the best for you. Find out more about how we test.
Different phones have different amounts of space that is initially available for games and apps. Luckily, the latest phones from Samsung have quite a bit of storage. Both the Galaxy S8 and the Galaxy S8+ have at least 64GB of storage on board. There are some variants of the Galaxy S8+ that have 128GB of storage. But even with this much storage, you can still fill it up with apps and games.
On board storage is the easiest type of storage to manage and doesn't require you to put anything into your phone or to plug anything in, but when it's up, it's up and you'll have to look at some other options if you've managed to fill your phone to the brim.
MicroSD Card
Picking up a nice hefty MicroSD card can make a serious difference in how much space you have to work with. The Galaxy S8 and Galaxy S8+ both support MicroSD cards up to 256GB.
In order to access the MicroSD card you'll need a tool for opening up your SIM tray. Once you pop the tray out you can place a MicroSD card into the open section that doesn't hold your SIM.
USB Type C flash drive
If you're playing on the latest version of the Gear VR, there is a third storage option that is open to you. You can use a USB Type C flash drive. Unlike the older Gear VR, the newer version allows you to use the USB for data, and not just for charging.
Unlike the permanently attached storage or the internally stored microSD storage, flash drive storage is only good for playing media files in your headset. When the drive is attached you can search it for files from within your preferred VR media player, and watch in your own private theater. This storage format supports 360-degree videos as well as your own mix of standard flat videos.
Have you had to use external storage for your Gear VR or has the on board storage been enough for you? Let us know in the comments below.
Get the Android Central Newsletter
Instant access to breaking news, the hottest reviews, great deals and helpful tips.